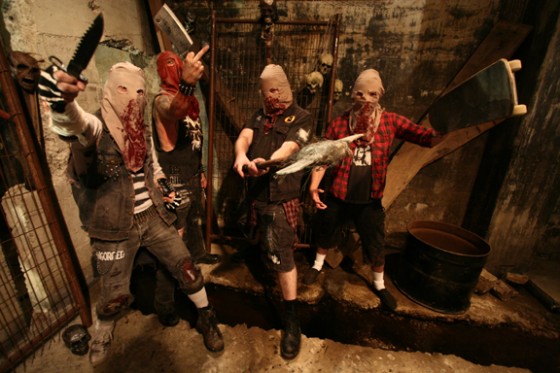 The notorious cannibalistic Creepsylvanians in GHOUL have just released "Wall Of Death." Recorded exclusively for Decibel's Flexi Series, the tune serves as a precursor to their new full-length, set for release in the coming months via Tankcrimes (details forthcoming). "It is our duty and pleasure to commit to the Decibel Flexi Series this, our greatest achievement ever," proclaims Digestor, doer of deviousness, "'Wall Of Death;' a song that tells a chilling tale of savage dictatorship, brutal oppression, and large-scale unreinforced masonry. Enjoy, won't you?"
An extremely limited quantity of GHOUL flexis are currently available with the July 2016 issue of Decibel. To order, point your browser HERE.
In conjunction with the release of their new record, GHOUL will level the stages of seventeen venues supporting Carcass and Crowbar this Summer. The One Foot In The Grave Tour 2016 will commence on July 17th and run through August 8th with additional support provided by Night Demon.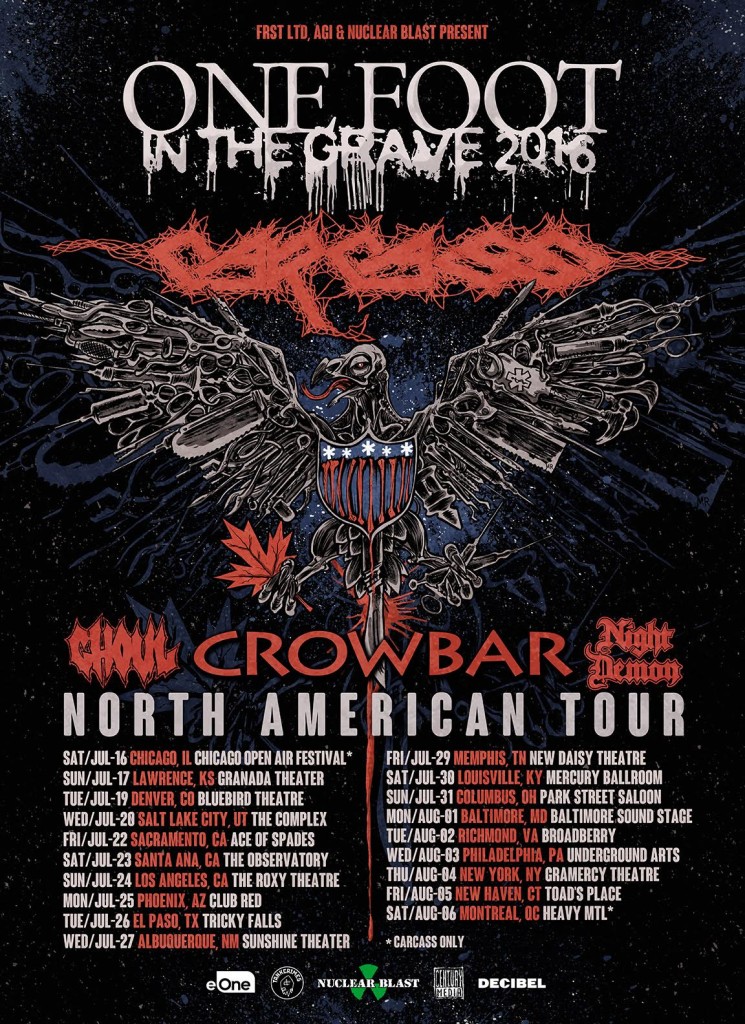 GHOUL w/ Carcass, Crowbar, Night Demon:
7/17/2016 Granada Theater – Lawrence, KS
7/19/2016 Bluebird Theater – Denver, CO
7/20/2016 The Complex – Salt Lake City, UT
7/22/2016 Ace Of Spades – Sacramento, CA
7/23/2016 The Observatory – Santa Ana, CA
7/24/2016 The Roxy Theatre – West Hollywood, CA
7/25/2016 Club Red – Mesa, AZ
7/26/2016 Tricky Falls – El Paso, TX
7/27/2016 Sunshine Theater – Albuquerque, NM
7/29/2016 New Daisy Theatre – Memphis, TN
7/30/2016 Mercury Ballroom – Louisville, KY
7/31/2016 Park Street Saloon – Columbus, OH
8/01/2016 Baltimore Soundstage – Baltimore MD
8/02/2016 The Broadberry – Richmond, VA
8/03/2016 Underground Arts – Philadelphia, PA
8/04/2016 Gramercy Theatre – New York, NY
8/05/2016 Toad's Place – New Haven, CT
GHOUL unleashed their We Came For The Dead!!! release on vinyl last year. Initially unveiled in 2002, We Came For The Dead!!! was an instant cult classic delivering a slick, punk-infused style of American goregrind from an unidentified tomb in the depths of Creepsylvania, where they've since waged war on mortals with full anonymity. The vinyl edition of We Came For The Dead!!! includes a GHOULed out rendering of Megadeth's "Skull Beneath The Skin" and is out now on Tankcrimes. Get in on the action HERE. Order the CD HERE (or in stores worldwide) or the digital version HERE.
For all GHOULish coverage contact liz@earsplitcompound.com.
http://www.facebook.com/GhoulunaticsAsylum
http://www.creepsylvania.com
http://www.tankcrimes.com
http://www.facebook.com/tankcrimes