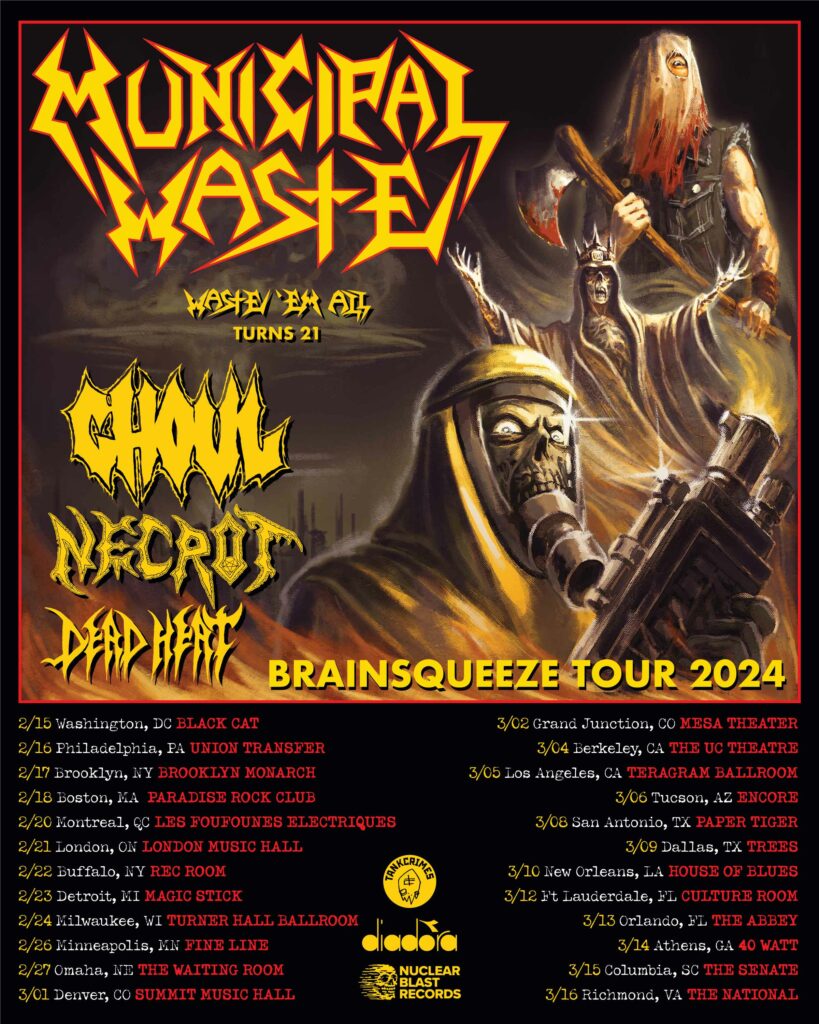 Municipal Waste, Tankcrimes, and Nuclear Blast are pleased to present the first-ever Brainsqueeze Tour. Confirmed for late Winter 2024, the month-long North American live assault features Municipal Waste, Ghoul, Necrot, and Dead Heat.
The newly created maiden Brainsqueeze Tour originated with several successful Tankcrimes Brainsqueeze festivals in the label's hometown of Oakland, California. "Celebrating friendship and noise," the fests were headlined by Municipal Waste and filled with support from the label's top associated acts at the time including Ghoul, Final Conflict, Fucked Up, Toxic Holocaust, and more.
Now, ten years since the last Tankcrimes Brainsqueeze, the inaugural Brainsqueeze Tour will run from February 15th through March 16th, raiding twenty-four North American cities. The tour package unites a full roster of Tankcrimes artists opening for Municipal Waste, the label's most prestigious alumnus. If it's a Brainsqueeze, Richmond's hard-partying crossover crew is the headliner, and that rings true for the upcoming trek where they'll be flanked by Creepsylvanian splatter thrashers Ghoul, Oakland death dealers Necrot, and Oxnard crossover outfit Dead Heat.
With the news of Brainsqueeze Tour 2024, Tankcrimes' Scotty Heath declares, "I'm absolutely thrilled to take this show on the road featuring four of the best bands in metal punk today and a nice mix. Extra special thanks goes to Tony Foresta and Nick Storch for putting this together plus the 'Waste guys for hosting our wild Tankcrimes family lineup as we smash the states together. Be sure to get plenty of rest and save up tons of cash – you're going to need it for the Brainsqueeze!"
Municipal Waste's Tony Foresta comments, "We don't do headlining runs in the states as often as we should. So this time, in order to celebrate the twenty first anniversary of our first album, Waste 'Em All, we wanted to do it with bands and people that we consider our family and friends. Back in the day, we had a tradition that our sixth band member, Scotty, created in Oakland called 'Brainsqueeze.' It was a very fun but short-lived tradition that brought together people from all over the world in the small scene we built. Those events were very dear to us and we felt it needed to come back in one way or another.
"Twenty-one is a big birthday for all of us, so in order to celebrate Waste 'Em All's big one, we thought it would be best to bring the Brainsqueeze to you! We couldn't be more excited to have Ghoul, Necrot, and Dead Heat back on the road with us as well as a few regional surprises along the way. This is going to be a good one. See you soon!"
Ghoul vocalist/guitarist Digestor states, "Ghoul is proud to join the incomparable Municipal Waste, Necrot, and Dead Heat as we lay waste to your pathetic, ignorant country*. Get your affairs in order, America**!
*and also parts of Canada, which are quite nice
**and Canada"
Necrot bassist/vocalist Luca Indrio notes, "Municipal Waste's fans are never scared to get in the pit and fuck shit up and we can't wait to give 'em some death metal to warm up to. It's going to be a sick party every night and we get to bring the evil riffs. It doesn't get much better than that. Also, we'll get to premiere a song out of our new album and play it live every night before the album will be released. That's definitely something our true fans don't want to miss! This tour is coming to knock at your door, and you don't want to be caught sleeping. See you all there!"
Dead Heat vocalist Chris Ramos adds, "Hey what's up ya worms! Dead Heat here to tell ya how bricked up we are to be hitting the road in 2024 and coming to city near you. We'll be bringing you an endless tour-ment of some of the most beast bands around! So come to a show and slam your little hearts out. See you in the pit!"
Tickets for all Brainsqueeze Tour 2024 shows will go on sale this Friday, November 10th at 10:00am local time at THIS LOCATION. 
See all confirmed dates below and stand by for new album, tour, and label announcements in collusion with the trek to be posted over the months ahead.
Brainsqueeze Tour 2024 w/ Municipal Waste, Ghoul, Necrot, Dead Heat: 
2/15/2024 Black Cat – Washington, DC
2/16/2024 Union Transfer – Philadelphia, PA
2/17/2024 Brooklyn Monarch – Brooklyn, NY
2/18/2024 The Paradise – Boston, MA
2/20/2024 Foufounes Electriques – Montreal, QC
2/21/2024 London Music Hall – London, ON
2/22/2024 Rec Room – Buffalo, NY
2/23/2024 Magic Stick – Detroit, MI
2/24/2024 Turner Hall – Milwaukee, WI
2/26/2024 Fine Line – Minneapolis, MN
2/27/2024 Waiting Room – Omaha, NE
3/01/2024 Summit Music Hall – Denver, CO
3/02/2024 Mesa Theatre – Grand Junction, CO
3/04/2024 UC Theatre – Berkeley, CA
3/05/2024 Terragram Ballroom – Los Angeles, CA
3/06/2024 Encore – Tucson, AZ
3/08/2024 Paper Tiger – San Antonio, TX
3/09/2024 Trees – Dallas, TX
3/10/2024 House Of Blues – New Orleans, LA
3/12/2024 Culture Room – Ft. Lauderdale, FL
3/13/2024 The Abbey – Orlando, FL
3/14/2024 40 Watt – Athens, GA
3/15/2024 The Senate Theatre – Columbia, SC
3/16/2024 The National – Richmond, VA
https://www.tankcrimes.com
https://www.facebook.com/tankcrimes
https://twitter.com/tankcrimes
https://www.instagram.com/tankcrimes