Atmospheric black metal unit GHOST BATH will kick of a North American mini headlining tour tomorrow, April 14th in Winnipeg, Manitoba. The trek will make its way through a dozen venues, coming to a close on April 26th in Kansas City, Missouri. Support will be provided by Astronoid. The band's latest journey follows their recent run with Amigo The Devil. See confirmed dates below.
GHOST BATH will be touring in support of their Starmourner full-length. Set for release on April 21st via Nuclear Blast Entertainment, the twelve-track offering was recorded, mixed, mastered, and produced by Josh Schroeder (Battlecross, Still Remains), and features cover artwork Luciana Nedelea (Enbilulugugal, Foehammer).
Hear album singles "Ambrosial" and "Thrones" below.
Starmourner preorders on CD, vinyl, and more are currently available HERE. Digital orders can be placed via iTunes HERE, Amazon HERE, or GooglePlay HERE.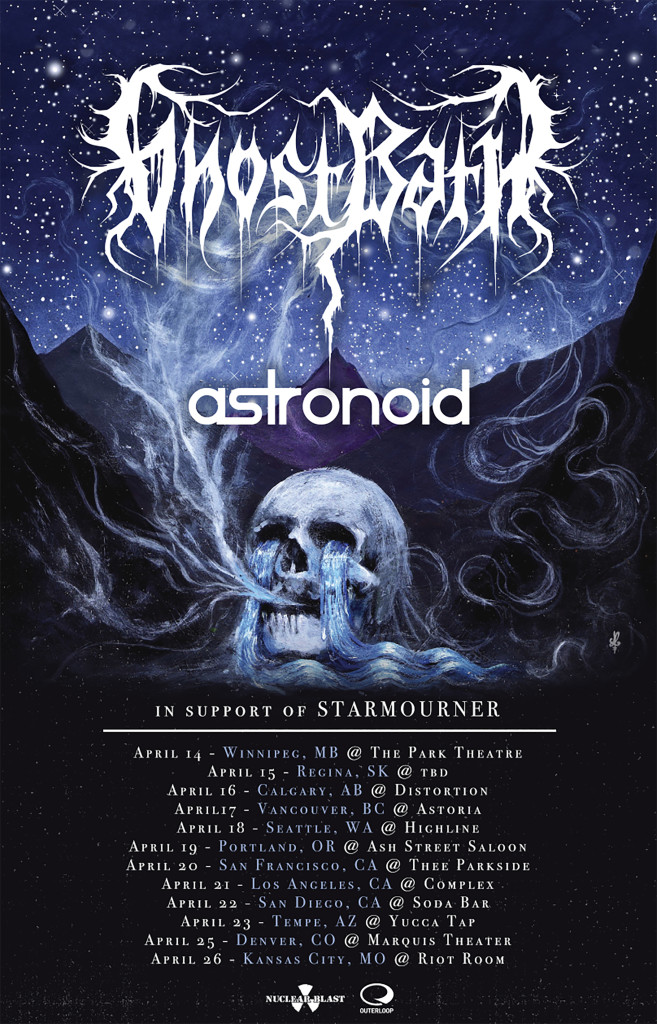 GHOST BATH w/ Astronoid:
4/14/2017 The Park Theatre – Winnipeg, MB
4/15/2017 TBA – Regina, SK
4/16/2017 Distortion – Calgary, AB
4/17/2017 Astoria – Vancouver, BC
4/18/2017 Highline – Seattle, WA
4/19/2017 Ash Street Saloon – Portland, OR
4/20/2017 Thee Parkside – San Francisco, CA
4/21/2017 Complex – Los Angeles, CA
4/22/2017 Soda Bar – San Diego, CA
4/23/2017 Yucca Tap Room – Tempe, AZ
4/25/2017 Marquis – Theater Denver, CO
4/26/2017 Riot Room – Kansas City, MO
Since their inception, GHOST BATH has played atmospheric black metal focused on depression, tragedy, purgatory, and earthly wonders. Starmourner – the second record of a trilogy – takes these concepts to a higher level. It explores joy instead of sorrow, paradise instead of purgatory, and the cosmos instead of earth. Most importantly however, it explores ecstasy – instead of tragedy – as its basic human emotion. With over seventy-two minutes of heavy, melodic, and dramatic black metal, it is GHOST BATH's most ambitious undertaking yet.
GHOST BATH refers to the act of committing suicide by submerging in a body of water. GHOST BATH writes and creates under the assumption that music is an extension of one's own soul. They journey through the sorrow and sadness that all lives experience, but leave a glimmer of hope. They portray both deep anguish and angelic soundscapes that are sure to leave an impression on the listener. The band started in October of 2013 with the release of their self-titled EP on Solitude Productions. This was followed by their debut album titled, Funeral, which was released on Pest Productions in June of 2014. The band's sophomore album, Moonlover, was released in April of 2015 through Northern Silence Productions. A reissue was released by Nuclear Blast Entertainment in June of 2016.
"…an enticing and rewarding listen… any blackgaze fan worth their salt should do themselves a favor and at least give Starmourner a once-over. If their trajectory thus far is any indication, GHOST BATH is definitely a band to keep an eye on from here on out." – Heavy Blog Is Heavy
"… it's a record that can't help but to capture your imagination and which sees the band moving closer to their place in the heavy metal pantheon…They have created something triumphant here that is multilayered and immense, waiting to see if they can hone that down into something even more pure is going to be quite the adventure." – Two Guys Metal Reviews
"The entire spectrum of our emotional existence is presented in a way that balances the positive and negative with skilled aplomb." – Metal Nexus
"GHOST BATH has made their signature sound flourish on this new release, digging deeper into rough and restless emotions. They upheave the heart and are unapologetic for their mournful, yet slightly hopeful sound. The constant, unwavering, tormented high-pitched moans bellow and the guitars slam away with the determination of a hungry animal. The overall hauntingly harsh yet somber and graceful sound is entertaining. Starmourner will have you thinking and feeling. It's well worth a listen." – Metal Assault
http://www.ghostbath.com
http://www.facebook.com/blackghostbath
http://www.allinmerch.com/category/GB.html
http://www.twitter.com/ghostbath
http://www.instagram.com/ghostbathofficial
http://www.nuclearblast.com
http://www.facebook.com/nuclearblastusa