GENOCIDE PACT will host a Gimme Metal Guest DJ special on Wednesday, December 1st at 3:00pm EST / 12:00pm PST. Visit www.gimmemetal.com and join the band in the live chat!
The band's guest DJ special comes in advance of the release of their eponymous new full-length, set to drop December 3rd via Relapse Records. An overdose of gut-wrenching death metal, Genocide Pact is heavy, engrossing, and undoubtedly brutal.
"This album reflects on the feeling of watching the world crumble while dealing with personal tragedy," says guitarist/vocalist Tim Mullaney. True to his word, every track on Genocide Pact is a sonic assault brimming with palpable malaise. From the guttural screams in the album's opener "Led To Extinction," to the driving double bass that carries "Perverse Dominion," and a head rattling low end on "Deprive Degrade," Genocide Pact is wholly negative death metal.
The fury behind Genocide Pact captures the band's collective frustrations and personal journeys through these turbulent times. "You turn on the news and see mass shootings, a global pandemic, endless war, and corporations and politicians trying to sell you bullshit," says Mullaney. "You pick up your phone and another friend or family member has died. On top of that, you're broke as fuck and work endlessly for a boss that doesn't even know your name. You find yourself paranoid, pissed off, and embracing nihilism." GENOCIDE PACT has learned to embrace the negativity, churning out one of 2021's ugliest and unforgiving records.
Genocide Pact will be released on CD, LP and digital formats. Find physical preorders HERE and digital downloads / streaming services HERE.
View the band's previously released video for "Perverse Dominion," directed by Brian Boeckman, HERE, stream "Purged Flesh" HERE, and stream "Deprive/Degrade" HERE.
GENOCIDE PACT:
Mike Nolan – bass
Connor Donegan – drums
Tim Mullaney – guitars, vocals
Demir Soyer – guitars
"…a gut-bruising sock of bare-knuckled grind and leather-booted death-metal that's the sonic equivalent of getting jumped in an alleyway behind the venue." — Revolver
"…it's an album that showcases the band sounding tighter than ever before. Without being labeled as a death/doom band, GENOCIDE PACT aren't shy in treading that sacred ground that was forged by Bolt Thrower, a slow crawl across the battlefield with heavy and chunky riffs leading the charge…" – Invisible Oranges
"'Perverse Dominion' is a brutal rager that toggles back and forth between classic metal riffage and pure guttural sludge." – Stereogum
"…a nasty blend of demented rampaging and morbid misery, alternately battering while generating eviscerating tremolo'd frenzies, and then oozing pestilential ghastliness." – No Clean Singing
"Their crunching death metal just bleeds pain and disillusionment as the band unloads the pressure and anxiety they have faced along with us in a world filled with people who seemingly don't care. This record is the last eighteen months gift wrapped in pain, torment, and hurt that never seems to end." – Meat Mead Metal
"This record has tracks in the most real sense, the kind that stay with you and have you not only humming the riffs but retaining the song's structure. This is death metal with crossover appeal not necessarily to hardcore, but rather to the metal world at large outside of extreme metal. Stadium death metal indeed." – No Echo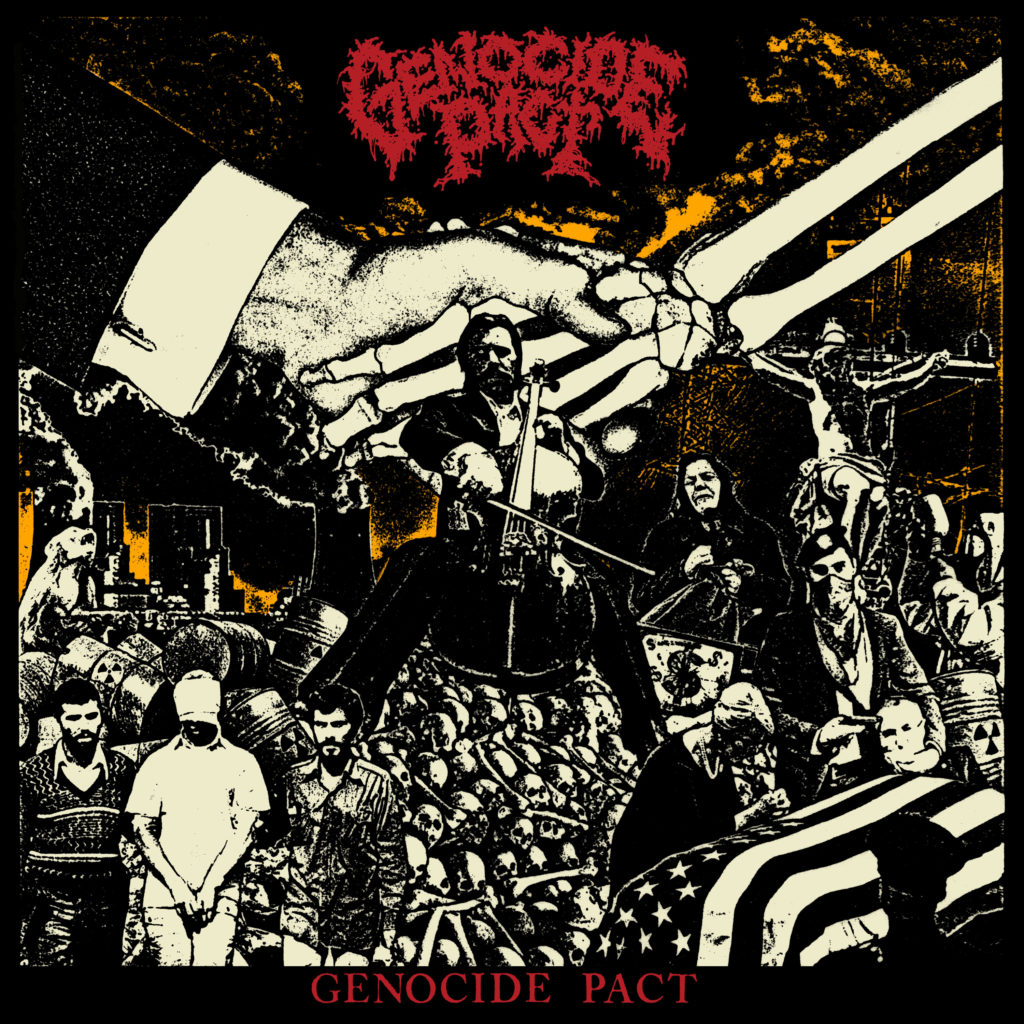 http://www.facebook.com/genocidepact
http://instagram.com/genocidepact
http://twitter.com/genocidepact
http://genocidepact.bandcamp.com
http://www.relapse.com
http://www.instagram.com/relapserecords
http://www.facebook.com/RelapseRecords
http://www.twitter.com/RelapseRecords