GENOCIDE PACT today shares new song, "Purged Flesh." Now playing at Decibel Magazine, the track comes off their eponymous new full-length, set for release December 3rd via Relapse Records.
An overdose of gut-wrenching death metal, Genocide Pact is heavy, engrossing, and undoubtedly brutal. Comments vocalist/guitarist Tim Mullaney of "Purged Flesh," "This was the first song to materialize for this record. It was kind of a mashup of two ideas — one being a heavy, standard verse chorus rock and roll ass beater and the other being psychedelic but in a negative way. I guess my idea was to have it sound like Jimi Hendrix if he hated everything and had a horrible attitude. Lyrically, this song deals with getting dealt a shitty hand in life and trying to self-medicate and eventually realizing that you are running away from your problems on a treadmill and getting nowhere."
Adds Decibel, "This track is like a sledgehammer to the guts…"
Read more and stream GENOCIDE PACT's "Purged Flesh" at THIS LOCATION.
View the band's previously released video for "Perverse Dominion," directed by Brian Boeckman, HERE.
Genocide Pact will be released on CD, LP and digital formats. Find physical preorders HERE and digital downloads / streaming services HERE.
"This album reflects on the feeling of watching the world crumble while dealing with personal tragedy," says Mullaney. True to his word, every track on Genocide Pact is a sonic assault brimming with palpable malaise. From the guttural screams in the album's opener "Led To Extinction," to the driving double bass that carries "Perverse Dominion," and a head rattling low end on "Deprive Degrade," Genocide Pact is wholly negative death metal.
The fury behind Genocide Pact captures the band's collective frustrations and personal journeys through these turbulent times. "You turn on the news and see mass shootings, a global pandemic, endless war, and corporations and politicians trying to sell you bullshit," says Mullaney. "You pick up your phone and another friend or family member has died. On top of that, you're broke as fuck and work endlessly for a boss that doesn't even know your name. You find yourself paranoid, pissed off, and embracing nihilism."
GENOCIDE PACT has learned to embrace the negativity, churning out one of 2021's ugliest and unforgiving records.
GENOCIDE PACT:
Mike Nolan – bass
Connor Donegan – drums
Tim Mullaney – guitars, vocals
Demir Soyer – guitars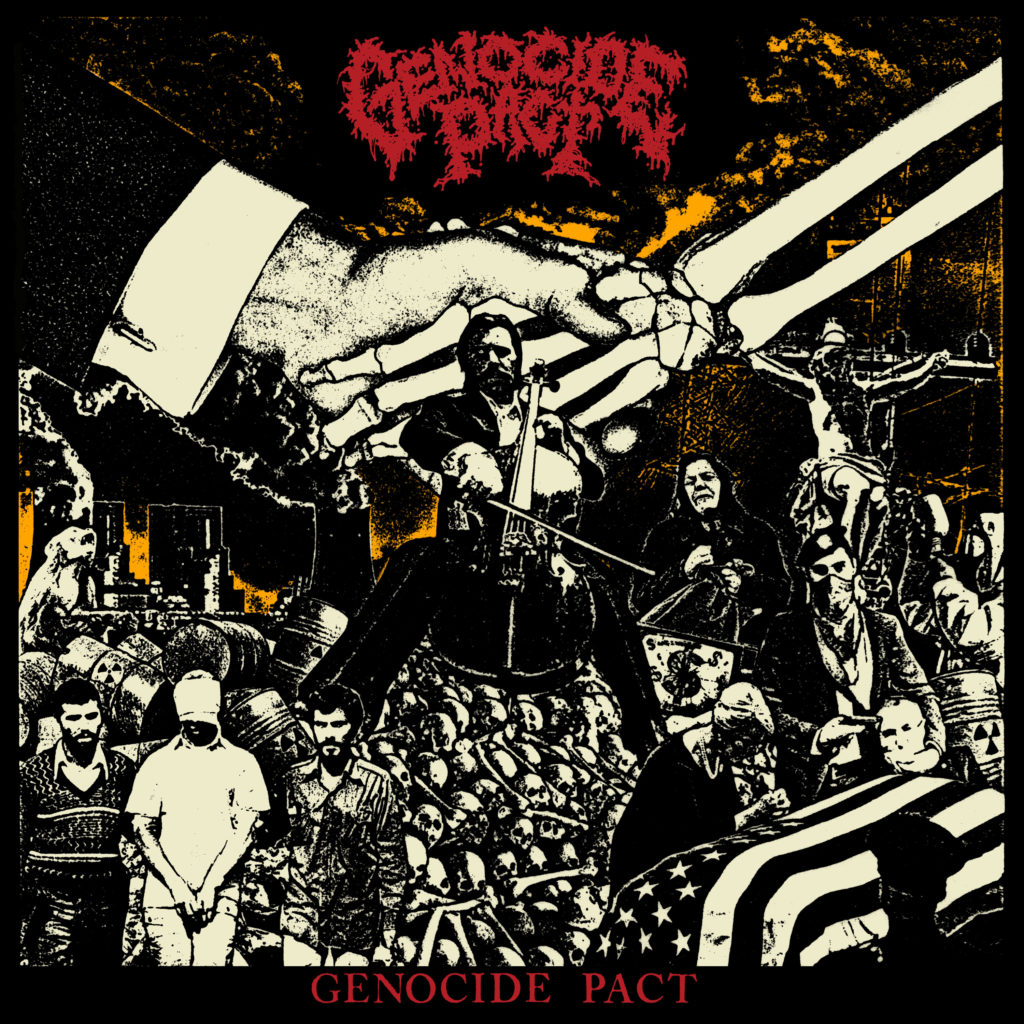 http://www.facebook.com/genocidepact/
http://instagram.com/genocidepact
http://twitter.com/genocidepact
http://genocidepact.bandcamp.com/
http://www.relapse.com
http://www.instagram.com/relapserecords
http://www.facebook.com/RelapseRecords
http://www.twitter.com/RelapseRecords