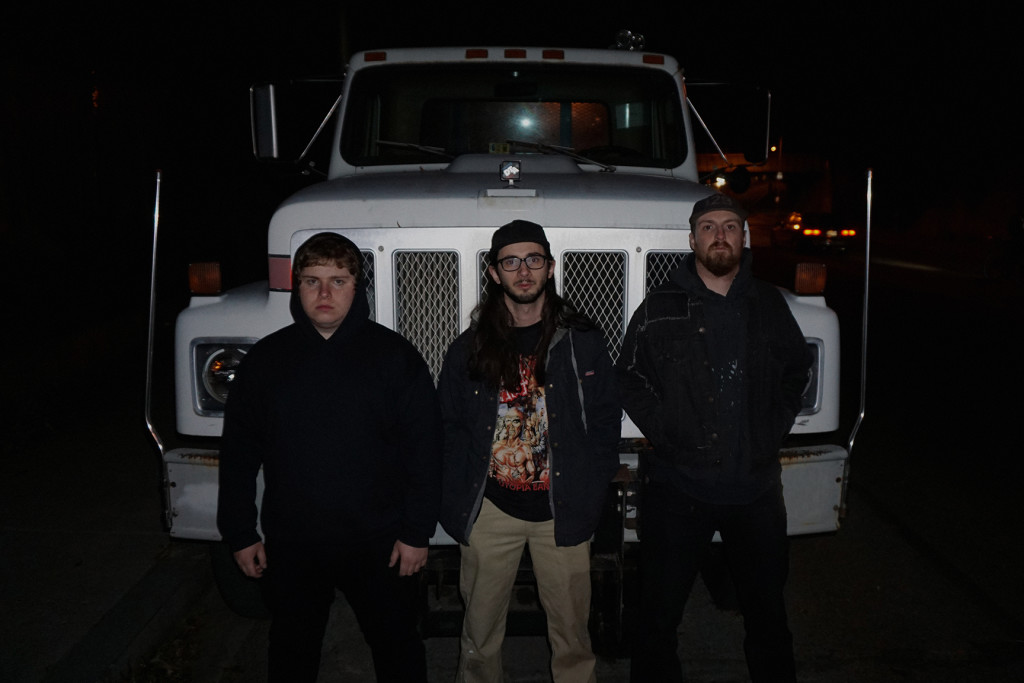 Order Of Torment, the punishing second album by Washington, DC-based GENOCIDE PACT, is out today, the band's first album for Relapse Records. The record lands as the band joins Mammoth Grinder for two area shows this weekend.
GENOCIDE PACT's Order Of Torment was recorded by Kevin Bernsten at Developing Nations in Baltimore (Full Of Hell, Code Orange, Magrudergrind), and features cover art from the legendary Joe Petagno (Motörhead, Pink Floyd, Autopsy, Marduk). With eight tracks of pulverizing, relentless death metal that harkens to the greats while pushing the genre to chaotic new realms of possibility, the album's titanic crunch showcases GENOCIDE PACT as the death metal band to watch in 2018.
Find GENOCIDE PACT's Order Of Torment on CD, LP, and through all digital providers where the video for "Pain Reprisal" is also playing HERE.
GENOCIDE PACT celebrates the release of the LP supporting Relapse labelmates Mammoth Grinder for two shows this weekend, playing in Washington, DC tonight, February 2nd, and Richmond, Virginia tomorrow, February 3rd. The band will also play the Maryland Deatjfest Prefest party on May 23rd with Mortician and more. Stand by for additional tour dates to be announced.
GENOCIDE PACT Live:
2/02/2018 Rock And Roll Hotel – Washington, DC w/ Mammoth Grinder [info]
2/03/2018 Strange Matter – Richmond, VA w/ Mammoth Grinder, Occvlta, Organ Donor [info]
5/23/2018 Ottobar – Baltimore, MD @ Maryland Deathfest Prefest w/ Mortician [info]
"One could argue Order Of Torment not only sounds like it crawled up from the nearest sewer, but that i's dragging the equivalent of transport-truck-sized fatberg behind it with comrades-in-arms Gatecreeper and Pissgrave helping to muscle the hideous mass down the earholes of anybody who believes in the superiority of antiseptic digital recordings." – Decibel Magazine
"Contrasting hammering double-bass drums and chugging, downtuned guitars with frantic death riffs, jackhammer beats and feral vocals, the album is a scorching, old-school furnace-blast of misanthropic fury." – Revolver Magazine
"'Order Of Torment is a solid death metal record with a few doom flavors that exists in a similar realm to the likes of Gatecreeper or other Entombed worshiping bands… it's well written, well executed, boasts decent production, and is catchy while having plenty of bite to it, all that you could want from such a record. 8/10" – Outburn Magazine
"…eight songs of pure disdain that seeps straight out of the depths of the most putrid, vile, and demented cesspool of hatred, bigotry, greed, and authoritarianism the world has ever known…Washington D.C." – Cvlt Nation
"It's like an unwieldy beast with rabies; sometimes it stumbles benignly, sometimes it charges indiscriminately, and it always leaves population-swallowing chasms in its wake… if that riff doesn't make you headbang to the point of impaling your chest with your own chin, something is wrong with you and we can't be friends." – MetalSucks
https://genocidepact.bandcamp.com
https://www.facebook.com/genocidepact
https://twitter.com/genocidepact
https://instagram.com/genocidepactdc
http://www.relapse.com
http://www.relapserecords.bandcamp.com
http://www.facebook.com/RelapseRecords
http://www.twitter.com/RelapseRecords