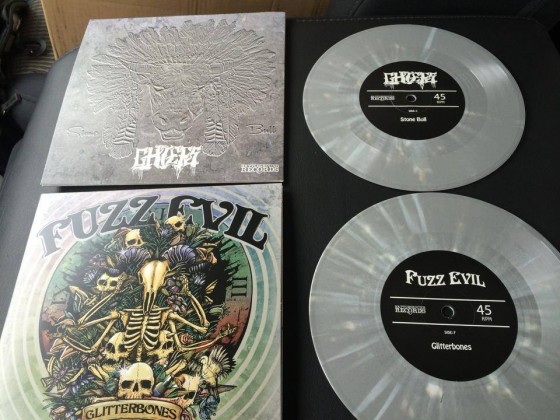 The split 7″ EP from Sierra Vista, Arizona-based FUZZ EVIL and Southern California's CHIEFS is out today via Battleground Records, and in turn, trusted underground rock go-to joint, The Obelisk, is streaming the entire short but intoxicating platter right now.
Comprised of Wayne and Joey Rudell of Powered Wig Machine on vocals/guitar and vocals/bass, respectively, and drummer Marlin Tuttle, the A-Side's FUZZ EVIL delivers a nearly five-and-a-half minute, solid, groove-laden, heavy psych rock track, "Glitterbones," The Obelisk partially offering that the track delivers, "a swagger and hook reminiscent of early Queens of the Stone Age, played up with some falsetto vocals, and true to their name, some vicious fuzz." On the B-Side, the five-and-a-half minute jam of CHIEFS' fiery "Stone Bull" lets loose. With this recording created by Paul Valle on vocals/guitar and Stephen Varns on drums, the band delivers prime, hard-hitting desert rock, The Obelisk Taskmaster noting that the band begins the track, "with slower riffery but open up to a chugging verse and well-placed clean vocals buried Goatsnake-style under the mountainous tone…"
Jack-in and blaze a few minutes of prime riffology with the FUZZ EVIL / CHIEFS 7″ RIGHT HERE.
Limited to three hundred copies, the heavy, white-splattered grey vinyl is cut at 45 RPM for devastating delivery, with the FUZZ EVIL side featuring artwork by the band's Joey Rudell, and the art for CHIEFS handled by David Paul Seymour. Place orders HERE.
FUZZ EVIL has already confirmed several new Fall gigs including release shows for the 7″ in both their hometown of Sierra Vista as well as Tucson, the former taking place tonight, October 21st.
FUZZ EVIL shows:
10/21/2014 JR's – Sierra Vista, AZ – 7″ release show
11/07/2014 Flycatcher – Tucson, AZ – 7″ release show
11/08/2014 Superbrawler – Benson, AZ
https://www.facebook.com/FuzzEvil
https://www.facebook.com/wearechiefs
https://www.facebook.com/battlegroundrecords
http://battlegroundrecords.bigcartel.com