One of the year's most petrifying, slow-motion musical excursions is now available worldwide via Selfmadegod, as III – Hear Me, O' Death (Sing Thou Wretched Choirs), from US death/doom duo, ENCOFFINATION, is now available from the label worldwide.
Now three albums in, III – Hear Me, O' Death (Sing Thou Wretched Choirs) sees one of America's top dread-inducing metal exports building on even more blackened occult passages, incorporating choral elements and organs to their already elementally disturbing hymns. The album was constructed over a full year in various sessions throughout 2013 — the drums recorded at Universal Sound in San Diego, California, and the rest at Graf Yairden in Atlanta — the final output reeking with suffocating riffs and tones called, "slow, grinding, hazed with distortion, with a thick miasma of dread oozing from every pore" by No Clean Singing, and a tremendously deliberate momentum which had About.com's Heavy Metal sector writing, "Diving into the endless suffering that the abyss can offer, the hour-long journey is fraught with sonic peril and a deathly pace. These are some of the slowest songs the band has written since their inception…" Meat Mead Metal issued a punishingly satisfied report of the album, issuing that ENCOFFINATION is, "a group that sounds like it is the musical embodiment of death, the cessation of life. Their music is slow, drubbing, torturous, and sounds like it is one step away from shutting its eyes artistically for the final time. Nothing about it feels good or will get you jumping up and down like an idiot at a live show. You should be depressed, have darkened feelings that cannot be saved, and see only the worst in the music you are hearing. That's exactly what you get…"
Stream ENCOFFINATION's latest grisly works via Selfmadegod Records' Bandcamp right HERE.
III – Hear Me, O' Death (Sing Thou Wretched Choirs) is out now worldwide on CD and via digital delivery. Orders for the CD is available stateside via Earsplit Distro HERE, and the deluxe CD housed in a screen-printed O-card limited to 200 copies is available exclusively via Selfmadegod's webstore HERE.
Additionally a 2xLP version of III – Hear Me, O' Death (Sing Thou Wretched Choirs) is nearing release before the end of the year. Stand by for exact details on the massive vinyl endeavor including a release date, pressing info and preorder links to be available in the coming days.
Having only played three shows in their inception nearly seven years ago, ENCOFFINATION is devising a brief tour run in 2015, although any sort of specifics have yet to be finalized. Stand by for further missives as the bereavement in the wake of III – Hear Me, O' Death (Sing Thou Wretched Choirs) continues.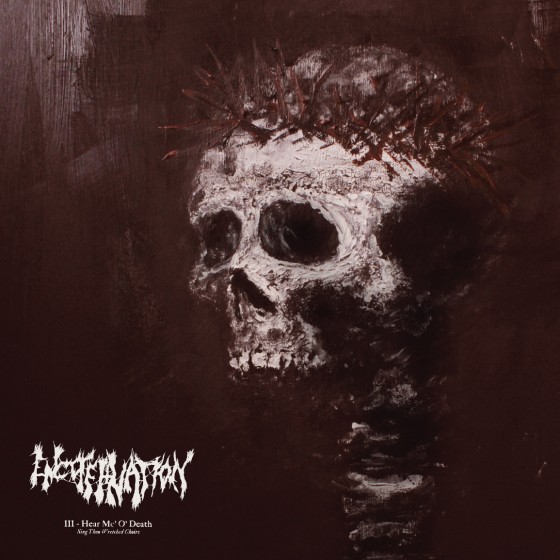 https://www.facebook.com/templeofencoffinment
http://www.selfmadegod.com
http://selfmadegod.bandcamp.com
http://www.facebook.com/selfmadegod