With towns still set ablaze from the band's recent tours with Gaza, Code Orange Kids, Homewrecker and more, and following recent announcements on upcoming Spring/Summer touring, today noise/hardcore faction FULL OF HELL has declared several dozen additional roving assaults for the months ahead.
Based around their appearances at this year's Maryland Deathfest and Chaos In Tejas festivals alongside labelmates Integrity and Gehenna, FULL OF HELL's previously announced leg of tour dates in May has been extended, a whole new slew of terroristic demonstrations with Gehenna now set to take the two acts to the West Coast.
Once the tour reaches the Pacific, Gehenna's tour run will cease, but FULL OF HELL will immediately begin a new run alongside labelmates Seven Sisters Of Sleep. A band who notoriously does not tour, this rare live assault of SSOS dates may be the only tour for the band, ever, set up in support of their mammoth, sludge-fueled second LP, Opium Morals, released in mid-March via A389. Sponsored by Invisible Oranges, the itinerary will take the two bands from California up the West Coast and all the way back through the Midwest to the mid-East Coast through most of June. Final venue info for this bout of shows is still being locked down on many of the dates; stay tuned for a final routing to be announced in the coming days.
Responsible for an epidemic of demos, singles, splits and a previous LP since their inception only four years ago, FULL OF HELL create a barrage of whiplashing metallic hate, psycho-drone feedback holes, and wall noise-drenched pedal attacks a noxious brew of Converge, Cursed and Pageninetynine gone the ways of Bastard Noise, early Napalm Death and Discordance Axis. The young crew performs their live shows with incredible conviction, catapulting their energetic hatesurge into the audience and inspiring all-out melees amongst the humans. Rudiments Of Mutilation captures more of these aspects than any previous recordings, penetrating with the most corrosive blasting attacks and noise infiltration from FULL OF HELL yet, recorded with Kevin Bernsten at Developing Nations and mastered by James Plotkin (Khanate, Old, Phantomsmasher), and will be released on June 11th via A389 Recordings.
Noisey/VICE is streaming the third track from Rudiments Of Mutilation, "Coven of the Larynx," RIIGHT HERE.
FULL OF HELL Live:
4/25/2013 Mosh Basement – Newburgh, NY w/ Raindance
4/26/2013 No Problemo – New Bedford, MA w/ Raindance
4/27/2013 Steven's – Hoboken, NJ w/ Raindance
4/28/2013 Gallery U – Bethlehem, NY
5/22/2013 The Zebra Club – Long Island, NY w/ Gehenna, Homewrecker
5/23/2013 O'Rielly's – Philadelphia, PA w/ Gehenna
5/24/2013 Maryland DeathFest 2013 – Baltimore, MD w/ Integrity, Gehenna
5/27/2013 Kingdom – Richmond, VA w/ Integrity, Gehenna
5/28/2013 Motorco Music Hall – Durham, NC w/ Integrity, Gehenna, Young And In The Way
5/29/2013 The End – Nashville, TN w/ Integrity, Gehenna
5/30/2013 Siberia – New Orleans, LA w/ Integrity, Gehenna
5/31/2013 Hotel Vegas – Austin, TX @ Chaos In Tejas w/ Gehenna
6/01/2013 The Korova – San Antonio, TX w/ Gehenna
6/02/2013 TBA – Austin, TX @ Chaos In Tejas w/ Gehenna
6/03/2013 The Red Hand – El Paso, TX w/ Gehenna
6/04/2013 Rocky Point Cantina – Tempe, AZ w/ Gehenna
6/05/2013 TBA – San Diego, CA w/ Gehenna
6/06/2013 Aladdin Jr. – Pomona, CA w/ Gehenna
6/07/2013 The Dial – Murrieta, CA w/ Gehenna
6/08/2013 418 Project – Santa Cruz, CA w/ Seven Sisters Of Sleep
6/09/2013 TBA – San Francisco, CA w/ Seven Sisters Of Sleep
6/10/2013 TBA – Portland, OR w/ Seven Sisters Of Sleep
6/11/2013 Josephine – Seattle, WA w/ Seven Sisters Of Sleep
6/12/2013 TBA – Boise, ID w/ Seven Sisters Of Sleep
6/13/2013 The Shred Shed – Salt Lake City, UT w/ Seven Sisters Of Sleep
6/14/2013 Rhinoceropolis – Denver, CO w/ Seven Sisters Of Sleep
6/15/2013 Badhaus- Kansas City, MO w/ Seven Sisters Of Sleep
6/16/2013 TBA – Chicago, IL w/ Seven Sisters Of Sleep
6/17/2013 Refuge Skate Shop – Dearborn, MI w/ Seven Sisters Of Sleep
6/18/2013 TBA – Cleveland, OH w/ Seven Sisters Of Sleep
6/19/2013 Roboto Project – Pittsburgh, PA w/ Seven Sisters Of Sleep
6/20/2013 Funeral Home – Buffalo, NY w/ Seven Sisters Of Sleep
6/21/2013 Democracy Center – Cambridge, MA w/ Seven Sisters Of Sleep
6/22/2013 TBA – Brooklyn, NY w/ Seven Sisters Of Sleep
6/23/2013 TBA – Washington DC w/ Seven Sisters Of Sleep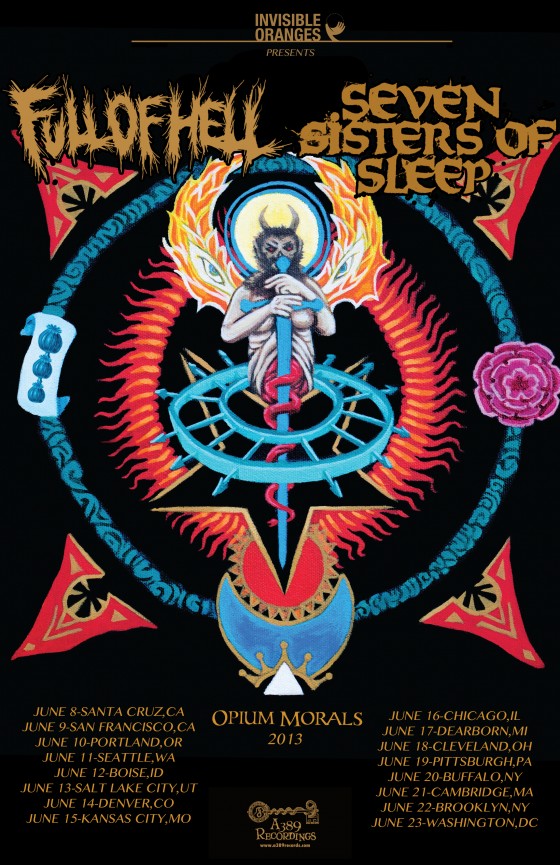 http://www.fullofhell.com
https://www.facebook.com/fullofhell
http://dregsofpluto.tumblr.com
http://www.a389records.com
https://www.facebook.com/a389recordings
https://twitter.com/a389recordings