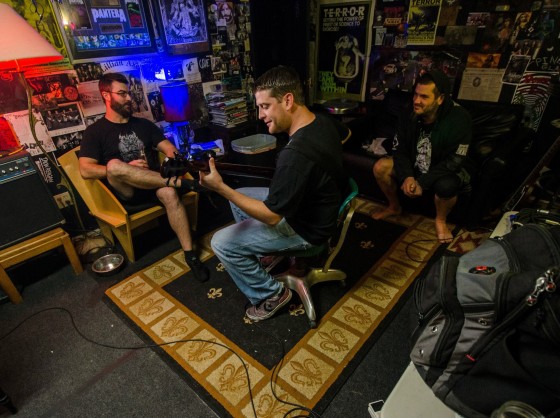 Grindcore/death miscreants, FULGORA, who unite members of Pig Destroyer, Misery Index and Agoraphobic Nosebleed, are pleased to welcome guitarist Sparky Voyles (Dying Fetus, Misery Index etc.) to their diseased ranks with an inaugural show at the Acheron in Brooklyn, New York next month!
FULGORA will be sullying ears with the concussion-inducing, audio violence of their Stratagem full-length, released last month via Housecore Records. A punishing assortment of limited vinyl singles and samples, Stratagem takes the searing, audio demolition of their collective pedigrees to new realms of sonic abuse. Securing widespread exaltation from fans and critics globally, MetalSucks warns, "Their music has been scientifically proven to cause an overwhelming desire to cut one's own face off and feed it to dogs." Last Rites proclaims, "Strategem is the truth. It's an unfairly hook-y punch to the gut operating under the guise of being too short, when it's actually a calculated laser-blast of death metal efficiency that every band on the face of the planet should take notes on," while HeadbangorGTFO notes, "Stratagem is chunky, it's raw and you will definitely bang your fucking head to this." "FULGORA skews far more to the modern hardcore and crossover thrash side of metal," adds Houston Press, "[Guitarist/vocalist B.L.] LaMew's vocals are not screamed or squealed, but rather shouted. But never fear; FULGORA still serves up quite a helping of jagged time changes and math-metal riffage. These guys probably couldn't write a completely straightforward song if they tried to."
In addition to their Acheron takedown, FULGORA will terrorize the Maryland Deathfest as well as Full Terror Assault in Cave-In-Rock, Illinois in September with supplementary live abrasions being conspired. In the meantime, check out Strategem, still streaming in all its mutinous glory at Decibel Magazine at THIS LOCATION. And if you missed it, watch the visual companion to the track "Meridian," playing at Metal Injection at THIS LOCATION.
FULGORA:
5/21/2015 The Acheron – Brooklyn, NY w/ Blooded Head, Sunrot, Scowl [info]
5/23/2015 The Edison Lot @ Maryland Deathfest – Baltimore, MD
9/12/2015 Full Terror Assault – Cave-In-Rock, IL
Stratagem is out NOW via Philip H. Anselmo's Housecore Records. For CD orders, visit THIS LOCATION. Vinyl lovers go HERE.
http://www.fulgoramusic.bandcamp.com
http://www.facebook.com/fulgoramusic
http://www.facebook.com/housecorerecords
http://www.thehousecorerecords.com