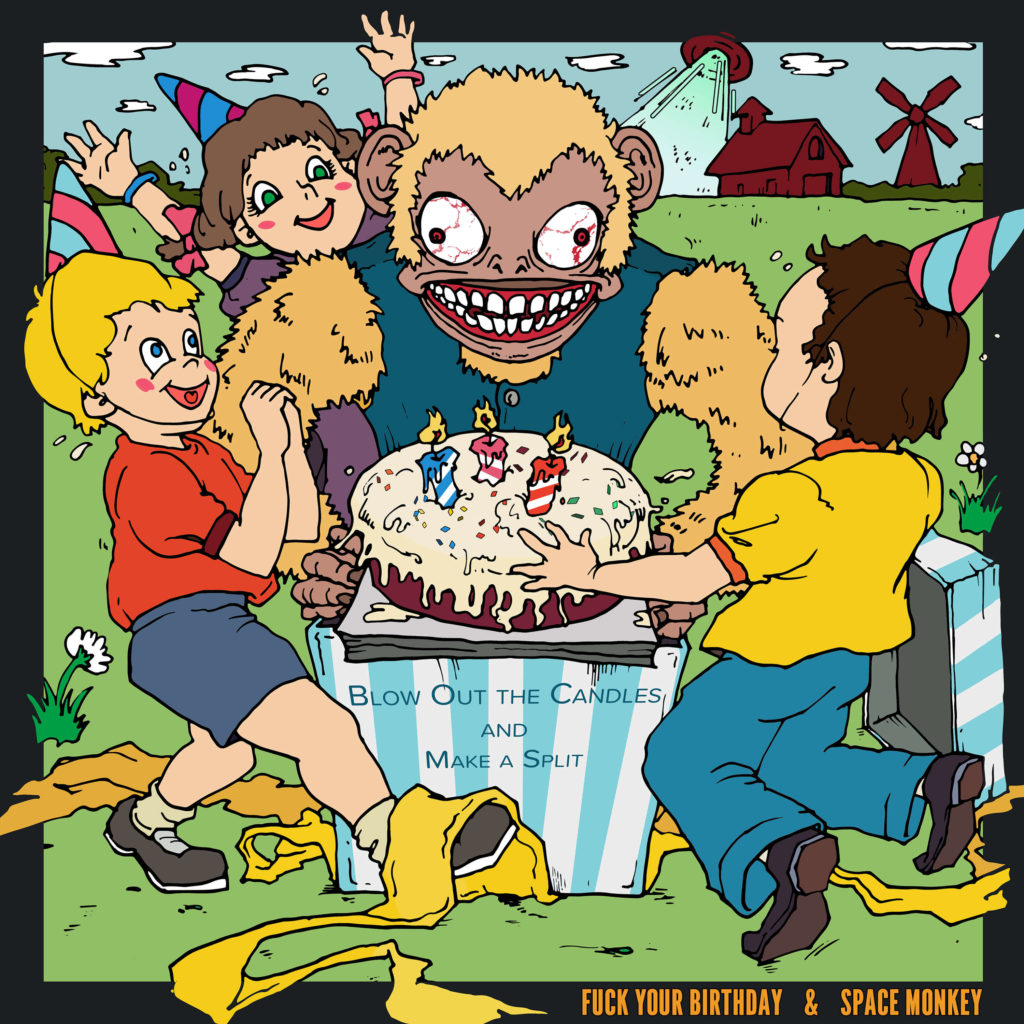 Nefarious Industries presents Blow Out The Candles And Make A Split, the new split EP between China/US-based duo FUCK YOUR BIRTHDAY and Chinese act SPACE MONKEY. The record is now available as a limited two-song vinyl 7″ as well as through all digital providers, the digital featuring an additional track from each band. The record drops as FUCK YOUR BIRTHDAY continues the ongoing East Coast leg of their North American tour.
SPACE MONKEY's tracks for Blow Out The Candles And Make A Split, "We Are Space Monkey" and "Billy Billy" were recorded at ACE Station in Guangzhou, China. For FUCK YOUR BIRTHDAY's "The Plan" and "Go Outside," the drums were recorded in Keidan's Living Room in Morgantown, West Virginia, the guitars and bass were recorded in a shed in New Martinsville, West Virginia, and the vocals were recorded in Wenzhou, China. All tracks on Blow Out The Candles And Make A Split were mixed by Christopher Henry and mastered by Bill Henderson at Azimuth Mastering.
Stream and purchase Blow Out The Candles And Make A Split on all digital platforms RIGHT HERE and the label webshop HERE.
Watch for several official videos for songs from the split and more to be released in the weeks ahead.
Having kicked off the international Tours Truly trek in China, touring the West Coast US with labelmates Those Darn Gnomes, and raiding Mexico for several shows, FUCK YOUR BIRTHDAY continues to play across the East Coast on the latest run, on their way to play New York City tonight. This branch of the trek sees them playing shows with labelmates Brandon Seabrook, Maid Myriad, Nequient, Mine Collapse, and many others scattered through August 4th.
Directly after the US shows, FUCK YOUR BIRTHDAY and SPACE MONKEY will celebrate the split by playing two shows together in China August 9th and 10th. FYB is also confirming shows in Japan for October which will be announced in the weeks ahead.
FUCK YOUR BIRTHDAY – Tours Truly 2019 remaining dates:
7/12/2019 Kingsland – Brooklyn, NY w/ Zevious, Brandon Seabrook, The Mantle [info]
7/13/2019 Reverb – Baltimore, MD w/ Bigger Waves, Tim Kaye [info]
7/17/2019 Fleetwood's – West Asheville, NC w/ J. Martinelli, Drew Burgess [info]
7/18/2019 House Show – Boone, NC
7/19/2019 Valdosta DIY House – Valdosta, GA w/ Mama Stone, desmo, Bitter Bones [info]
7/21/2019 Rodeo Rock – Pensacola, FL w/ Happymask, Rat Daughter [info]
7/26/2019 The Comet – Cincinnati, OH w/ Old City, The Actual Fuck [info]
7/27/2019 Liars Club – Chicago, IL w/ Nequient, Mine Collapse, Lavisher [info]
7/28/2019 Annabell's – Akron, OH w/ Maid Myriad, Actual Form [info]
7/31/2019 Empty Glass – Charleston, WV w/ Said So [info]
8/01/2019 Melody's – Beckley, WV w/ Seven Planets, Craig Philips, Xman [info]
8/02/2019 Brewstel – Elkins, WV w/ Swamp Drag, Mediogres, Long Hunt [info]
8/03/2019 123 Pleasant St, – Morgantown, WV w/ Clean Dirty Clean, Black Hole Zion, Mediogres [info]
8/04/2019 Howlers – Pittsburgh, PA w/ Wastegate, Craig Philip, The Maplewaves [info]
8/09/2019 191 Space – Guangzhou, CN w/ Space Monkey
8/10/2019 Brown Sugar Jar – Shenzhen, CN w/ Space Monkey
https://fuckyourbirthday.bandcamp.com
https://www.facebook.com/fckyourbirthday
https://www.instagram.com/fuckyourbirthdayband
http://nefariousindustries.com
http://www.facebook.com/NefariousIndustries
http://www.twitter.com/NefariousInd
https://www.instagram.com/nefarious_industries