A pro-shot studio performance from China/US-based rock duo FUCK YOUR BIRTHDAY has been issued through BigMouth Media out of Philadelphia. The footage of the band's performance was filmed live in the studio during their recent Tours Truly venture, which saw FYB touring across Southeast Asia and North America over several months surrounding the release of the band's split EP with Chinese punks Space Monkey, Blow Out The Candles And Make A Split.
SPACE MONKEY's tracks for Blow Out The Candles And Make A Split, "We Are Space Monkey" and "Billy Billy" were recorded at ACE Station in Guangzhou, China. For FUCK YOUR BIRTHDAY's "The Plan" and "Go Outside," the drums were recorded in Keidan's Living Room in Morgantown, West Virginia, the guitars and bass were recorded in a shed in New Martinsville, West Virginia, and the vocals were recorded in Wenzhou, China. All tracks on Blow Out The Candles And Make A Split were mixed by Christopher Henry and mastered by Bill Henderson at Azimuth Mastering.
The band's Christopher Henry offers with the new live performance, "After yoyoing back up from Baltimore as late as when Batman villains get their just-deserts, trapping some zzzz, and rising/shining at the asscrack of noon, we put the van in park outside of Big Mouth Philly. Them dudes were awesome. They helped us take in some gear, get setup and comfy, then tried to lowkey cremate us! I was like a dangerous human-oil-lamp, dripping from my wrists a kind of super-sweat made of gas-station-snack-regret. Roman was P90Xing behind the kit too. Our jeans didn't deserve that, so we peeled them off after the first song. It was hot; something PWH would sit in a cinema to see. We slam-dunked a take of the next song. That was the cheat-code required to get them fans back on. We do what we do for the fans. Much love. In the end, we bonded with the crew over tour tales and water, Madmaxed the intro card, and climbed back into the van. Later that night we caught John Wick 3 with D. Eiven and ate Chinese food. Amazing how many fond memories can be juiced out of just one day."
See FUCK YOUR BIRTHDAY's live BigMouth performance RIGHT HERE.
Blow Out The Candles And Make A Split is available to stream and purchase via all digital platforms HERE and the label webshop HERE.
FUCK YOUR BIRTHDAY is preparing to release new official videos in the weeks ahead as they plot new tour dates across China. Watch for further updates to be posted shortly. Henry offers of the recent tour, "About a month of my 2019 was spent traveling around and playing shows on the east coast of America with two of my best friends. I feel extraordinarily lucky to be able to honestly write that sentence. From JFK to Philly, nose up to Boston then toes down to South Carolina and further down to Florida, winding up to West Virginia, diagonal line to Chicago and back to Pittsburgh, and all the points in between; it was a wild ride with so many highlights we can't wait to share with you all (working on the video diary now). I just can't wait to do it again!"
FUCK YOUR BIRTHDAY Live:
9/01/2019 at æ— ç©ºæ" WKC – Wenzhou, CN w/ 夏铁牛 Xiatieniu [info]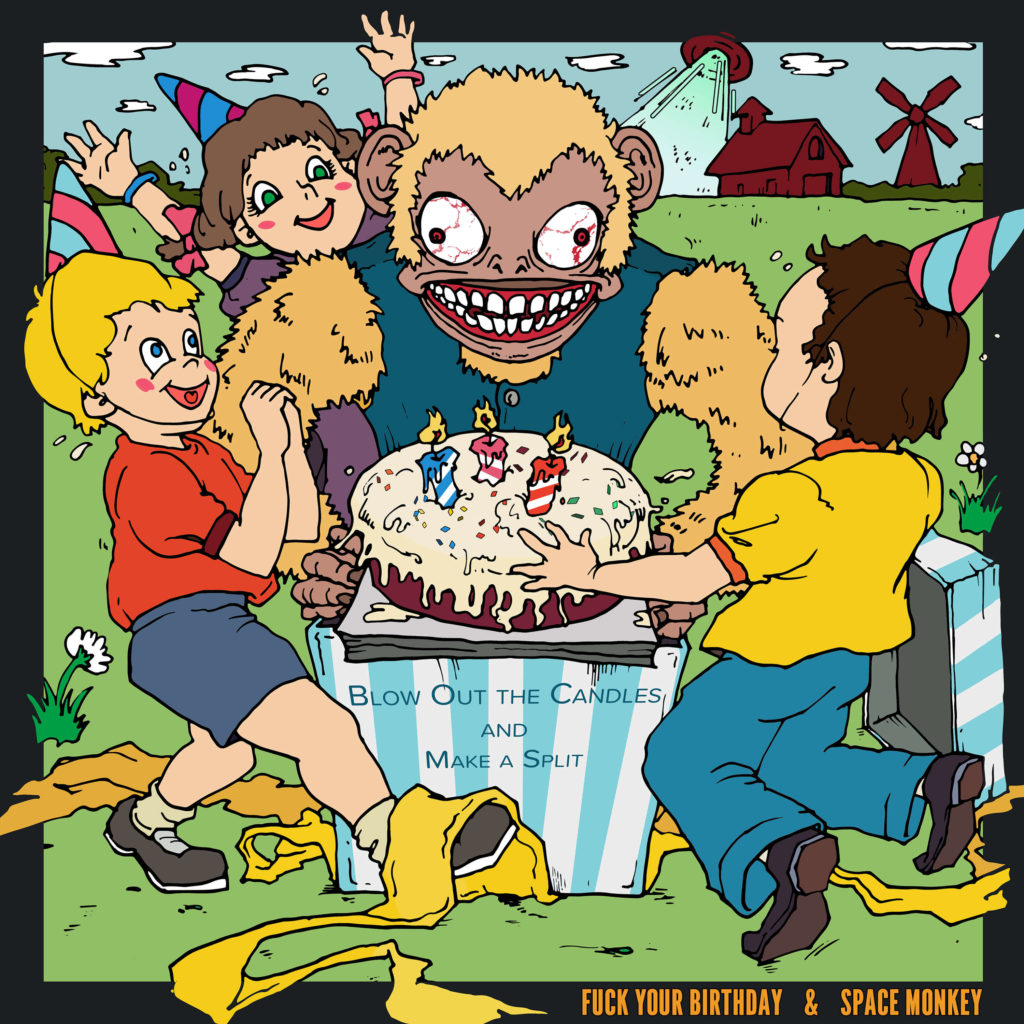 https://fuckyourbirthday.bandcamp.com
https://www.facebook.com/fckyourbirthday
https://www.instagram.com/fuckyourbirthdayband
http://nefariousindustries.com
http://www.facebook.com/NefariousIndustries
http://www.twitter.com/NefariousInd
https://www.instagram.com/nefarious_industries