China/US-based duo FUCK YOUR BIRTHDAY is currently embarked on their new international Tours Truly venture, which kicked off in China last week. The tour was booked in conjunction with the release of a new split EP with Chinese act SPACE MONKEY, Blow Out The Candles And Make A Split, which is confirmed for release through Nefarious Industries in July. The split will see a limited 7″ vinyl release with one track from each band, while the digital version will feature an additional track from each band.
FUCK YOUR BIRTHDAY is currently in the US, and today, they kick off their West Coast US leg of the trek in Los Angeles with labelmates Those Darn Gnomes. The tour runs through Santa Fe, Denver, Seattle, Portland, Eugene, Humboldt County, and San Francisco.
The West Coast US leg of Tours Truly is followed by a week-long tour in Mexico in late June which is still being finalized. July sees FUCK YOUR BIRTHDAY on the East Coast for a three-week inundation, playing shows with labelmates and allies Brandon Seabrook, Dying Whale, Maid Myriad, Nequient, Mine Collapse, and many others through the first week of August. Two new shows in August have been booked in China upon the band's return.
See the currently confirmed dates below and watch for updates in the weeks ahead as the routing is finalized.
SPACE MONKEY's tracks for Blow Out The Candles And Make A Split, "We Are Space Monkey" and "Billy Billy" were recorded at ACE Station in Guangzhou, China. For FUCK YOUR BIRTHDAY's "The Plan" and "Go Outside," the drums were recorded in Keidan's Living Room in Morgantown, West Virginia, the guitars and bass were recorded in a shed in New Martinsville, West Virginia, and the vocals were recorded in Wenzhou, China. All tracks on Blow Out The Candles And Make A Split were mixed by Christopher Henry and mastered by Bill Henderson at Azimuth Mastering.
Blow Out The Candles And Make A Split will see release via Nefarious Industries on July 12th; find preorders at the label webshop HERE and Bandcamp HERE.
Watch for audio samples and more to be issued in the weeks ahead.
FUCK YOUR BIRTHDAY – Tours Truly 2019:
6/05/2019 Coaxial – Los Angeles, CA w/ Those Darn Gnomes, In the Womb, Endometrium Cuntplow, Counsil [info]
6/07/2019 Particles – Santa Fe, NM w/ Those Darn Gnomes, Ceremonies, Mischief and Confusion [info]
6/09/2019 Thought//Forms Gallery – Denver, CO w/ Those Darn Gnomes, Galleries, Narcissa [info]
6/12/2019 Screwdriver – Seattle, WA w/ Those Darn Gnomes, Jayomi, Communal 40 [info]
6/13/2019 Twilight – Portland, OR w/ Those Darn Gnomes, Mercury Tree, Leafminer [info]
6/14/2019 The Urgus (house show) – Eugene, OR w/ Those Darn Gnomes
6/16/2019 House Show – Humboldt County, CA w/ Those Darn Gnomes
6/17/2019 Honey Hive Gallery – San Francisco, CA w/ Those Darn Gnomes, Key West, Car Made Of Glass [info]
6/21/2019 TBA – Puebla, MX
6/29/2019 Rockstar Bar – Puebla, MX
7/09/2019 Dusk – Providence, RI w/ Nghtswm, Tiny Diamonds, Snuffed Out [info]
7/12/2019 Kingsland – Brooklyn, NY w/ Brandon Seabrook, The Mantle
7/15/2019 Reverb – Baltimore, MD
7/19/2019 Valdosta DIY House – Valdosta, GA
7/21/2019 Rodeo Rock – Pensacola, FL w/ Surrounder
7/25/2019 House Show – Boone, NC
7/26/2019 The Comet – Cincinnati, OH w/ Old City, The Actual Fuck
7/27/2019 Liars Club – Chicago, IL w/ Nequient, Mine Collapse, Lavisher
7/28/2019 Annabell's – Akron, OH w/ Maid Myriad, Actual Form [info]
7/31/2019 Empty Glass – Charleston, WV w/ After Atlas, Said So
8/01/2019 Melody's – Beckley, WV w/ Seven Planets, After Atlas, Xman [info]
8/02/2019 Brewstel – Elkins, WV w/ Swamp Drag, Mediogres, Long Hunt
8/03/2019 123 Pleasant St – Morgantown, WV w/ Clean Dirty Clean, Black Hole Zion, Mediogres [info]
8/04/2019 Howlers – Pittsburgh, PA w/ Wastegate
8/09/2019 191 Space – Guangzhou, CN w/ Space Monkey
8/10/2019 Brown Sugar Jar – Shenzhen, CN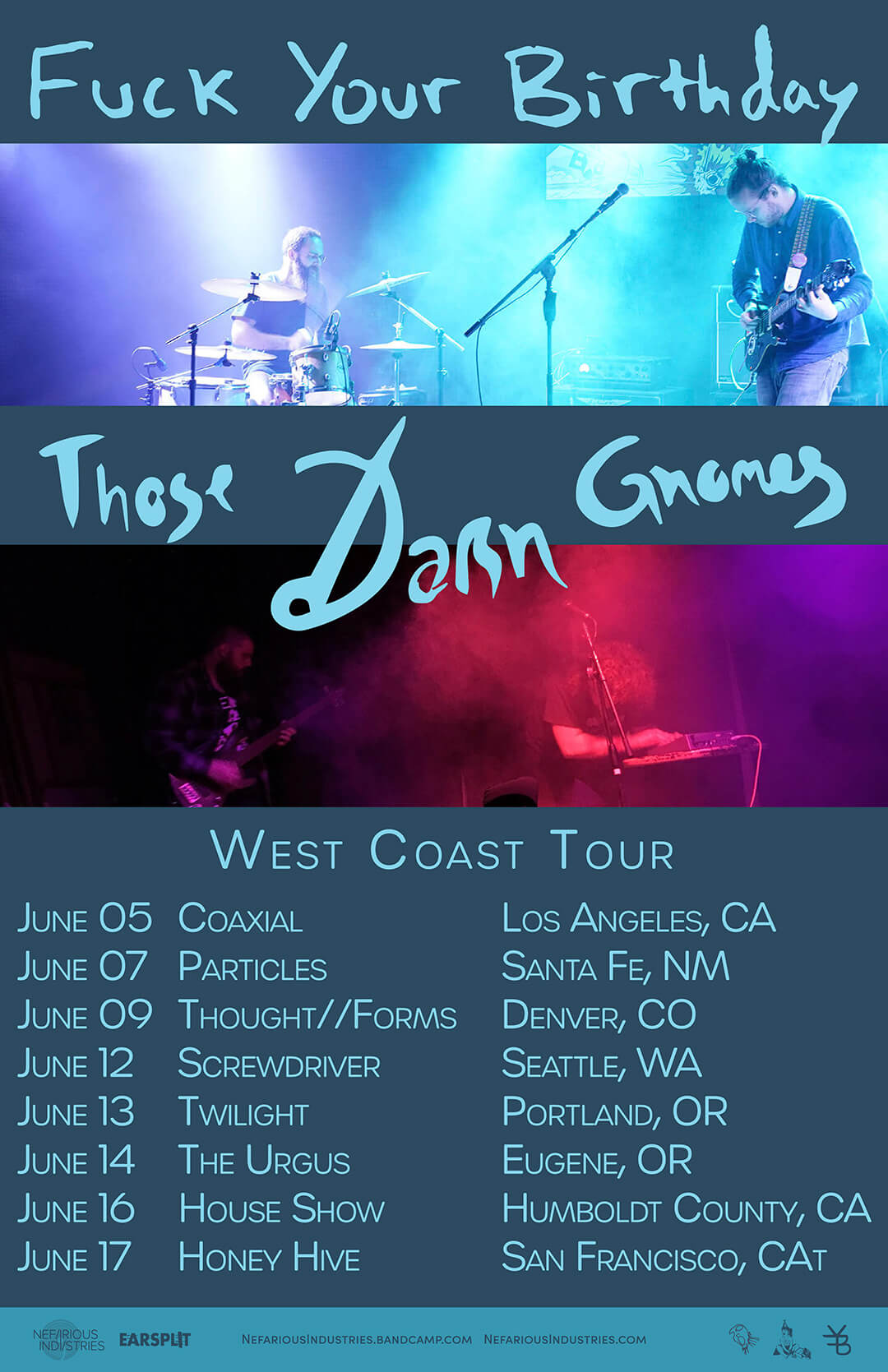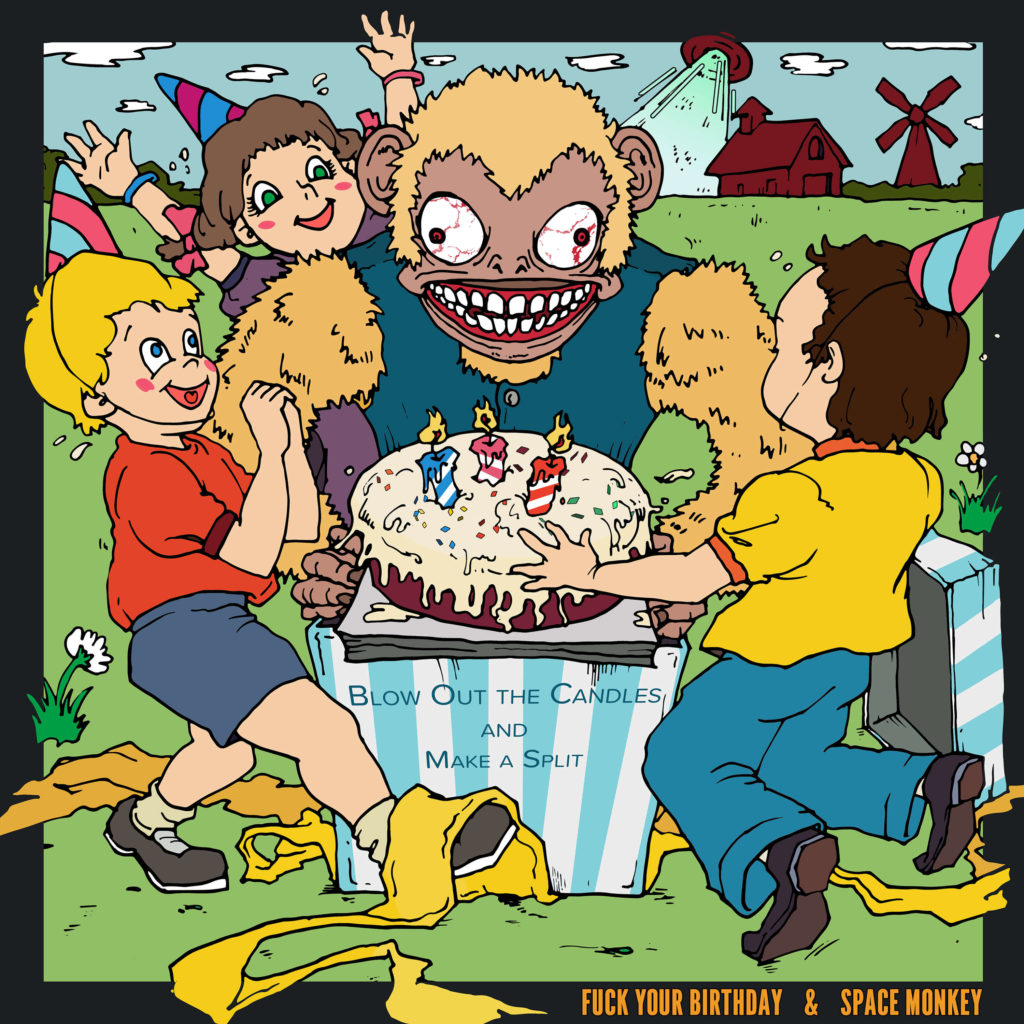 https://fuckyourbirthday.bandcamp.com
https://www.facebook.com/fckyourbirthday
https://www.instagram.com/fuckyourbirthdayband
http://nefariousindustries.com
http://www.facebook.com/NefariousIndustries
http://www.twitter.com/NefariousInd
https://www.instagram.com/nefarious_industries