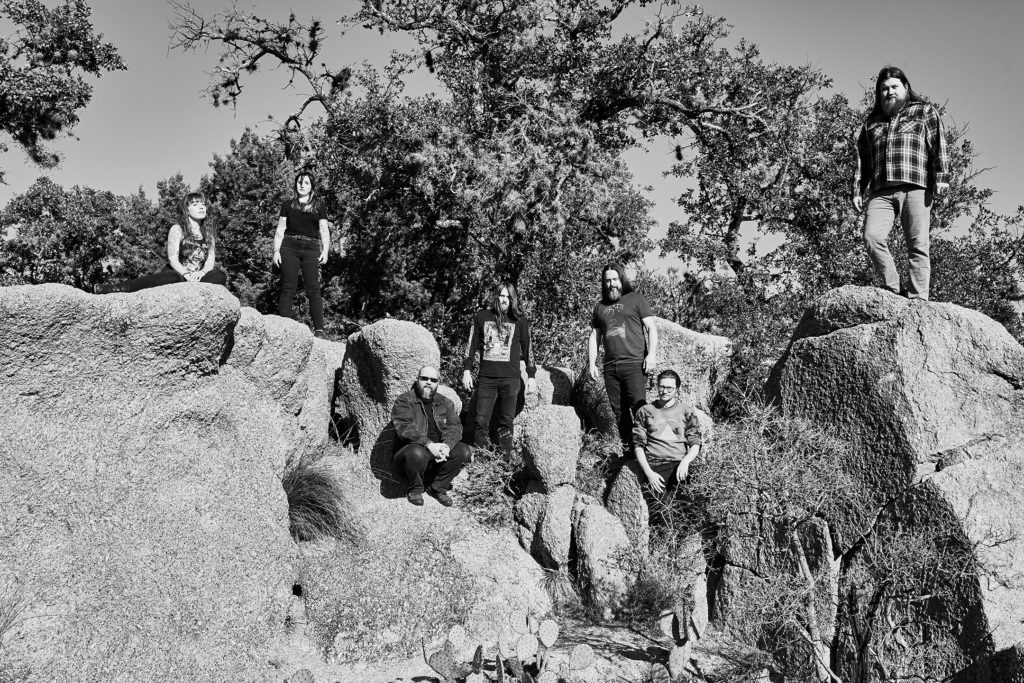 [photos by Kathleen Kennedy]
Texas-based dark metal septet DEAD TO A DYING WORLD announces a run of East Coast tour dates in July, as the band continues to tour in support of their acclaimed Elegy opus, which saw release through Profound Lore Records in April. Additionally, the band has just issued a new video for the album's "Syzygy."
Directly following their West Coast tour surrounding Northwest Terror Fest, DEAD TO A DYING WORLD will bring their immense live entourage to the Eastern US in support of Elegy. The epic double-LP opus saw amidst a wealth of praise from media outlets and listeners which continues to pour in from around the globe.
The band's July tour will begin in Chicago on July 20th followed by shows in Pittsburgh, Richmond, Brooklyn, Philadelphia, Washington, Asheville, and New Orleans through July 27th. In addition to the band's already sprawling lineup, DEAD TO A DYING WORLD will be joined by guest musicians Emil Rapstine from The Angelus on vocals (who also toured with them on the recent West Coast run), and Zach Jobin from Cleric and Tyrannosorceress on percussion.
View DEAD TO A DYING WORLD's new video for "Syzygy," created by Tine Guns, at THIS LOCATION.
Elegy is out now through Profound Lore Records on 2xLP, CD, and all digital platforms. Place orders through the label webshop HERE via Bandcamp HERE, as well as through all digital providers.
DEAD TO A DYING WORLD East Coast Tour:
7/20/2019 Grandma's House – Chicago, IL
7/21/2019 Howlers – Pittsburgh, PA
7/22/2019 Cary Street Cafe – Richmond, VA
7/23/2019 Saint Vitus – Brooklyn, NY
7/24/2019 Kung Fu Necktie – Philadelphia, PA
7/25/2019 Atlas Brew Works – Washington, DC
7/26/2019 Odditorium – Asheville, NC
7/27/2019 Santos – New Orleans, LA
DEAD TO A DYING WORLD's Elegy is a foretelling of a post-human world which explores themes of loss, grief, and the dawn of a new ecology through the eyes of a lone wanderer. The last human grieves the end of humanity, reflecting on the temporal insignificance of man and the sixth extinction caused by the Anthropocene – the end of our kind brought about by our own hubris, greed, and desire for power over one another. Elegy marks the third chapter in the trilogy, which explores our relationship to our world by reflecting on our past, present, and impending future.
Produced by Billy Anderson, Elegy stands as one of the most riveting productions from the acclaimed producer in recent times. The album sees the band's seven full-time members welcoming contributions from a small cast of guest musicians, including Thor Harris (ex-Swans, Thor & Friends), Jarboe (ex-Swans), Dylan Desmond (Bell Witch), and Emil Rapstine (The Angelus), Pablo C. Urusson (Sangre de Muerdago), and Tim Duffield (ex-Sans Soleil). The new contingent of guests helps elevate the narrative of Elegy to a new plateau.
"If we write our own epitaph for the planet, DEAD TO A DYING WORLD's dark metallic prophecies are there to provide a gracefully vicious soundtrack…" – NPR
"…a well-balanced approach to their mixing of metal genres. More propelling tracks alternate with softer interludes, with one breathing life into the next like the changing of the seasons…. Elegy captures the scene of a world without humankind. As the evolution of the natural landscape mournfully plows forward, just one lone sole is left to take in the dawn or a new day." – Invisible Oranges
"Not to slight the previous two albums, but listening to Elegy back-to-back with either of them is night and day. Elegy is the first album where Dead To A Dying World's music sounds as larger-than-life as it was written to sound. It's also the most focused and confident album they've made yet." – BrooklynVegan
"This is death row metal; something to be acknowledged on its own merit, created as a step above the status quo of the genre, and not to be compared to the other bodies of work by the band itself. If this were your last musical meal, you may well be content with that result. 10/10" – Heaviest Of Art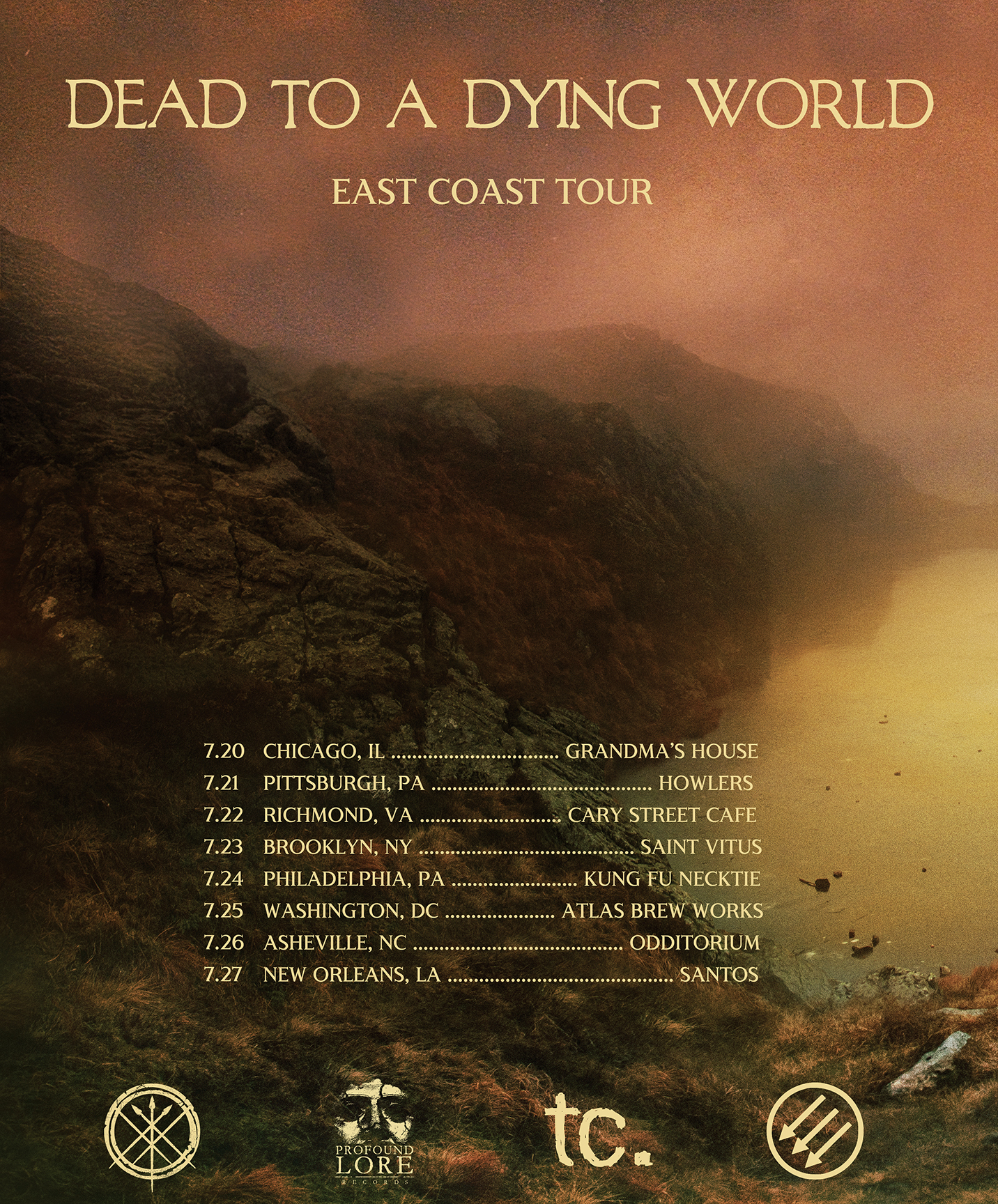 https://www.deadtoadyingworld.org
http://www.facebook.com/DeadToADyingWorld
http://www.deadtoadyingworld.bandcamp.com
https://www.instagram.com/deadtoadyingworld
http://www.profoundlorerecords.com
http://www.facebook.com/profoundlorerecords
http://www.profoundlorerecords.bandcamp.com
https://www.instagram.com/profoundlorerecords