Quebec's bastardized grinders FUCK THE FACTS have recently posted the track "A Coward's Existence" from the band's upcoming album, Die Miserable.
Stated FTF guitarist Topon Das about the theme behind the song and the album as a whole: "Musically, this is the song I feel embodies almost all the elements of the album. Some of the other songs on the album seem to lean more towards the fast and crazy elements and some more towards the melodic, but on 'A Coward's Existence,' I feel like we really were able to make it all work together. The song is from the point of view of someone who doesn't take any chances in life, because of fear of failure, ridicule… someone that just waits and hopes for fate to make things happen for them, and before they know it, their time is up and they never got to do all things they wish they had. This is pretty much the basis of the album title Die Miserable. If we spend all our time worrying about money, what other people will do or think, if we're good enough to accomplish the things we want to do, that eventually it ends with regret and a void that was never filled because we were to afraid to live the life was always wanted to."
Check out the scorching "A Coward's Existence" at FUCK THE FACTS' Bandcamp page HERE.
A live version of the song filmed at The Cake Shop in NYC as part of FUCK THE FACTS' 10-year anniversary can be viewed HERE, and the band have also posted an in-studio video of the track that can be viewed HERE.
Set for release in North America via Relapse Records on October 11th, Die Miserable was recorded between tours at their own home studio. Featuring over 35 minutes of FUCK THE FACTS' scorching blend of socio-politically-charged grind, hardcore and metal fans worldwide have embraced for the past decade, the album showcases some of the finest work the band has embodied to date.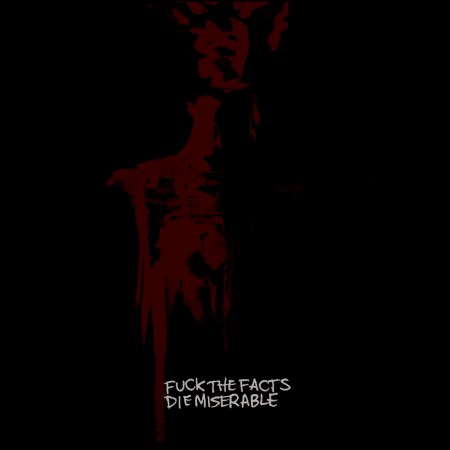 Die Miserable Track List:
1. Drift
2. Cold Hearted
3. Lifeless
4. Census Blank
5. Alone
6. Die Miserable
7. A Cowards Existence
8. 95
FUCK THE FACTS, known for their incredible amount of touring over the years, have booked several dates throughout Canada in support of Die Miserable, including a slot supporting grindcore gods Napalm Death!
FUCK THE FACTS Confirmed Live Appearances:
9/16/2011 Bar Magog – Sherbrooke, QC
9/17/2011 Cabaret Box Office – Drummondville, QC
9/24/2011 Salle Multi de Meduse – Quebec City, QC
10/9/2011 Maverick's – Ottawa, ON w/ Napalm Death
http://www.facebook.com/FuckTheFacts
http://www.myspace.com/fuckthefacts
http://twitter.com/fuckthefacts
http://www.relapse.com
http://www.facebook.com/RelapseRecords