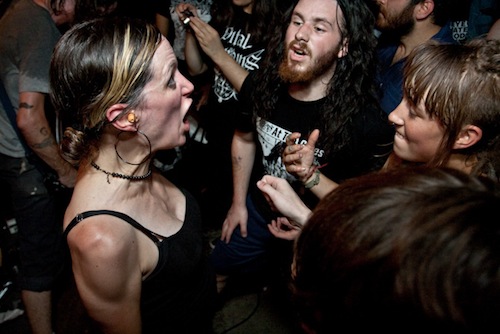 The brand new video from Ottawa-based grindcore technicians has been released today.
Constructed for the song "Drift" — the scathing opening track from FTF's late 2011-released eighth LP, Die Miserable — the imaginative, creepy video was created by David Hall of Handshake Inc., known for previous videos he's directed for Today is the Day, Brutal Truth, Hail of Bullets, Jucifer, Bastard Noise, Agoraphobic Nosebleed, Sigh, Rwake and tons more, in addition to previous work with FUCK THE FACTS.
A full director's statement on the visualization/creation of the video joins the visual mayhem VIA METAL INJECTION.
Following their month-long European tour which wrapped up in early April, FUCK THE FACTS are set to storm their native country on the Canadian Ritual Tour 2012. Beginning late next week the tour will invade twenty cities across Canada and the upper US — headlined by Detroit crushers The Black Dahlia Murder, with support from FUCK THE FACTS and their Relapse labelmates Cali gore kings Exhumed — with FTF headlining several additional dates along the route.
Die Miserable's entire eight tracks of annihilating socio-political grind-metal mayhem can be streamed via the band's official Bandcamp page.
Canadian Ritual Tour 2012
w/ EXHUMED, FUCK THE FACTS, The Black Dahlia Murder:
5/10/2012 Annabell's – Akron, OH [*Fuck The Facts only]
5/11/2012 High Noon Saloon – Madison, WI
5/12/2012 House Of Rock – Eau Claire, WI
5/13/2012 The Venue – Fargo, ND
5/14/2012 Mannys – Billings, MT
5/15/2012 A-Club – Spokane, WA
5/16/2012 Rickshaw – Vancouver, BC
5/17/2012 The Grind – Kamloops, BC [*Fuck The Facts only]
5/18/2012 Starlite Room – Edmonton, AB
5/19/2012 The Den – Calgary, AB
5/20/2012 The Exchange – Regina, SK
5/21/2012 WECC – Winnipeg, MB
5/22/2012 CROCKS – Thunder Bay, ON
5/23/2012 The Canadian Club – Sault Ste Marie, ON [*Fuck The Facts only]
5/24/2012 Wreck Room – Toronto, ON
5/25/2012 Imperial – Quebec City, QC
5/26/2012 The National – Montreal, QC
5/27/2012 The Manhattan – Moncton, NB
5/28/2012 The Pavilion – Halifax, NS
5/29/2012 The Seahorse – Halifax, NS
5/31/2012 Ritual – Ottawa, ON
6/01/2012 Rum Runner's – London, ON
6/02/2012 St. Andrews Hall – Detroit, MI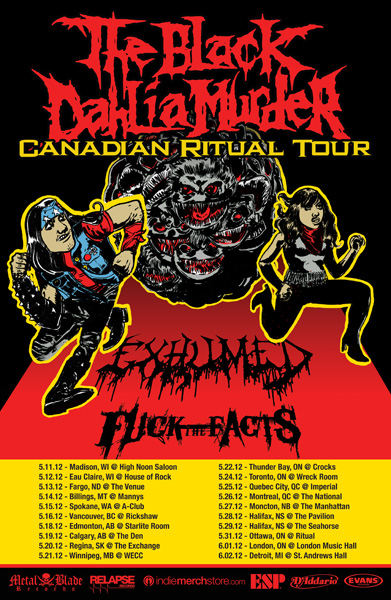 http://fuckthefacts.bandcamp.com/album/die-miserable
http://www.facebook.com/FuckTheFacts
http://www.myspace.com/fuckthefacts
http://twitter.com/fuckthefacts
http://www.relapse.com
http://www.facebook.com/RelapseRecords