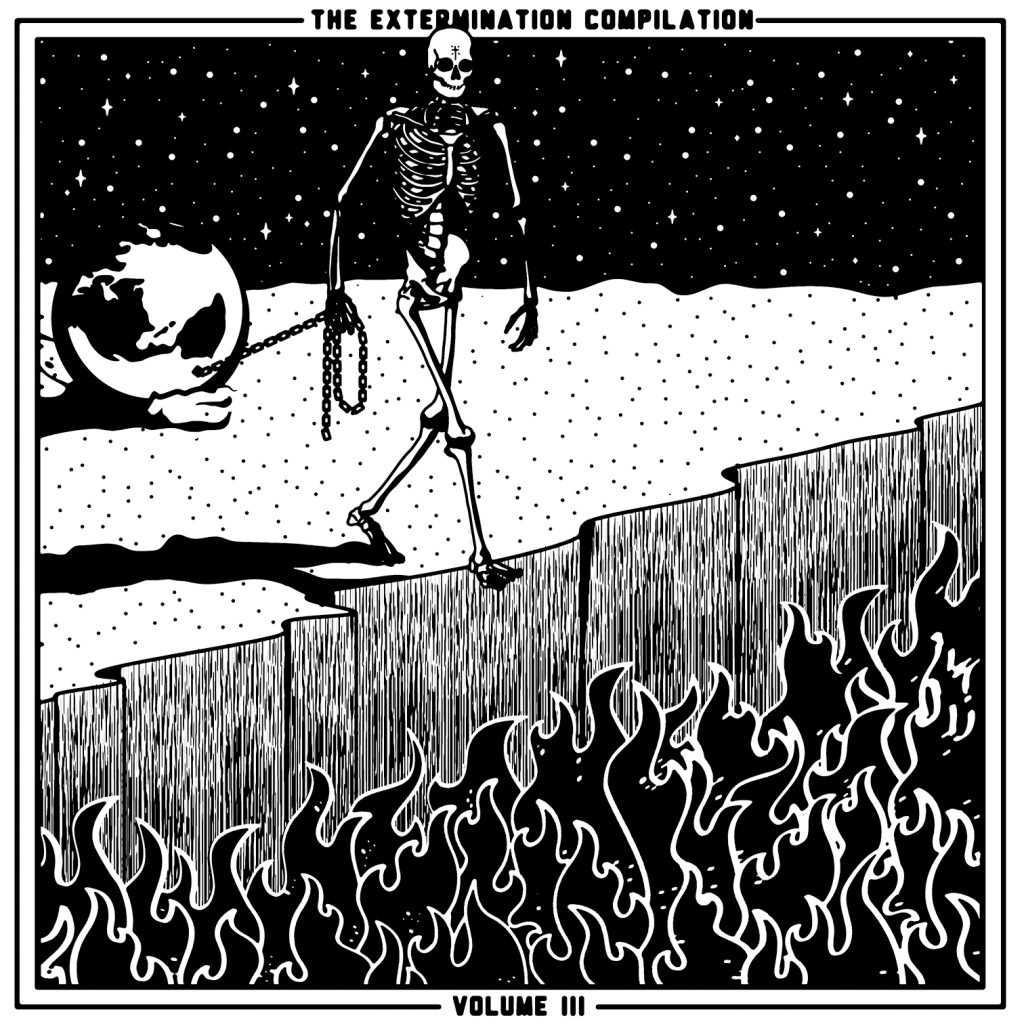 With the November release of Flatspot Records' The Extermination Vol. 3 compilation LP closing in, two more tracks have been issued, as Decibel Magazine unloads the new songs from PIECE BY PIECE and FRIEND OR FOE for exclusive streaming.
The demise of Carry On hath wrought a beast with aggression and attitude that cannot be controlled. A beast that has been built from the dead, PIECE BY PIECE was formed by Nick Jett (Terror, Carry On) and Corey Williams (Internal Affairs, Carry On) in late 2001 as an outlet for the music that had no place within the framework of their other projects. They have perfected the technique of pushing boundaries and not compromising their raw expression one bit. Along with Edgar Vazquez and The Smacman, PIECE BY PIECE has become the quintessential hardcore punk band from Los Angeles influencing many and pissing off many more.
Featuring current/ex-members of Bracewar, Fire & Ice, Iron Boots, and more, FRIEND OR FOE recently issued their Foe EP through Flatspot Records. Packing five new tracks, the new record sees this energetic straightedge hardcore/punk outfit at their best yet, the band's undeniable NYHC influences coalescing influences from the likes of Breakdown, Sick Of It All, Killing Time, and Agnostic Front with their own hard-hitting style.
Issues PIECE BY PIECE on taking part in the comp, "We are very proud to be a part of this record and we hope everyone checks it out, especially the TAKE OFFENSE song. Pick up some vinyl and support Flatspot Records. We wrote this song while hating you. Hope everyone hates it. "
FRIEND OR FOE collectively and bluntly adds, "Everyone has a plan until they get hit in the mouth."
Listen to "Hating You" from PIECE BY PIECE and "Invincible" by FRIEND OR FOE only at Decibel Magazine RIGHT HERE.
Stream the previously released tracks including TERROR's "Other Worlds" and HIGHER POWER's "World Gone Mad" at Clrvynt HERE, and TAKE OFFENSE's "Enter The Center" and D.C. DISORDER's "Naïve To A World" at Idioteq HERE.
The Extermination Vol. 3 will see release through Flatspot Records on 12″ vinyl LP and digital platforms, as well as a limited cassette run on November 11th, 2016. Alongside the exclusive lead premieres from the comp, preorders have gone live. Check out the options RIGHT HERE.
Flatspot Records takes pride in their scene by releasing the bi-annual The Extermination titles, the series showcasing some of the new-blood in the hardcore/punk world, along with established bands that have been proudly carrying to the torch. Past editions have featured bands such as TURNSTILE, ANGEL DU$T, POWER TRIP, BACKTRACK, and KING NINE, among many others. This series is a homage to classic hardcore compilations such as Where The Wild Things Are, The Way It Is, Free For All, and others, where listeners discovered influential bands that still have an impact on our scene today.
The third installment in this ongoing series bears another intense collection of new tracks from some of the leading acts of the current scene. The Extermination Compilation Vol. 3 features nine brand new tracks that are entirely exclusive to this compilation only. Represented on the collection are four bands from the West Coast US, including TERROR, TAKE OFFENSE, PIECE BY PIECE, and DISGRACE, East Coast US acts FRIEND OR FOE, MANIPULATE, COUNTDOWN, and D.C. DISORDER, as well as a song from UK-based HIGHER POWER.
http://www.flatspotrecords.com
http://www.facebook.com/flatspotrecords
https://flatspotrecords.bandcamp.com