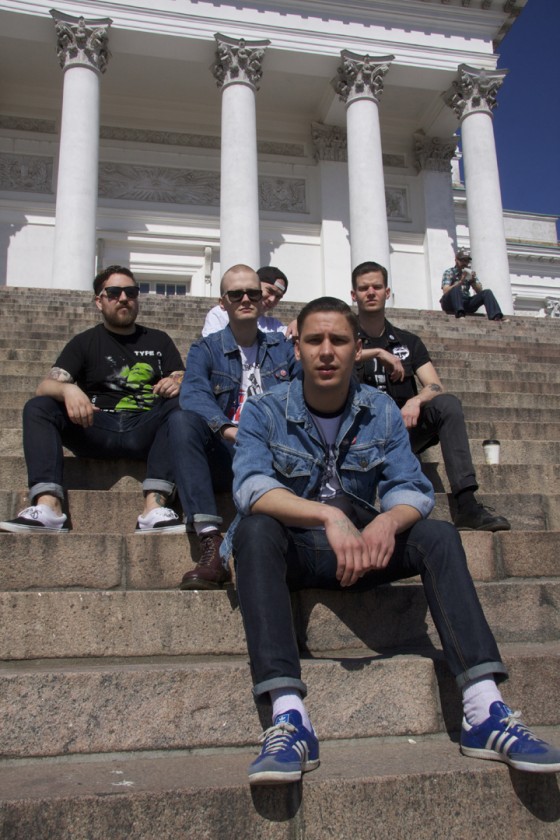 Finland's belligerent crossover quintet, FORESEEN HKI, is on their way across the Atlantic, on their way to the US to embark on Helsinki Savagery Over America — the band's maiden stateside trek — which gets underway at This Is Hardcore in Philadelphia this week.
FORESEEN HKI's relentless debut LP, Helsinki Savagery, saw worldwide release through 20 Buck Spin last November, the album's brutally raw aggression impacting upon the masses like a full-scale nuclear attack. With a dark and callous punk/hardcore edge, the clearly Finnish rawness and hostility of the record thundered with a vengeful and streetwise sound that's largely vacant within the modern thrash scene. Recorded in full analog and mixed at Black Floyd's Analog Lab by Tapio Lepistö, the CD and digital mastering was handled by James Plotkin and the full analog chain LP mastering by Timmion Records, delivering each format with immaculately devastating supremacy which Decibel Magazine dubbed as, "one of the darkest, nastiest slabs of crossover thrash to come lurching out of the heavy metal tar pits in a long, long while, continuing, "This is a collection of seriously charged steamroller songs, representing a near-perfect fusing of the wild churn 'n' chug of Crossover-era D.R.I. and Carnivore to the metalized controlled aggressions and velocity of Vio-lence (circa Bonded By Blood Exodus) and Nuclear Assault."
Now, FORESEEN HKI comes armed to the teeth with their brutalizing anthems, ready to send American fans into a furious frenzy, with sixteen dates of chaos confirmed. Helsinki Savagery Over America begins at this year's mammoth installment of This Is Hardcore in Philadelphia with a double-header, performing on Saturday, July 25th at an off-fest show with Power Trip and Razorheads, and their official slot on the fest the following day alongside The Exploited, H20, Negative Approach, Power Trip, Rival Mob, Slapshot, Harms Way, Forced Order and many more. Following the fest, FORESEEN HKI will hit the East Coast alongside Power Trip and Red Death for a week of dates, after which they'll split off on their own ongoing rogue mission into the Upper Midwest states and back to the East Coast, ending the trek in Baltimore on August 9th.
Stream FORESEEN HKI's Helsinki Savagery in full RIGHT HERE along with digital order options, and pick up the CD HERE and LP HERE.
FORESEEN HKI Helsinki Savagery Over America Tour Dates:
7/25/2015 Kung Fu Necktie – Philadelphia, PA w/ Power Trip, Razorheads
7/26/2015 Electric Factory – Philadelphia, PA @ This Is Hardcore Fest [info]
7/27/2015 Strange Matter – Richmond, VA w/ Power Trip, Red Death, Barge [info]
7/28/2015 Kings – Raleigh, NC w/ Power Trip, Red Death [info]
7/29/2015 Rock N Roll Hotel – Washington, DC w/ Power Trip, Red Death, Protestor [info]
7/30/2015 Cuisine en Locale – Boston, MA w/ Power Trip, Red Death, Boston Strangler, Fury, Freedom Intent [info]
7/31/2015 Warren American Legion – Warren, NJ w/ Power Trip, Red Death, Razorheads [info]
8/01/2015 Palisades – Brooklyn, NY w/ Power Trip, Red Death [info]
8/02/2015 Amityville Music Hall – Amityville, NY w/ Power Trip, Red Death [info]
8/03/2015 Bug Jar – Rochester, NY
8/04/2015 Zenith – Detroit, MI
8/05/2015 Mt. Happy – Chicago, IL
8/06/2015 Indiana City Brewing Co. – Indianapolis, IN [info]
8/07/2015 The Foundry – Lakewood, OH
8/08/2015 Mr. Roboto Project – Pittsburgh, PA [matinee]
8/08/2015 The Rock Room – Pittsburgh, PA [night]
8/09/2015 Charm City Art Space – Baltimore, MD [matinee] [info]
http://www.facebook.com/Foreseen
http://www.foreseen.bandcamp.com
http://www.foreseen.bigcartel.com
http://www.20buckspin.com
http://www.facebook.com/20buckspin
http://www.twitter.com/20buckspinlabel