20 Buck Spin confirms that the label will release the debut album from punishing Finnish crossover quintet, FORESEEN HKI.
Following several successful EPs, including 2013's well received Structural Oppression, Finland's FORESEEN HKI now break into the international metal scene with their debut LP, Helsinki Savagery. An explosive burst of raw crossover, the band effortlessly fuse the 1980s iterations of US thrash and hardcore to create a merciless album of absolute jawbreakers. A distinctly Finnish rawness and hostility, that's been a hallmark of the countries incredible hardcore punk bands since the early '80s, pervades the LP. Bringing back a concrete toughness to thrash that's largely been missing for years, on Helsinki Savagery, FORESEEN HKI takes their place among the elite of modern crossover bands. Tracks like "Death Injection," "Bonded By United Blood" and "Both Sides Lose" are infused with a lethal urgency and unrestrained devotion to crafting ideal songs for wild, anarchic live shows.
Helsinki Savagery documents a band in its hungry, formative prime where the extreme aggression heard on many classic debut albums is captured with terrible certainty. With high speeds and fierce leads that shred, United Forces are back from the dead. Diehard circle pit-dwellers who live by the lessons taught by S.O.D, Nuclear Assault, Integrity, Vio-lence, Cro-Mags, Leeway and Carnivore, your favorite new band is here.
20 Buck Spin will unleash Helsinki Savagery via digital delivery and CD on November 25th, with an LP pressing to hit on February 3rd and co-released in Europe by Take It Back Records. In addition to sporadic tour actions across Europe in the planning stages, FORESEEN HKI is also planning to invade the US for the first time in 2015. The cover art by Chad Keith and track listing for the album having been released, audio samples and more from the album will be leaked in the coming weeks.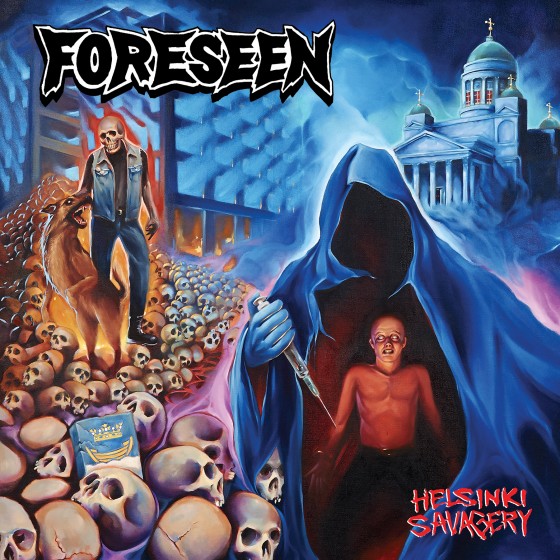 Helsinki Savagery Track Listing:
1. Slam Savagery
2. Death Injection
3. The Prowler
4. Market Target
5. Bonded By United Blood
6. Interlude
7. Structural Oppression
8. Delusions Of No Consequence
9. Both Sides Lose
10. Paving The Way
https://www.facebook.com/Foreseen
https://foreseen.bandcamp.com
https://foreseen.bigcartel.com
http://www.20buckspin.com
http://www.facebook.com/20buckspin
http://twitter.com/20buckspinlabel