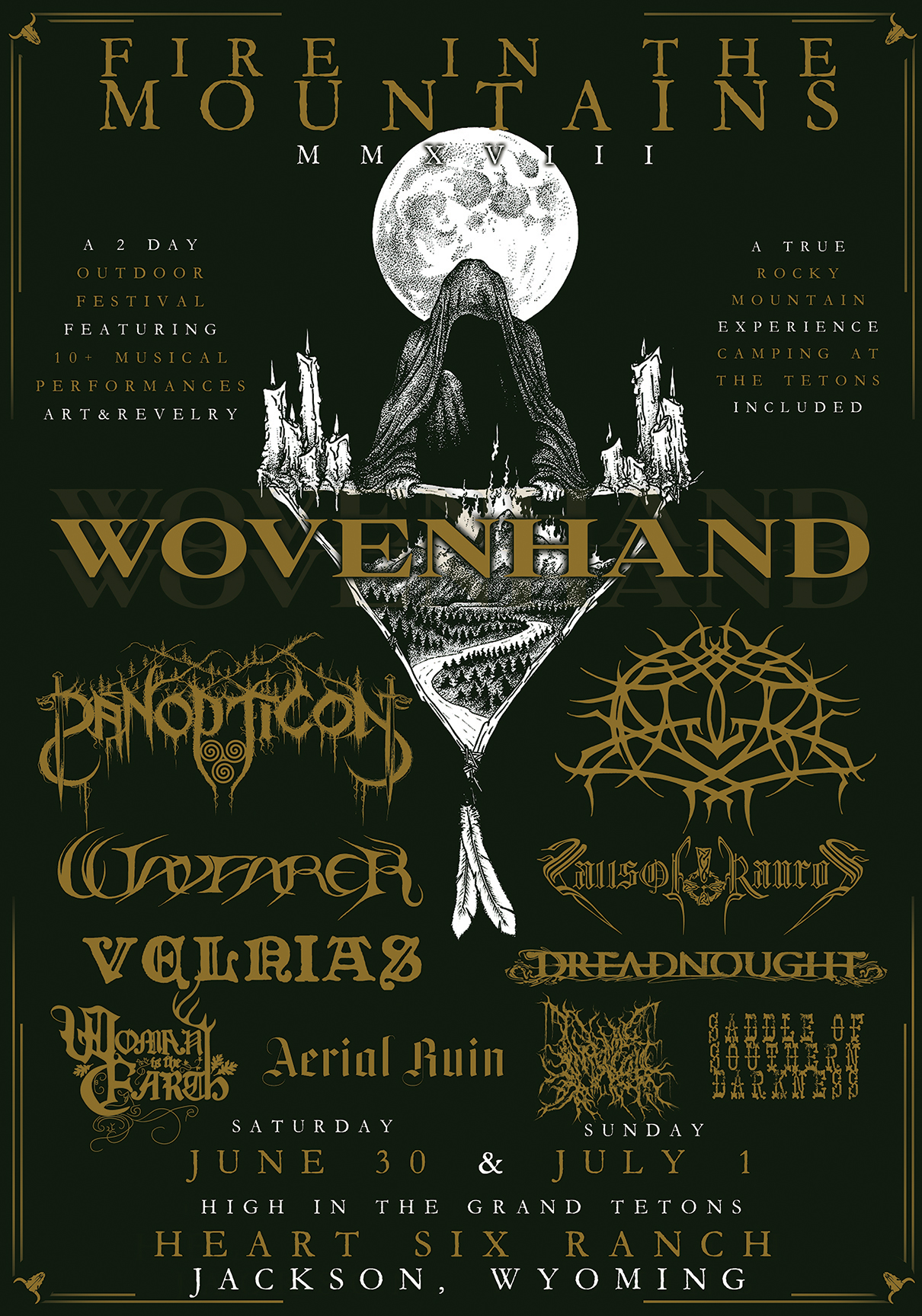 Rocky Mountains-based outdoor metal gathering FIRE IN THE MOUNTAINS has expanded beyond its DIY roots into an official two-day event this summer, announcing the remaining bands for the festival's complete lineup this week, now including Wovenhand.
FIRE IN THE MOUNTAINS 2018 takes place June 30th and July 1st at Heart Six Ranch in Moran, Wyoming, where attendees will watch two nights of more than ten bands on the outdoor stage, eat, drink, and camp within the ranch and nearby in Bridger-Teton National Forest. They will also have access to festival sponsored hiking trips, white water rafting, backpacking, fishing, canoeing horseback rides, and more wilderness activities right out the backdoor of the ranch in the daytime hours surrounding the evenings' performances.
The 2018 installment of FIRE IN THE MOUNTAINS is now fully booked, the lineup including Panopticon, Krallice, Wayfarer, Falls Of Rauros, Dreadnought, Velnias, Woman Is The Earth, Aerial Ruin, Infernal Coil, and Saddle Of Southern Darkness, in addition to headliner, Wovenhand.
Wovenhand is a band not easily classified; with traces of many sounds from many places, they weave a sound of their own that has appeal to many different people. Hailing initially from Denver, Colorado, the band is a prominent face of the "Denver Sound" — a sound they and specifically band leader David Eugene Edwards helped to create with Wovenhand and his former iteration Sixteen Horsepower. A psychedelic rock and roll pulse through a smattering of dark American folk, country, and Americana with nods to metal and post punk, Wovenhand is a shamanistic and entrancing live experience that leaves an unmistakable impression upon its audience. Garnering praise from the metal community, fans of folk, country and gospel, Wovenhand is truly a force of its own, and will be a remarkable presence at the Grand Tetons.
The official website for FIRE IN THE MOUNTAINS will go live with ticket sales tomorrow, Friday, April 13th, at 3PM Mountain Time RIGHT HERE.
FIRE IN THE MOUNTAINS is a one of a kind event, taking place in front of the Rocky Mountains' crowning jewel, the Grand Tetons just outside of Jackson, Wyoming. Getting its start as a rogue one-off show in the wilderness, the FIRE IN THE MOUNTAINS festival is now a two-day event showcasing the live performances of some carefully curated bands performing on an outdoor stage directly in front of the Tetons, as the sun sets behind them. It is two days of music, art, and revelry nestled deep in the beauty of nature, providing an escape from the trappings and monotony of modern civilization both through the music on display and through the beauty and isolation the atmosphere uniquely provides.
https://www.fitmfest.com
https://www.facebook.com/fireinthemountains
https://www.instagram.com/fireinthemountains