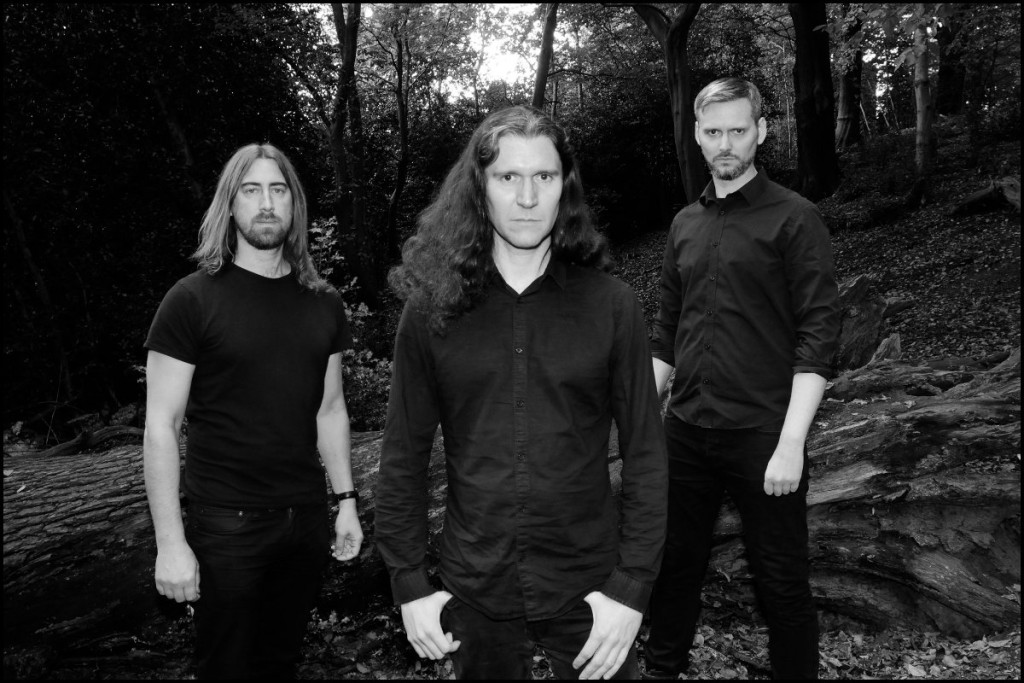 "There is tension and collapse in the music, dread and delight, the coil of fear and the comfort of faith, if only perhaps the faith that the magic of the land will outlive us. Cold doom and old hauntings shroud segments of these songs; a deep chill seeps into the bones at times. At other times, the music catches fire, blazes like a bonfire, blinds like the glare of the sun parting the clouds and striking a plain of winter frost. It is somber and self-reflective, boisterous and brawling, thundering with power, and mystical in a way that casts spells." – No Clean Singing
Tomorrow marks the official release of Winter, the gorgeous fifth full-length from atmospheric black metallers FEN. As a precursor to its long-anticipated release, today No Clean Singing is streaming the record in its entirety, issuing of the offering, "While the spine of the music is atmospheric black metal, in its fully fleshed-out form it's very much a prog album, intricate and rich in its textures and elaborate in its ever-changing instrumental variations. The drums will blast, the guitars will swarm, and the vocals will claw at your throat in abrasive snarls and impassioned cries. But the harsh, savage energy in the music is more than counterbalanced by other elements that become kaleidoscopic in the cascade of their sonic colors."
Read more and envelope yourself in Winter courtesy of No Clean Singing where you can also view the band's recently-released video for "II (Penance)" at THIS LOCATION.
Winter will see release tomorrow, March 10th on Aural Music/Code666. The record comes sheathed in the cover art of FEN bassist/vocalist Grungyn and is available in standard CD, double black vinyl limited to 300 copies, and digital formats. Additionally, FEN's Winter is available in a Special Collectors Box limited to 199 copies which includes the standard CD, an additional bonus CD, the 2xLP with Side A/Side B in a smashed splatter effect of transparent aquamarine and opaque cream, an exclusive T-shirt and poster, and a certificate of authenticity signed by the band.
Various Winter preorders are available at THIS LOCATION.
The Sludgelord calls Winter, "some of the best atmospheric black metal you'll hear this year," adding, "Winter will end up as one of the year's best albums. There's simply too much fantastic material here to be denied." Sputnik Music concurs, "FEN is cementing its place at the fore of a black metal scene whose fans expect a more nuanced and, ultimately, transportive listening experience." Wonderbox Metal hails a, "mature and emotive release, this is multifaceted music that takes black metal's cold core and expands upon it, creating a progressive darkness that spreads out over everything it touches. There's so much hidden within these shadows that it's very easy to lose yourself in them. When you do, there's no coming back, but you won't want to anyway, so alluring is Winter." Skulls 'N' Bones observes "what is deemed a return to roots for FEN reflects a similar return to a time when albums were all encompassing and listeners were rapid for an experience that only a record and a set of headphones could provide. With that in mind, press play on Winter, turn it up, sit back and drift away." Adds The Metal Observer, "The highlights of this release lie at the climactic pinnacle of each piece. When the drama heightens, you feel the full effect of what FEN's sound can create. Powerful drums; layers of dissonant, tragic guitar leads; piercing growls; and that extra mystical layer of keyboards. In the multi-faceted 'V,' this climax is reached quite early on, before delving down into a quagmire of chugging riffs at the seven-minute mark. One of the best moments on the album. If you are prepared to dig deep… Winter will reward you… This is easily the best since the foggy glory of Dustwalker."
Since the their formation in early 2006, FEN's trademark sound of atmospheric black metal which incorporates elements of post-rock, has seen the band rise on the wave of a resurgence within the UK black metal scene. And with Winter, produced by Jaime Gomez Arellano at the Orgone Studios in London (Ulver, Altar Of Plagues, Grave Miasma, Primordial, Solstafir), FEN has produced their most ambitious and yet most fundamental expression to date. In fact, it could be said that FEN has returned to the very beginnings of their ideology to invoke the atmosphere of bleak reflection and ancient sorrow that envelops the Fens, from whence the band originated, and from where they draw their inspiration.
http://www.facebook.com/fenofficial
http://www.fenuk.bandcamp.com
http://www.fenmerchandise.bigcartel.com
http://www.auralmusic.com
http://www.code666.net