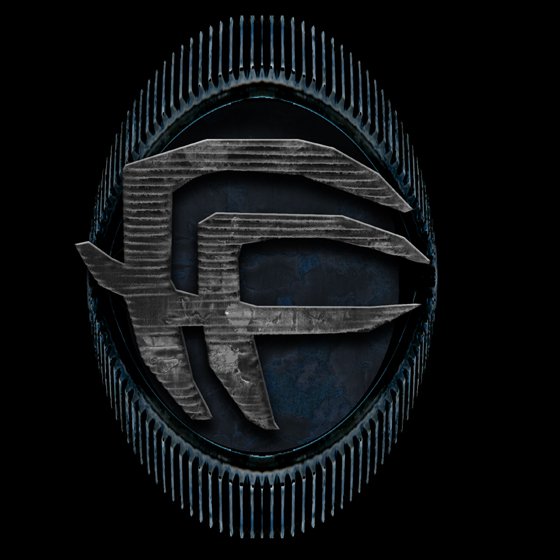 Candlelight Records today confirms June 5 as the North American release date for FEAR FACTORY's new album, The Industrialist. Produced by the band with Rhys Fulber (Front Line Assembly), the album was mixed by Greg Reely (Paradise Lost/Skinny Puppy/Machine Head). It features additional tracking by Logan Mader (Gojira/Divine Heresy/Five Finger Death Punch) and artwork by Anthony Clarkson (Devin Townsend).
The Industrialist is a conceptual album that brings to life a story scripted by vocalist Burton C. Bell. The album's lyrics detail the plot of the original narrative while delivering FEAR FACTORY's massive signature sound. Bell reveals, "the album is a futuristic tale of an automaton, striving to survive by fighting for its existence within a desperate world. The lyrics tell the story while the music takes our industrial roots and blends them more perfectly than ever with our metal edge. And all without losing the sound that makes FEAR FACTORY a machine of sonic devastation. FEAR FACTORY fans of any era will not be disappointed."
Clocking in at just under one hour, the album's ten songs again unite Bell with guitarist Dino Cazares. It is the second album written by the duo, reuniting in 2009 after a seven year split. Cazares says, "collaborating with Burton again on the new album was like magic. Everything just fell into place naturally. It felt good to recapture the true sound of FEAR FACTORY, taking it back to where it all started while raising it to new levels."
The Industrialist again pairs FEAR FACTORY with long-time friend Rhys Fulber. Their collaborations together include five albums and two remixes, including the certified gold album Obsolete. "Rhys has been our secret member," shares Cazares. "He is the one producer who has been able to understand what we have been trying to accomplish from the beginning and has opened our eyes to new things without sacrificing our original sound. His talents in production and keyboard/samples has made FEAR FACTORY stand out amongst the many bands of our genre."
The Industrialist follows the 2010 release of Mechanize. Widely regarded, the album was the first release from the band in six years and the first new material from the nucleus of Bell and Cazares since 2002. The album debuted on Billboard's Top 100 album chart week of release and continues to sell in early 2012. Sirus XM/Headbangers Ball's host Jose Mangin comments, "after Mechanize dominated 2010 as Liquid Metal's Album Of The Year, North America is chompin' at the bit to get an ear full of new FEAR FACTORY. I have no doubt that FEAR FACTORY are going to kick our collective asses in 2012."
Revolver editor Brandon Geist adds, "in the '90s, FEAR FACTORY's founding duo of Burton C. Bell and Dino Cazares changed the sound of metal, from the way that metal vocalists sing to the way that metal and electronic music can be fused together. With 2010's reunion album, Mechanize, their partnership proved to be as lethal as ever. Though 2012 promises plenty of massive heavy-music releases, there isn't a record that I'm looking forward to more than The Industrialist."
FEAR FACTORY recently announced their first tour dates since 2011. Joining them for the tour that is set to kick off on May 1 is Boston's Shadows Fall, Kansas City-based The Browning, Riverside, California's The Devastated, and Legacy Of Disorder from New Zealand. The complete list of confirmed dates are:
5/01/2012 Backstage Live – San Antonio, TX
5/02/2012 Trees – Dallas, TX
5/03/2012 Scout Bar – Houston, TX
5/05/2012 State Theater – St. Petersburg, FL
5/06/2012 Culture Room – Ft. Lauderdale, FL
5/07/2012 Masquerade, Atlanta, GA (NEW)
5/09/2012 Ziggy's – Winston-Salem, NC
5/10/2012 Theater of Living Arts – Philadelphia, PA
5/11/2012 Wally's Pub – Hampton Beach, NH
5/12/2012 Gramercy Theatre – New York, NY
5/13/2012 Sonar – Baltimore, MD
5/15/2012 McGuffy's House Of Rock – Dayton, OH (NEW)
5/16/2012 The Crofoot Ballroom – Pontiac, MI
5/17/2012 Bottom Lounge – Chicago, IL (NEW)
5/20/2012 Summit Music Hall – Denver, CO
5/23/2012 Yost Theater – Santa Ana, CA (NEW)
The Industrialist will be available as a standard jewel case CD and a limited edition deluxe digi book.
http://www.facebook.com/fearfactory
http://candlelightrecordsusa.com