[photo by Dean Chooch Landry]
New York City's grimy noise/grunge metal trio, FASHION WEEK, has just issued an ultra gnarly video for "Heroin Chic" — the track culled from their Prêt-à -Porter debut LP and the video seeing its debut through Revolver Magazine — just days before the band begins the eight-city East Coast Strut.
Without blowing the lunatic plot of the video, it's safe to say that this violent visual depiction of FASHION WEEK's "Heroin Chic" deploys the track in a more ruthless way than one may envision when simply hearing the song. For a line of starlets-to-be, their most important tryout ever quickly becomes the end of the line, very literally, in the video, which was created in Russia, written and directed by Dmitry (Deems) Kopytin with director of photography Alexey Khruslov, and produced by Marina Shponko.
For viewers who require a disclaimer about a video being brutal while scoping the video at their office job on company time, this is that disclaimer.
Preview FASHION WEEK's designer Fall bloodbath with "Heroin Chic" exclusively at Revolver Magazine RIGHT HERE.
The band's "Fendi Bender" video is playing HERE, their "Chorusace" video playing HERE, and the entire Prêt-à -Porter LP is streaming HERE.
A new regional live rampage from FASHION WEEK begins this week as the band gets ready to rip through the East Coast. From Friday, October 30th through November 7th the band will slam out of Brooklyn with a hometown show and run through Montclair, Philadelphia, Baltimore, Harrisonburg, Greensboro, Greenville and Charlotte.
FASHION WEEK East Coast Strut:
10/30/2015 Saint Vitus Bar – Brooklyn, NY
11/01/2015 The Meatlocker – Montclair, NJ
11/02/2015 Lava Space – Philadelphia, PA
11/03/2015 CCAS – Baltimore, MD
11/04/2015 Crayola – Harrisonburg, VA
11/05/2015 TBA – Greensboro, NC
11/06/2015 Soundbox – Greenville, SC
11/07/2015 The Milestone – Charlotte, NC
FASHION WEEK unites a cast of musicians who have formerly played with Jarboe, Man's Gin, Nakatomi Plaza, Go Deep, Family, Vampillia and more. Their Prêt-à -Porter debut was engineered by Andrew Schneider (Cave In, Unsane, East Of The Wall), and unloads a flood of underground grunge metal and noise rock runoff in their own caustic and severely infectious concoction. Prêt-à -Porter saw a February 2015 release through France-based noise mongers Solar Flare Records, home to Pigs, Sofy Major, American Heritage, The Great Sabaini and more. Orders for the album are available HERE and HERE.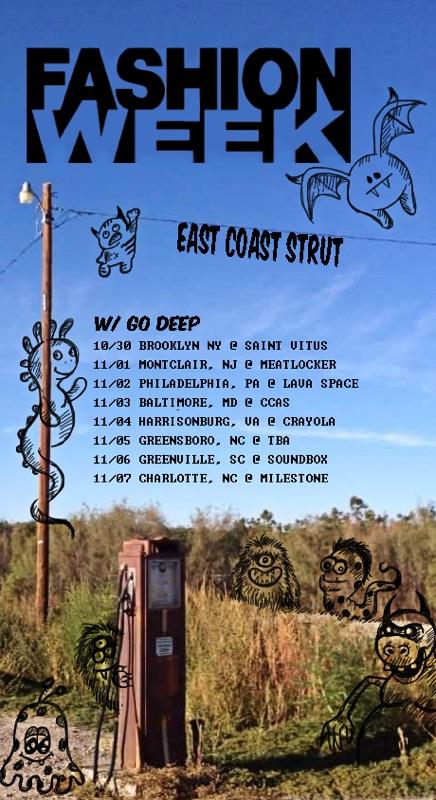 http://www.facebook.com/FashionWeekBand
http://www.fashionweek.bandcamp.com
http://www.solarflarerds.com
http://www.facebook.com/solarflarerecords
http://shop.solarflarerds.com