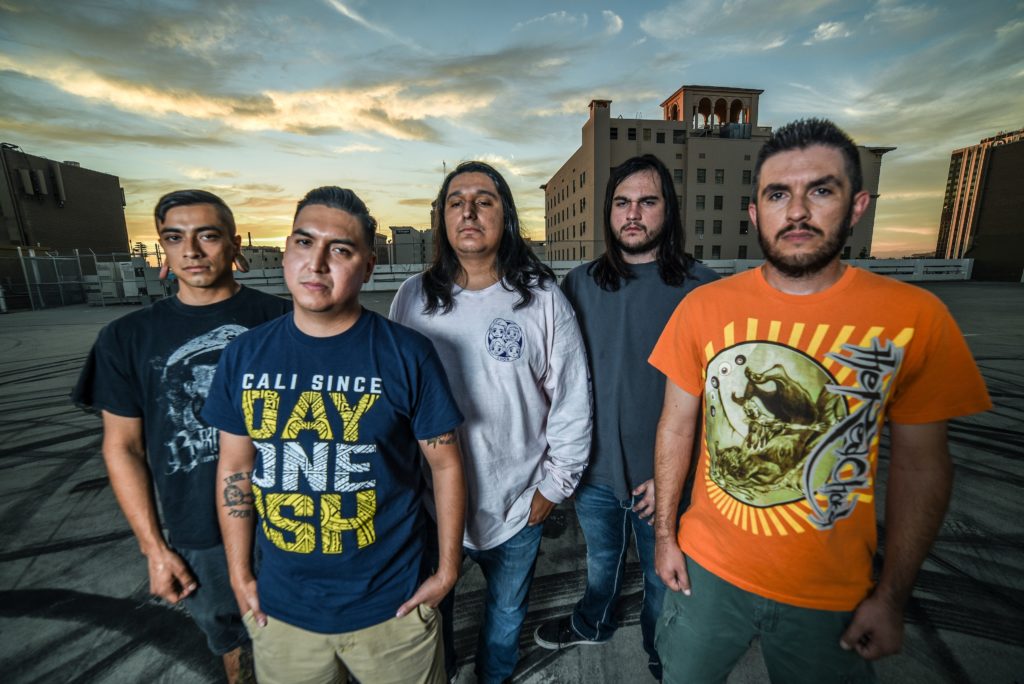 [photos by Cat Eye View Photography]
Following last year's Heat full-length, released through Glacier Recordings in August, Fresno metallic hardcore outfit FAROOQ delivers a new video from the album. The video for "Get 2 Work" was filmed at various shows on the band's West Coast tour supporting the album, and now sees its public debut through a premiere hosted by New Noise Magazine.
FAROOQ's third album Heat was recorded at the legendary Sharkbite Studios in Oakland, California with Zack Ohren (Fallujah, Suffocation, Light This City). The record features guest vocals on "Stone Cold Steve Hawking" by Ryan Encinas of Sworn Vengeance, guest vocals on "E-Male" by Shane Tunney of Lowlife, and a guest guitar solo on "One Nation Under" by Ryan Hansen of Light This City.
With the "Get 2 Work" video, vocalist Daniel Dominguez offers, "'Get 2 Work' is a nod to the hardcore and hip-hop music I grew up on. Our song is an anthem for anyone trying to get anywhere in life or just trying to get by. The footage was shot throughout The Heat 2018 Tour with our good friends Aberrance. Their guitar daddy Jake Hollingsworth captured all the moments on stage between ten shows in eight states. Playing these songs and seeing people's genuine reactions on stage makes all the work we do off stage worthwhile."
See FAROOQ's high-energy video for "get 2 Work" through New Noise Magazine RIGHT HERE.
Heat is available on CD and digital formats via Glacier Recordings; find the CD at the label website HERE and the digital HERE.
FAROOQ continues to play live throughout their region. Watch for further updates in the weeks ahead as summer tour plans are currently being plotted.
FAROOQ Live:
3/09/2019 Fulton 55 – Fresno, CA @ St. Patrick's Metal w/ Prey 4 Reign [info]
FAROOQ joined Glacier Recordings in early 2018 as the label's debut and premier artist, the label founded by Keith Welch (Glacier Eater, Sworn Vengeance, Murder Practice). FAROOQ's musical style forms from a way of writing that chops up and blends together multiple music genre influences by incorporating sounds from the hardcore, metal, punk, rock, hip hop, and rap communities to create an artistic vision that goes against the prototypical hardcore and metal band grain. Lyrically, each song is carefully crafted and presents a sincere take on social, cultural, and world issues. When these elements are thrown in together, the band melds together to form their own unique brand of hardcore and metal.
Even though the group has grown from a vast category of bands and musical influences, FAROOQ maintains to this day a truly organic and home-grown sound all on its own. They continue to grow and expand on their musical capabilities throughout their discography while sticking to their musical core and beliefs. Heat proves to be another successful chapter in the FAROOQ story line.
https://www.instagram.com/farooqmosh
https://www.facebook.com/farooqmosh
https://farooqmosh.bandcamp.com
http://www.glacierrecordings.com
https://www.facebook.com/glacierrecordings