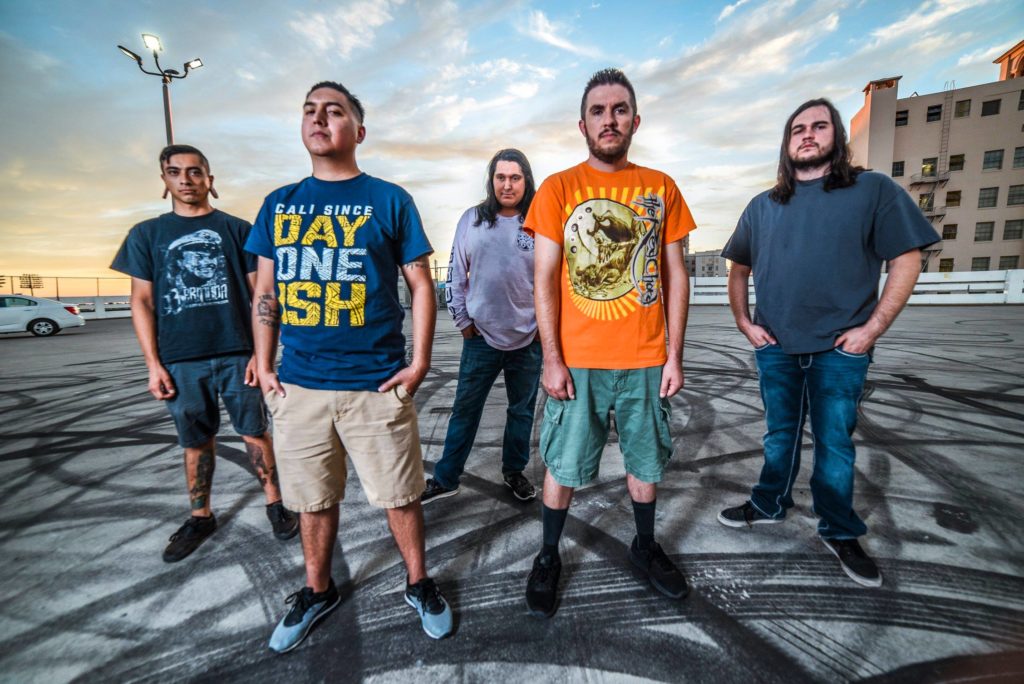 [photos by Cat Eye View Photography]
No Echo is now streaming the entire Heat full-length from Fresno, California-based metallic hardcore outfit FAROOQ, ahead of its release through Glacier Recordings this Friday. The interview is joined by a short interview with the band, just days after returning from their crushing West Coast tour.
Boasting ten tracks, FAROOQ's third album Heat was recorded at the legendary Sharkbite Studios in Oakland, California with Zack Ohren (Fallujah, Suffocation, Light This City). The record features guest vocals on "Stone Cold Steve Hawking" by Ryan Encinas of Sworn Vengeance, guest vocals on "E-Male" by Shane Tunney of Lowlife, and a guest guitar solo on "One Nation Under" by Ryan Hansen of Light This City.
With the early stream of the album and interview with FAROOQ, No Echo offers, "there's a solid balance of chaos and groove in everything they write. There are parts that are straight-up cuckoo, then, things can turn quickly into a moshy section without flinching. It's easy to see that whoever is writing the material has a wide palette of influences they're pulling from."
Stream FAROOQ's entire Heat album early at No Echo RIGHT HERE.
Glacier Recordings will issue Heat on CD and digital formats this Friday, August 24th; find preorders at the label website HERE.
FAROOQ is supporting Heat live, having just returned from a two-week West Coast US tour with Aberrance. Watch for new tour dates to be announced shortly.
FAROOQ joined Glacier Recordings in early 2018 as the label's debut and premier artist, the label founded by Keith Welch (Glacier Eater, Sworn Vengeance, Murder Practice). FAROOQ's musical style forms from a way of writing that chops up and blends together multiple music genre influences by incorporating sounds from the hardcore, metal, punk, rock, hip hop, and rap communities to create an artistic vision that goes against the prototypical hardcore and metal band grain. Lyrically, each song is carefully crafted and presents a sincere take on social, cultural, and world issues. When these elements are thrown in together, the band melds together to form their own unique brand of hardcore and metal. Even though the group has grown from a vast category of bands and musical influences, FAROOQ maintains to this day a truly organic and home-grown sound all on its own. They continue to grow and expand on their musical capabilities throughout their discography while sticking to their musical core and beliefs. Heat proves to be another successful chapter in the FAROOQ story line.
Drawing heavily from bands such as The Red Chord, Between The Buried And Me, Hatebreed, Dying Fetus, Despised Icon, Pantera, Every Time I Die, Chon, and Polyphia, FAROOQ has had the honor of sharing the stage with the likes of Every Time I Die, Sworn Enemy, Knocked Loose, Lionheart, The Acacia Strain, Oceano, Rings Of Saturn, Winds Of Plague, Xibalba, Alpha & Omega, Rotting Out, Sworn Vengeance, Hoods, Drowning, Shai Hulud, and many others.
https://www.instagram.com/farooqmosh
https://www.facebook.com/farooqmosh
https://farooqmosh.bandcamp.com
http://www.glacierrecordings.com
https://www.facebook.com/glacierrecordings