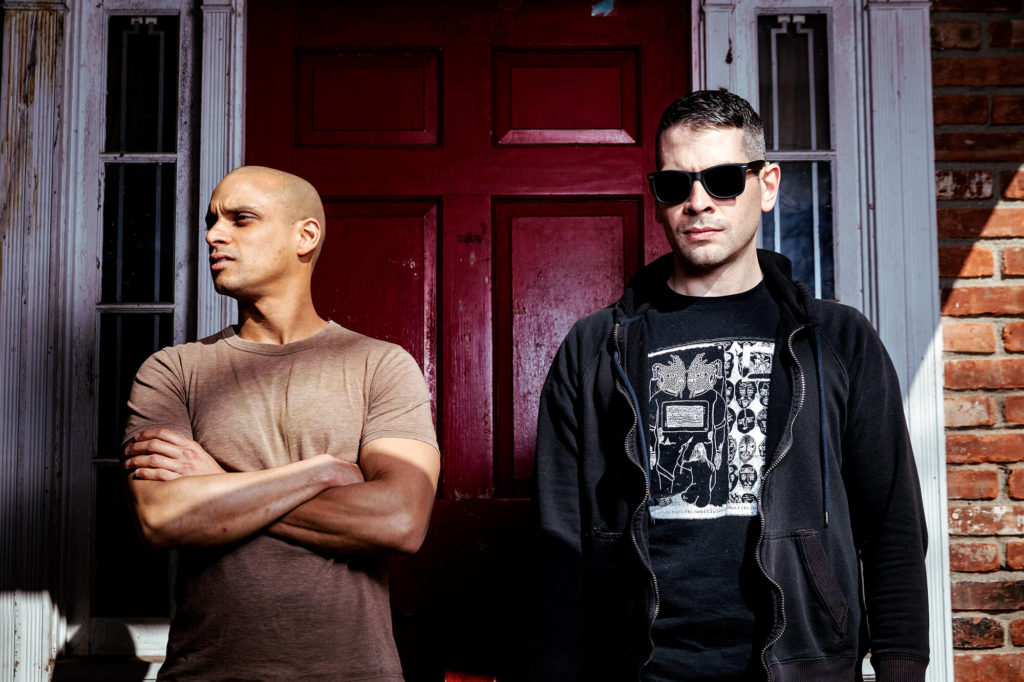 [photos by Nick Spadafora]
No Clean Singing is now streaming "Ribboncutter," the lead single and the title track to the proper debut LP by NYC synth-drenched tech metal duo BANGLADEAFY. The album is set for September release through Nefarious Industries, who has posted preorders this week.
Ribboncutter's bass and synths were recorded by Colin Marston at Menegroth, The Thousand Caves, the drums recorded by Mike Perotta at Ridge Hill Sound and Michael Gatto at Gatto Records, and the vocals were recorded by Jonathan Vergara at Pancake Studios, who also mixed and mastered the original tracks, which were then mastered for vinyl by Bill Henderson at Azimuth Mastering. Completed with photography by Brian Bonelli and art design by Nick Spadafora, the album will see release on all digital platforms as well as LP cut at 45rpm.
BANGLADEAFY's Jon Ehlers offers of the "Ribboncutter" track, "The song is live synths and live drums. No bass for that one, but still heavy as fuck. I came up with the rhythm when I was on a trip in the jungles of Costa Rica and I couldn't shake it the entire trip."
No Clean Singing posts in part, "BANGLADEAFY have recorded a new album, the name of which is Ribboncutter. It will be released by Nefarious Industries on September 21st. That news, all by itself, was a source of fresh intrigue. It seemed a given that these two wouldn't have done anything that could remotely be considered conventional. The only question was what kind of roller-coaster ride had they have created for us, and whether listeners would be left securely strapped in place for the spin or instead be vaulted way out into thin air, arms and legs flailing in frightened and gleeful exhilaration. The answer should have been obvious."
Unleash BANGLADEAFY's "Ribboncutter" at No Clean Singing RIGHT HERE.
Nefarious Industries will release Ribboncutter digitally and on CD September 21st, with vinyl arriving several weeks later. Find preorders at the Nefarious webshop HERE and Bandcamp HERE.
Watch for additional audio and video previews from the album and more to be issued in the weeks ahead. BANGLADEAFY also just completed several runs of East Coast tour dates performing material from Ribboncutter, with more shows to be expected shortly.
The bass and drum tech-metal duo BANGLADEAFY has always had a reputation for filling a lot of sonic space between two people. Not satisfied with annihilating every molecule of air within earshot for the past nine years, the pair have added abrasive synths to the mix and have slowly brought back the bratty punk vocals they were once known for on their first official full-length with Nefarious Industries. Ribboncutter introduces a new stage in the nearly-twelve-year exploration of pushing conventional musical limits between Atif Haq and Jon Ehlers.
As these two musicians have over a decade of experience working together as the frenetic tag team of bass and drums across multiple projects, they set out to revisit what originally brought them together. Initially Ehlers had reached out to Haq about playing drums in a live, aggressive synth band. The synths were quickly replaced with the energized bass playing BANGLADEAFY is now a widely-known feature of the band's output, but the idea was not forgotten. For their first official full-length release, Ribboncutter, the listener is treated to a healthy blend of ultra-hyper bass and drum performance to satisfy the tried and true sound of BANGLADEAFY – showcased here with a curiously more aggressive bite – and wildly abrasive synths to usher in the original intent of the outfit.
http://www.facebook.com/Bangladeafy
http://bangladeafy.bandcamp.com
https://twitter.com/bangladeafy
https://www.instagram.com/bangladeafy
http://nefariousindustries.com
http://www.facebook.com/NefariousIndustries
http://www.twitter.com/NefariousInd
https://www.instagram.com/nefarious_industries