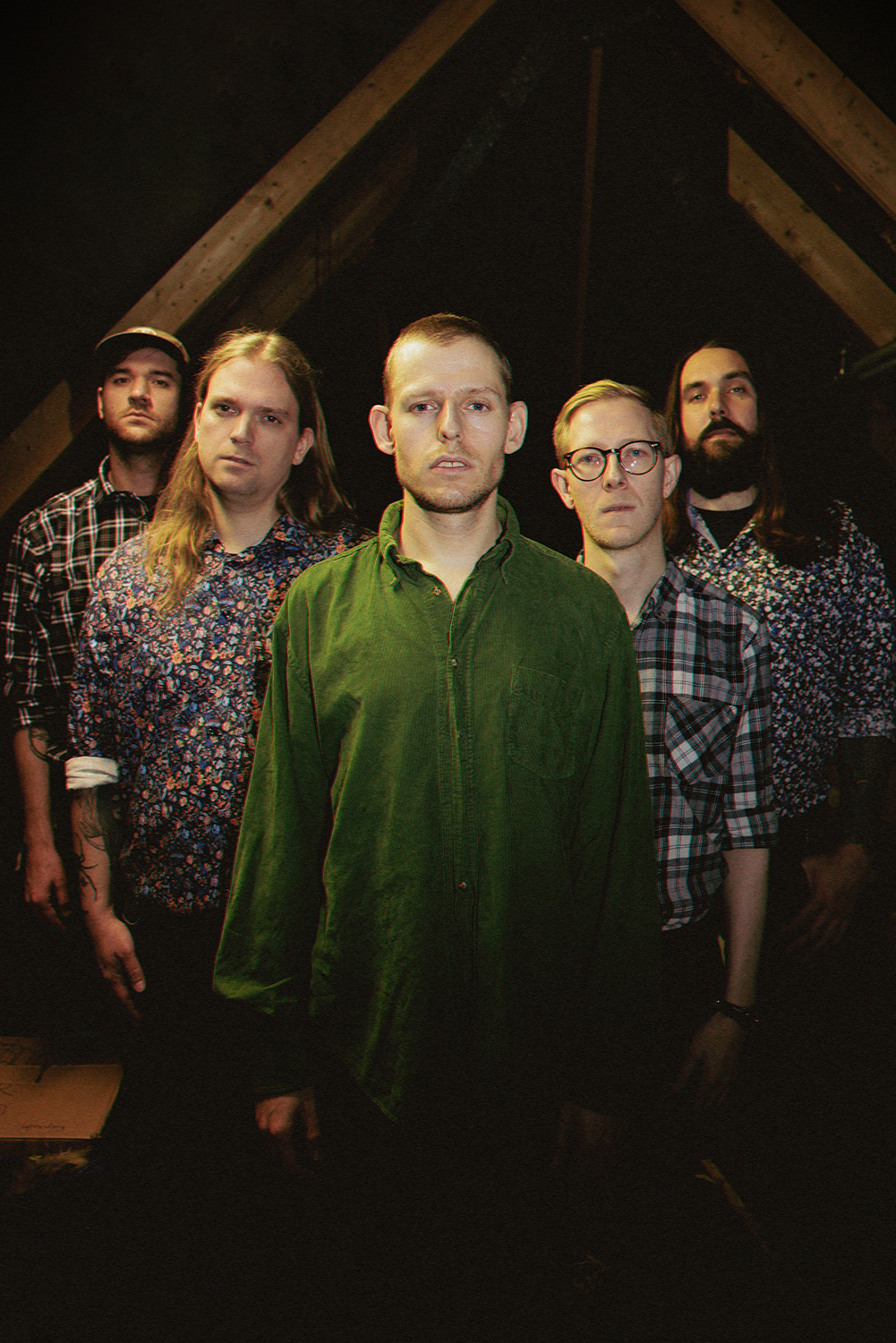 photos by Peter Troest
Copenhagen, Denmark avant hardcore quintet EYES today releases their second LP, Congratulations, through Indisciplinarian and Nefarious Industries.
EYES' new album is titled Congratulations, even though there isn't currently much to cheer about. Distrust among people and conspiracy theories, war and environmental catastrophe on the horizon, economic downfall and increasing inequality. The Western world anno. 2023 is the foundation of Congratulations and its volatile, confrontational songs. Opposite the internalized themes of their prior album, Underperformer, the doubting self-reflection has now turned into anger and a feeling of powerlessness towards a world where the rich get richer and living conditions are worsened for everyone else. A world, where the younger generations are abandoned again and again. A world, where the only available distraction is to scream into an infinite digital void or to find an alternative reality while looking down on the so-called sheep following the flock and false prophets.
A musically visionary, aggressive slab of twisted, grooving hardcore, calling out conspiracy theorists, gentrification, and the older generations fucking over the earth and the young, Congratulations is a further development of EYES' sound and style, with the band focusing on melody, off-kilter hooks, and deep grooves, shaping an unpredictable, caustic, and infectious album. The record was produced by Jacob Bredahl (LLNN, Lifesick) and completed with cover art by Jon Gotlev (noheroes.dk).
Watch EYES' "Congratulations!" video HERE and the "Generation L" video HERE, and stream the album everywhere including Bandcamp HERE.
Congratulations is out now on LP (gatefold, 24-page booklet, 100 copies on Splatter Cake vinyl and 400 copies on Black vinyl) and on cassette (100 copies in a Maltese cross card case) via Indisciplinarian HERE, the 6-panel digipak CD as a co-release with Nefarious Industries in the US HERE, and on all digital services HERE.
Tonight, EYES celebrates the album with a sold-out release show in Copenhagen. The band also recently announced a Scandinavian Spring tour including sets at A Colossal Weekend festival in Copenhagen. The band will also perform at this year's Bloodstock Festival in the UK. Tickets for most confirmed dates can be purchased HERE, and additional live announcements are to be expected.
EYES Tour Dates:
2/03/2023 Musik Loppen – Copenhagen, DK *LP release show w/ Galge, Smertegrænsens Toldere
4/07/2023 1000Fryd – Aalborg, DK
4/08/2023 Konfus – Esbjerg, DK
4/14/2023 Templet – Lyngby, DK
4/15/2023 Vridsløselille Fængsel – Albertslund, DK
4/28/2023 Pitstop – Kolding, DK
4/29/2023 Tapperiet – Køge, DK
5/12/2023 Radar – Aarhus, DK
5/13/2023 A Colossal Weekend @ Vega – Copenhagen, DK
5/25/2023 Posten – Odense, DK
5/26/2023 Plan B – Malmö, SE
5/27/2023 WOA Finale @ Gimle – Roskilde, DK
8/10-13/2023 Bloodstock Festival @ Catton Hall – Walton-On-Trent, UK
"A mixture of noise rock, punk, and metalcore, this assortment of hooks may get the kids to scream along, but they'll be fighting to be heard over the belt-fed rhythms, haywire guitars, and Kaas' screeching, sardonic critiques of society." – Decibel Magazine
"…this album is a must-listen. It's a swaggering step-up from the band's already impressive debut, and crucially it brings even further definition to what should soon be recognized as EYES' trademark sound. Whether they were on your radar or not before, here the Danes have become much harder to ignore as they've produced one of the first truly essential hardcore releases of the year so far. 9/10″ – Distorted Sound Magazine
"Congratulations is a short and snappy thirty-minute ride which will leave you battered and bruised and wondering what just happened to you. Here, EYES have demonstrated themselves to be an important new voice for 2023." – The Razor's Edge
"Topping an outstanding debut like Underperfomer was always going to prove tricky so the band wisely decided to experiment and broaden their sonic palate to produce what is a less immediate, but ultimately a more rewarding album." – The Sleeping Shaman
https://twitter.com/eyesbandcph
https://www.facebook.com/eyesbandcph
https://www.instagram.com/eyesbandcph
https://eyescph.bandcamp.com
https://www.indisciplinarian.com
https://www.instagram.com/indisciplinarian_
https://indisciplinarian.bandcamp.com
https://www.facebook.com/indisciplinarian