New Orleans' favorite amplification dealers, EYEHATEGOD, will return to the stage next week on a near-two weeks run of live dates. Slated to commence on May 25th in Hattiesburg, Mississippi and crumble eleven cities through June 4th, the band's latest trek serves as frontman Mike IX Williams' first official tour since his liver transplant this past December. The band will be performing as a four piece for this run with guitarist Brian Patton sitting these dates out in preparation for the birth of his second child.
Comments Williams: "The realities of life, society, and inhumanity rear their ugly heads once again as do New Orleans' own EYEHATEGOD, true underground outcast preachers of the End Time message and dealers of back alley filth and feedback. EYEHATEGOD return to the road to dig a proverbial grave for the power-hungry enemies of the people." See all confirmed dates below.
Williams recently spoke to Cvlt Nation about his recovery, his return to the stage, living life alcohol free, politics, punk rock and so much more. Check it out at THIS LOCATION.
Watch EYEHATEGOD's full live set at Brooklyn Bazaar last month below.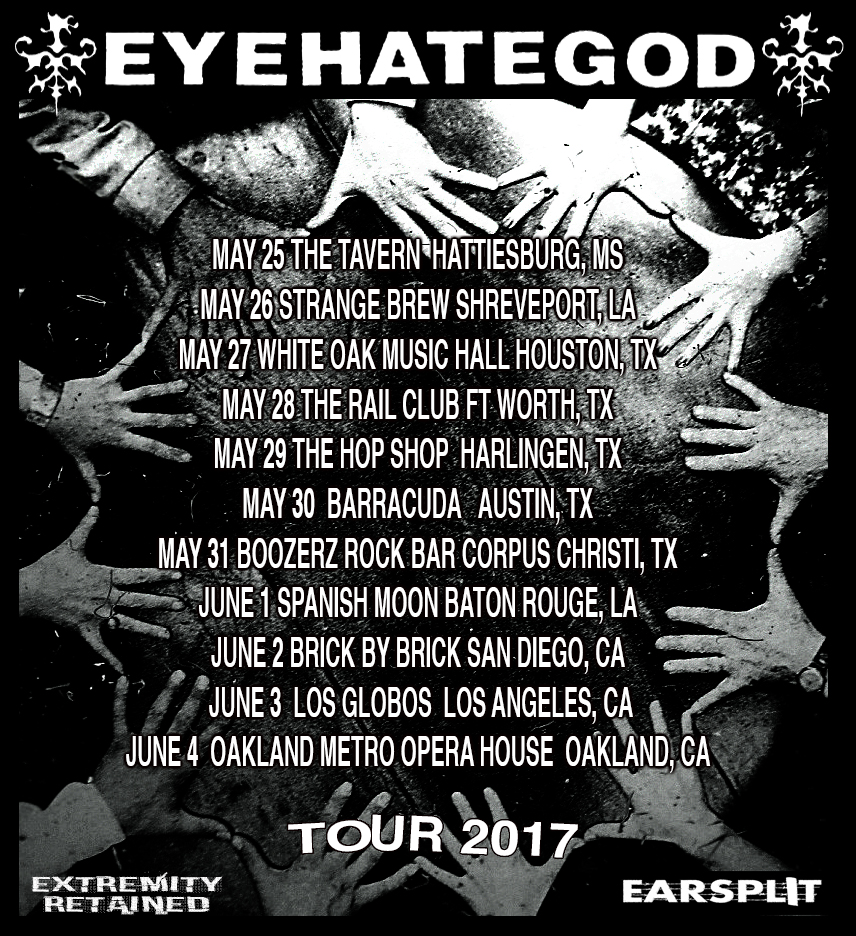 EYEHATEGOD:
5/25/2017 The Tavern – Hattiesburg, MS
5/26/2017 Strange Brew – Shreveport, LA
5/27/2017 White Oak Music Hall – Houston, TX
5/28/2017 The Rail Club – Fort Worth, TX
5/29/2017 The Hop Shop – Harlingen, TX
5/30/2017 Barracuda Austin – Austin, TX
5/31/2017 Boozerz Rock Bar – Corpus Christi, TX
6/01/2017 Spanish Moon – Baton Rouge, LA
6/02/2017 Brick By Brick – San Diego, CA
6/03/2017 Los Globos – Los Angeles, CA
6/04/2017 Oakland Metro – Oakland, CA
EYEHATEGOD continues to deafen the masses in support of their self-titled LP which dropped in 2014 via Housecore Records, breaking the band's decade-and-a-half gap since their prior full-length and marking the most successful release of the band's storied history. Having helped define the "NOLA sound" with their signature down-tuned, blues-inflected guitars awash in furious distortion, underpinning the tormented screams of Mike IX Williams over a thundering rhythm section, EYEHATEGOD reemerged stronger and more determined than ever before. EyeHateGod personifies desperation and addiction in the various backwaters of forgotten America, punctuated by the "N'awlins" sound of rebellion and pollution resulting in triumph over adversity.
The band will be celebrating their thirtieth anniversary next year. Stay tuned for special releases to be announced in the future. In the meantime, orders for EyeHateGod in North America can be placed via Housecore Records HERE. Additionally, the official For The Sick Benefit poster and benefit T-shirt are still available for purchase at Indie Merch HERE.
"…the best material of their 25-year career." – Exclaim
"…their most entertaining release since 1996's Dopesick… urgent and raw, as if the band hasn't aged a day." – Consequence Of Sound
"EYEHATEGOD play to their ferociously metallic strengths while never compromising their identity as swampy sludge-rockers, and the result is an album that's equally impressive as it is brutal." – PopMatters
http://www.eyehategod.ee
http://www.facebook.com/OfficialEyeHateGod
http://www.thehousecorerecords.com