Philip H. Anselmo (Down, Superjoint, Scour, Pantera et al) will be filling in for EYEHATEGOD vocalist Mike IX Williams on two upcoming shows: the first at Southport Music Hall in New Orleans, Louisiana on August 19th and the second at the 2016 edition of Gwar BQ in Richmond, Virginia on August 20th.
Comments Williams, "Due to some recent, very important health issues I am dealing with, I would like to announce that Philip H. Anselmo will be filling in for me at two special EYEHATEGOD gigs; New Orleans's Southport Music Hall and the seventh annual Gwar BQ. Phil has my full blessings for these shows and with all forces willing, I will return to the stage as soon as I am physically able."
Adds Anselmo, "When our brothers in one of New Orleans' most influential music outfits needs me, I'm there, one-thousand percent. There is no secret that I adore my brethren in EYEHATEGOD, as I've always supported them through thick and thin. This present situation will be no different. In light of Michael D. Williams' health issues, which he needs to address more importantly than any other point in his life, and should be respected by anyone with a heart, I will do my best to fill in for him. Those are mighty big shoes to fill, but I shall do my best, once again. I do believe I speak on the behalf of all concerned parties when I state that we all need Mike IX Williams to heal, recover, and get better, as soon as possible. These gigs are not about me; it is about keeping the obligations of EYEHATEGOD, as a band and force, able to stay true to their commitments to these two gigs. My admiration of Mike and all of his works, especially EYEHATEGOD knows zero boundaries, hence, me doing these gigs. Here's to Mike's recovery, and here's to supporting these shows on his behalf. Much love to everyone."
EYEHATEGOD will take to the streets this October on a ten-date US tour alongside hardcore punk icons Discharge. The tour will run from October 6th through October 15th with additional support provided by Toxic Holocaust.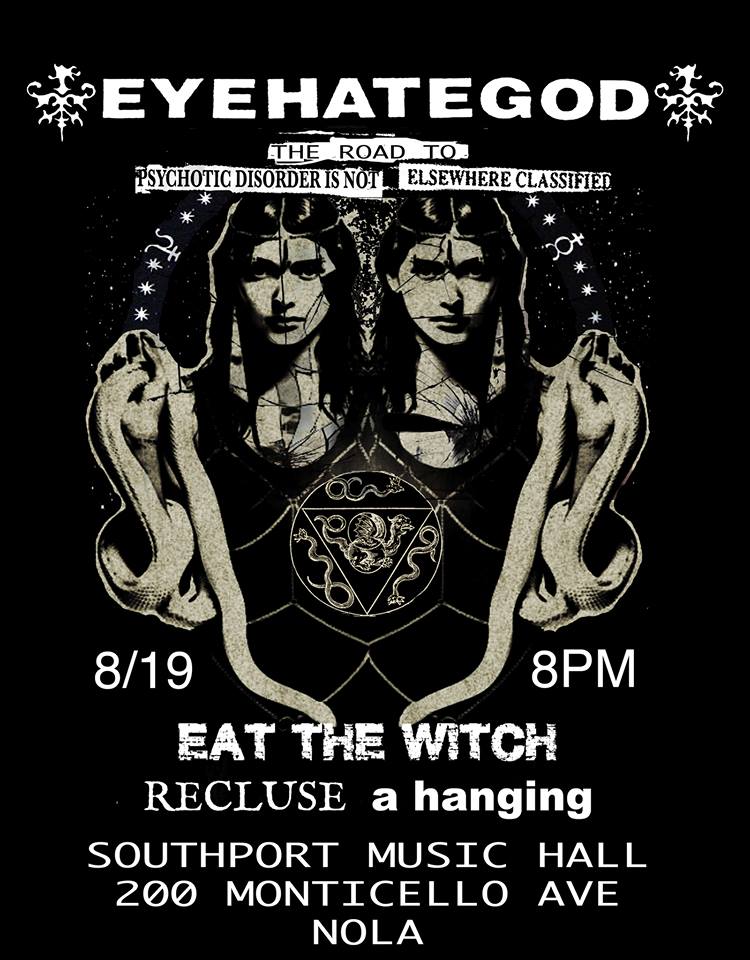 EYEHATEGOD:
8/19/2016 Southport Music Hall – New Orleans, LA
8/20/2016 Gwar BQ – Richmond, VA
w/ Discharge, Toxic Holocaust:
10/06/2016 Studio Seven – Seattle, WA
10/07/2016 Dantes – Portland, OR
10/08/2016 Observatory – Santa Ana, CA
10/09/2016 Slim's – San Francisco, CA
10/10/2016 The Roxy – Los Angeles, CA
10/11/2016 Glass House – Pomona, CA
10/12/2016 Brighton Music Hall – Boston, MA
10/13/2016 Soundstage – Baltimore, MD
10/14/2016 Webster Hall/Marlin Room – New York, NY
10/15/2016 Reggies – Chicago, IL
EYEHATEGOD reemerged stronger and more determined than ever before with their self-titled LP, which dropped in 2014 via Housecore Records. Reaping critical acclaim globally, the record marks the band's most successful release in their twenty-five-plus-year lineage. Having helped define the NOLA sound with their signature down-tuned, blues-inflected guitars awash in furious distortion, underpinning the tormented screams of Mike IX Williams over a thundering rhythm section, EyeHateGod personifies desperation and addiction in the various backwaters of forgotten America, punctuated by the "N'awlins" sound of rebellion and pollution resulting in triumph over adversity.
Orders for EyeHateGod in North America can be placed via Housecore Records HERE.
For all EYEHATEGOD coverage contact liz@earsplitcompound.com.
http://www.eyehategod.ee
http://www.facebook.com/OfficialEyeHateGod
http://www.thehousecorerecords.com