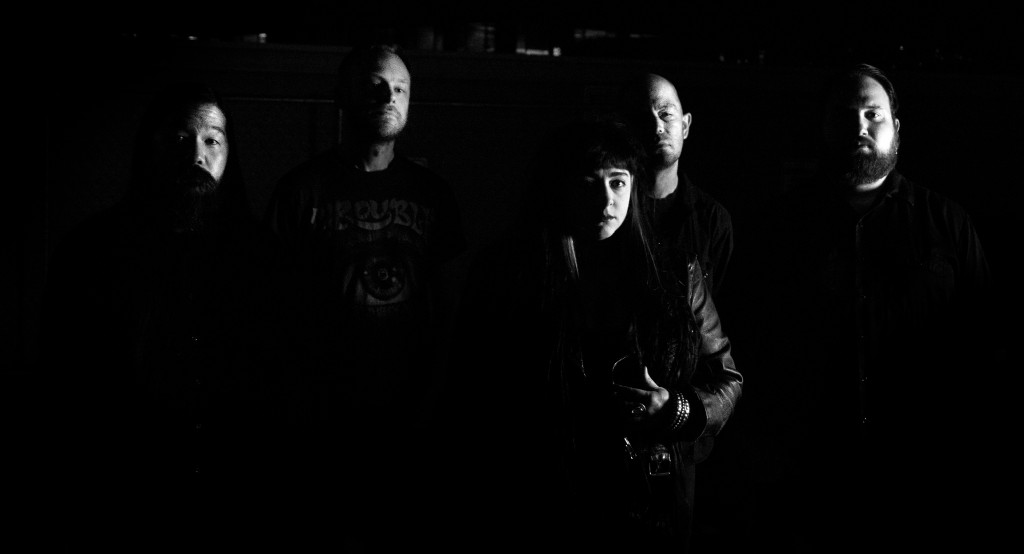 [photo by by Michael Ray Sheets ]
"If your tastes… touch on a wide expanse of sonic darkness, then this album dabbles in all of those with equal mastery – be it black metal, post-punk, sludge, slow-core or noise rock… The first listen will find you happily stunned, then each additional will reveal how seamlessly woven these bipolar explosions are expressed through their instruments…" – Cvlt Nation
Moros is the latest full-length from Seattle sound contortionists, EYE OF NIX. Initially released via Eugene, Oregon-based imprint Belief Mower (Muscle And Marrow, Hungers, Eagle Twin et al) earlier this year, the record was captured by the hands of engineer Brandon Fitzsimons (Bell Witch, Anhedonist, Haunted Horses) at Airport Grocery in Seattle, mastered by Justin Weis at Trakworx in San Francisco and features the shadowy cover renderings of Ogo Eion. Boasting an eclectic, difficult-to-pinpoint sound that's at once graceful and threatening, the record reaped critical accolades from underground outlets in the know.
"Moros is all over the place sonically – not a moment is wasted and there's no room for an iota of boredom," championed Invisible Oranges, furthering, "[Joy] Von Spain's operatic vocal tendencies make it epic, the psychedelia embedded in it makes it hypnotic, and the blackness and sludge creates a harsh abrasiveness. Von Spain has the vocal power and control to soar, shriek, roar and growl and she does all that and more. Together, the musical landscape and her vocal extremities are a terrifying yet can't-stop-listening experience." Deaf Sparrow concurred, "There's a quiescent calm that flows over much of Moros, brought outward into moments of inspiration like an oracle huffing fumes from the bowels of the earth and then shrieking and wailing, sometimes in operatics, at onlookers who dare discern her meaning. One would expect difficulty in going from one musical style to another, but EYE OF NIX have created a logical flow where the listener forgets from whence they came. Spellbinding is the word." Added Noisey, "With crust and sludge-influenced riffs meeting black metal's tremolo picking at the noisiest crossroads, the band sets a tumultuous backdrop for vocalist Joy Von Spain's otherworldly, operatic banshee wails. Her Siouxsie Sioux-gone-black metal vocals will give you chills, and add to the chaos instead of softening the band's sound."
This week, EYE OF NIX will issue Moros digitally with two never-before-heard bonus tracks "Blood In The Fire," and "Rome Burned," the former of which is currently streaming at Cvlt Nation, the esteemed blog elaborating of the release, "If your tastes… touch on a wide expanse of sonic darkness, then this album dabbles in all of those with equal mastery – be it black metal, post-punk, sludge, slow-core or noise rock. They achieve this with chimerical masks to create a circus-like soap as the many disciples of Mr. Bungle attempt to. Instead, they paint with shifting moods and varying intensities using the trappings of each style as the mechanics to reach these emotional highs and lows while maintaining their own sense of identity. The first listen will find you happily stunned, then each additional will reveal how seamlessly woven these bipolar explosions are expressed through their instruments. Fans of bands ranging from Swans to early Kylesa will find common sonic ground on Moros and much more."
Hear "Blood In The Fire" at THIS LOCATION.
EYE OF NIX was forged in the Autumn of 2012, the result of five veteran Seattle musicians from diverse backgrounds in underground metal, experimental/classical, harsh noise and dark country coming together to create abrasive yet shape-shifting sounds. The following year the band – vocalist Joy Von Spain, drummer Justin Straw (Same-Sex Dictator), guitarist Nicholas Martinez, bassist Gerald Hansen, and noise artist Masaaki Masao – recorded and self-released a four-song cassette demo and toured the West Coast with noise veterans Blue Sabbath Black Cheer. EYE OF NIX would move on to share the stage with the equally-eclectic likes of Jarboe, Sea Of Bones, Lesbian, Worm Ouroboros, Helen Money, and Eight Bells, among other notable acts.
The band will again bring their sonic rituals to the stage next year with three confirmed performances scheduled for January. Additional live ceremonials to be announced in the coming weeks.
EYE OF NIX:
1/08/2016 The LoFi – Seattle, WA
1/15/2016 High Water Mark – Portland, OR
1/16/2016 Old Nick's – Eugene, OR
Moros will be available on November 6th via the band's official BandCamp Page HERE. Additionally vinyl purchases will now come with the eight-track download and will be available for purchase HERE.
http://www.eyeofnix.bandcamp.com/album/moros
http://www.facebook.com/EYEOFNIX
http://www.eyeofnix.tumblr.com
http://www.beliefmowercult.bigcartel.com/artist/eye-of-nix