This Fall, Seattle-based melodic black/doom faction EYE OF NIX will join Prophecy labelmates Illudium for a short West Coast tour. While each group released new albums during the pandemic, world circumstances ultimately crushed any opportunities to bring their lush and dynamic sounds to the live setting. The journey will make its way to Bay Area and Pacific Northwest audiences beginning October 14th and running through October 22nd. The trek also marks EYE OF NIX' tenth anniversary of making music together.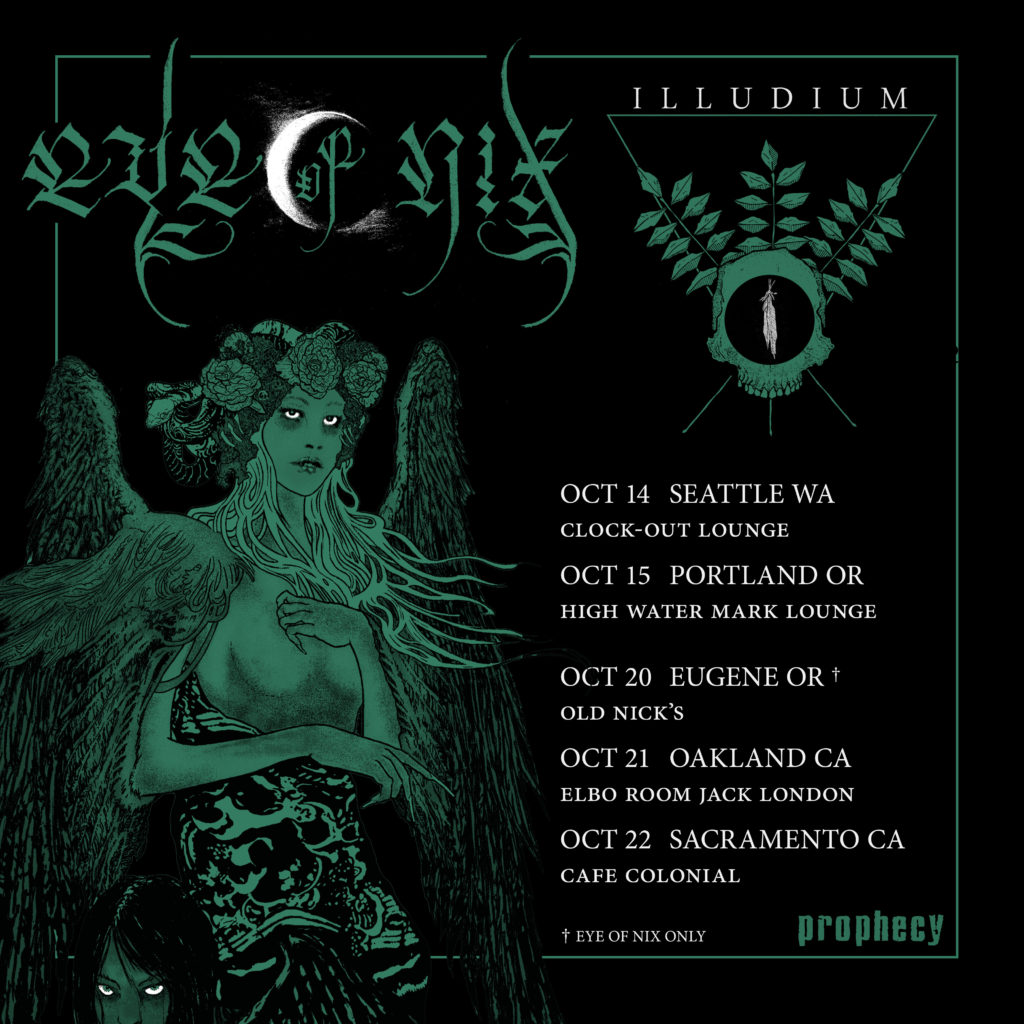 EYE OF NIX w/ Illudium:
10/14/2022 Clockout – Seattle, WA
10/15/2022 High Water Mark – Portland, OR
10/20/2022 Old Nick's Pub – Eugene, OR * EYE OF NIX only
10/21/2022 Elbo Room – Oakland, CA
10/22/2022 Cafe Colonial – Sacramento, CA
Founded in Seattle in 2012, EYE OF NIX has released three albums and a demo EP to date. The band's creative intent is to craft music that is threatening, beautiful, and harsh through mesmerizing rhythms, emotive melodies, and intense dynamics. Vocalist and guitarist Joy Von Spain, guitarist Nicholas Martinez, electronic artist Masaaki Masao, bassist Zach Wise, and drummer Luke LaPlante merge their interests in many styles to forge a hypnotic and unforgettable sound. The band has toured the Western and Northeast US, also appearing at Northwest Terror Fest, Prophecy Fest US, Sabertooth, Thirst For Light, Litha Cascadia, and Rain City Doom Fest. In 2018, EYE OF NIX joined the roster of long-standing German label Prophecy, leading to the reissue of Black Somnia and much-anticipated production of the 2020 full length release, Ligeia. Partnering with producer Michael Zech (Secrets Of The Moon, The Ruins Of Beverast) they utilized the legendary Sound House studio in Seattle. EYE OF NIX continued to push the dynamic range of their sound and depth of lyrical exploration with the eight-song opus.
"EYE OF NIX uses…extremes to engulf the senses, not pulverize them. This isn't to say Ligeia can't get scary, like the impregnable wall of dissonant modulations and tumbling percussion that builds around a pulsing bass drum on 'Keres.' Given the amazing drum tones and overall mix, their hellish sound palette remains accessible—even when it devolves into a pandemonium of damned voices and oceanic static…Listening to Ligeia feels like wading through a river during a warm, misty evening. The experience isn't without its unsettling atmosphere, but it's easy to allow oneself to drift away in the currents." 8/10 – Metal Injection
"…it's one of those albums after which you need to take a deep breath, about which I could probably write a thousand words or more." – Heavy Blog Is Heavy
"This is surrounded by a mystical aura. It is music that explores shadows in different tones and contains so many edges that they exalt an occult character with the extreme background layer. It can be slow, active, intimidating, but it knows how to withdraw and gain perspective if the song asks for it…" – RTMB (Mexico)
"It develops in a complicated and mysterious manner, but it seems that the reason why I never got the impression that it was strange is that the core melody is very beautiful…This profound sound, that is suitable for looking into the depths of the worldview called "-post", is a masterpiece." – Mujikaho New Building (Japan)
"… breathtaking. It is the ancient feeling of sounds reminiscent of mainland Greece. The sound of the waves and the smell of thyme on the next hill, a song created for the romantics of another era." – Rock n Roll Monuments (Greece)
http://www.eyeofnix.com/
http://www.facebook.com/EYEOFNIX
http://www.instagram.com/eyeofnix
http://eyeofnix.bandcamp.com/
http://us.prophecy.de/artists/eye-of-nix
http://lnk.spkr.media/eye-of-nix-ligeia