This fall, Seattle-based operatic blackened doom unit EYE OF NIX offers their hypnotic songs and threatening spells to select West Coast cities for the first time since the release of latest full-length Black Somnia. They will be joined by Exulansis who bring moments of acoustic exploration while sharing the Northwest group's taste for enticing rhythms, blast beats, soaring melodies, and dark harmonies.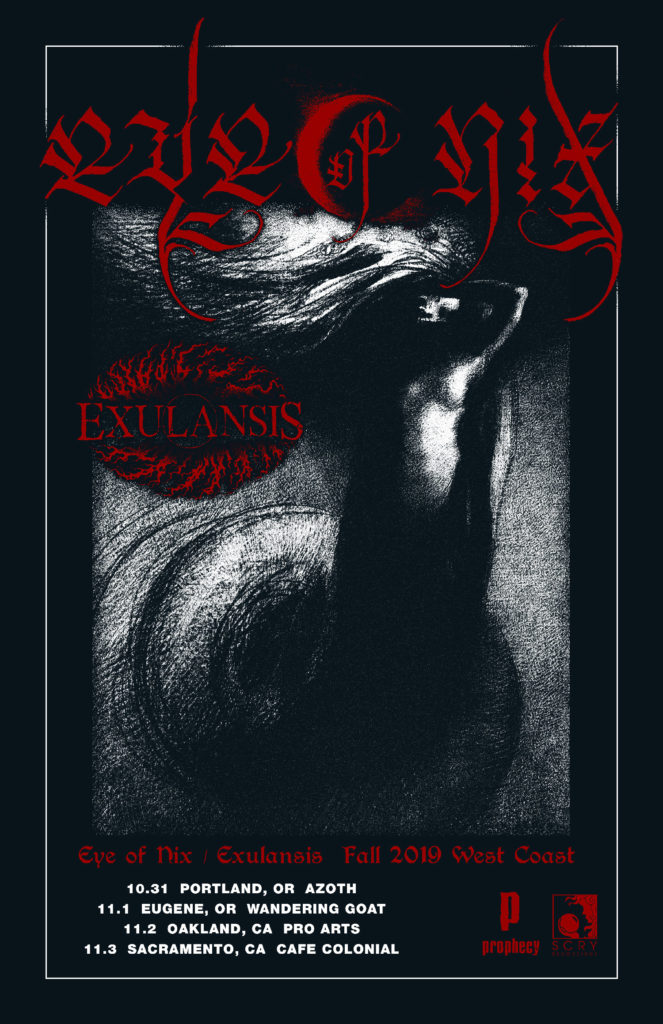 EYE OF NIX w/ Exulansis:
10/31/19 Azoth – Portland, OR
11/01/19 Wandering Goat – Eugene, OR
11/02/19 Pro Arts – Oakland, CA
11/03/19 Café Colonial – Sacramento, CA
Formed in the Pacific Northwest in 2012, EYE OF NIX has released two full-length albums and a demo EP, crafting music that is both threatening and beautiful through mesmerizing rhythms, emotive melodies, and fiery aggression. EYE OF NIX displays a wide dynamic range, sharing the stage with artists like Voivod, Alcest, Jarboe, Worm Ouroboros, Eight Bells, and Sabbath Assembly and appearing at Northwest Terror Fest, Thirst For Light, Prophecy Fest US, and Litha Cascadia. Their most recent release, Black Somnia, recently reissued by Prophecy, was recorded by renowned producer Billy Anderson (Bell Witch, Pallbearer) and mastered by Brad Boatright (Gatecreeper, Necrot). The album centers on themes of fear, control, and anxiety while shapeshifting through a lens of blackened psychedelia and doom. The band collaborated with ritual visual artist Anima Nocturna to create the album's stunning artwork. EYE OF NIX is Joy Von Spain (vocals, guitar), Nicholas Martinez (guitar), noise artist Masaaki Masao (samplers, keyboard), Hissing's Zach Wise (bass, vocals), and Luke LaPlante (drums).
Emerging from the woods of the Colestin Valley, trio Exulansis converges bringing with them tools attained from each of their diverse musical backgrounds. Drawing from influences in anti-fascist black metal, doom, crust, chamber and folk music, guitarist James Henderson, violinist Andrea Morgan (formerly of Megaton Leviathan), and drummer Mark Morgan have formed a nuanced variation of these genres by presenting a hybrid of acoustic elements with rapid blast beats, soaring melodies and dark harmonies.
"…a heart-stopping experience, a record that combines all the shadowy forces we fear and delivers them in a moving, massive presentation. It's not every day we get bands that truly stand on their own, but EYE OF NIX is one of them, and they're a force with which the world might not be fully ready to contend." – Meat Mead Metal
"…a mature musical journey with a surprisingly varied emotional palate." – The Stranger
"Von Spain deserves mention in the same breath as Diamanda Galás and Siouxsie Sioux… she shares an uncompromising attitude and a fervent desire to make her voice a conduit for catharsis. Even when on the dark folk of 'Fear's Ascent; which sounds like a Greek Orthodox dirge using her eerie voice to intone a rapturous hymn, the intensity is astounding." – Invisible Oranges
http://www.facebook.com/EYEOFNIX
http://www.instagram.com/eyeofnix
http://eyeofnix.bandcamp.com/
http://en.prophecy.de/artists/eye-of-nix