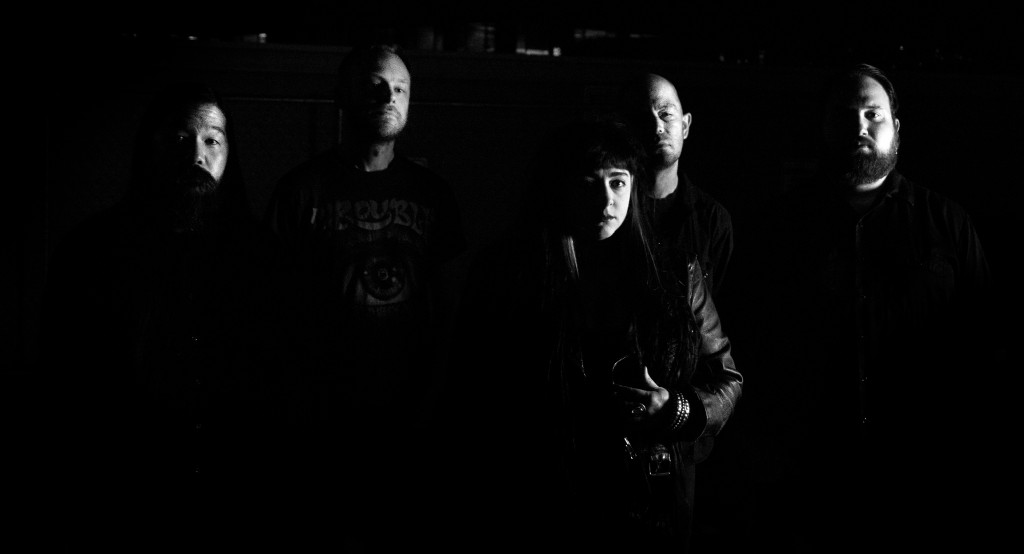 [photo by Michael Ray Sheets]
"Joy Von Spain is a modern Jarboe, her inhumanly versatile, operatic pipes cutting through the racket to illuminate the darkness – sometimes bluesy, sometimes brutal, always powerful. EYE OF NIX is a kitchen-sink kind of band – there's a bit of everything in here, but when it's all combined and set before you, it's mesmerizing." – The Bandcamp Blog
EYE OF NIX is among Seattle's best kept secrets. Forged in the Autumn of 2012, the band is a result of five veteran musicians from diverse backgrounds in underground metal, experimental/classical, harsh noise and dark country coming together to create abrasive yet shape-shifting sounds. Together the eclectic collective – vocalist Joy Von Spain, drummer Justin Straw (Same-Sex Dictator), guitarist Nicholas Martinez, bassist Gerald Hansen, and noise artist Masaaki Masao – manifest a sound that's at once wondrous and threatening; harsh, and harrowing yet intermittently beautiful, most notably so on their Moros full-length issued earlier this year.
Said The Bandcamp Blog in a recent investigation of the band, "I first heard this band described as 'Siouxsie Sioux gone black metal,' and the moment I actually heard EYE OF NIX for myself, I silently thanked the friend who'd first steered me towards this haunted Seattle fivesome… Moros, is a study in contrasts – muted greys, stark black, and warm, rusty blood red color the recording – and find its creators vacillating between quiet-loud Neurosis rumbles, sludgy tension, crusty intensity, gothic gloom, black metal tremolo, and moments of startling prettiness. Joy Von Spain is a modern Jarboe, her inhumanly versatile, operatic pipes cutting through the racket to illuminate the darkness–sometimes bluesy, sometimes brutal, always powerful. EYE OF NIX is a kitchen-sink kind of band – there's a bit of everything in here, but when it's all combined and set before you, it's mesmerizing."
Initially released via Eugene, Oregon-based imprint Belief Mower (Muscle And Marrow, Hungers, Eagle Twin et al) earlier this year, Moros was captured by the hands of engineer Brandon Fitzsimons (Bell Witch, Anhedonist, Haunted Horses) at Airport Grocery in Seattle and mastered by Justin Weis at Trakworx in San Francisco. The record was reissued digitally with two never-before-heard bonus tracks: "Blood In The Fire," and "Rome Burned," the latter of which was recently premiered via Revolver.
You can also sample "Blood In The Fire," streaming at Noisey at THIS LOCATION alongside an in-depth interview with Straw and Von Spain.
EYE OF NIX will bring their sonic rituals to the stage later this week with a hometown show at Black Lodge in addition to three confirmed performances scheduled for January. Supplementary live ceremonials will be announced in the coming weeks.
EYE OF NIX:
12/04/2015 Black Lodge – Seattle WA
1/08/2016 The LoFi – Seattle, WA
1/15/2016 High Water Mark – Portland, OR
1/16/2016 Old Nick's – Eugene, OR
"Moros is all over the place sonically – not a moment is wasted and there's no room for an iota of boredom… [Joy] Von Spain's operatic vocal tendencies make it epic, the psychedelia embedded in it makes it hypnotic, and the blackness and sludge creates a harsh abrasiveness." – Invisible Oranges
"If your tastes… touch on a wide expanse of sonic darkness, then this album dabbles in all of those with equal mastery – be it black metal, post-punk, sludge, slow-core or noise rock." – Cvlt Nation
"There's a quiescent calm that flows over much of Moros, brought outward into moments of inspiration like an oracle huffing fumes from the bowels of the earth and then shrieking and wailing, sometimes in operatics, at onlookers who dare discern her meaning…Spellbinding…" – Deaf Sparrow
"EYE OF NIX are in a league all of their own and have crafted one of the most interesting releases of 2015. Moros is a strange, dark and destructive record that defies categorization. The maddening, churning, claustrophobic doom and gloom EYE OF NIX create on this record will satisfy those looking for a new sonic twist. The metal outsider will be so enthralled by these blackened compositions, he or she won't even feel it when Moros drags them to Hades." – American Aftermath
"Harrowing best describes the epic, operatic, and invested soundscape from Seattle's EYE OF NIX; the quintet's debut LP, Moros, infuses Blackened Sludge riffs with a pummeling percussive undercurrent for a tumultuous, intense, intoxicating, and downright imaginative mix of subgenres, sounding searing and sophisticated." – Osprey Music Magzine
Moros is available now via the band's official BandCamp Page HERE. Additionally vinyl purchases will now come with the eight-track download available for purchase HERE.
http://www.eyeofnix.bandcamp.com/album/moros
http://www.facebook.com/EYEOFNIX
http://www.eyeofnix.tumblr.com
http://www.beliefmowercult.bigcartel.com/artist/eye-of-nix