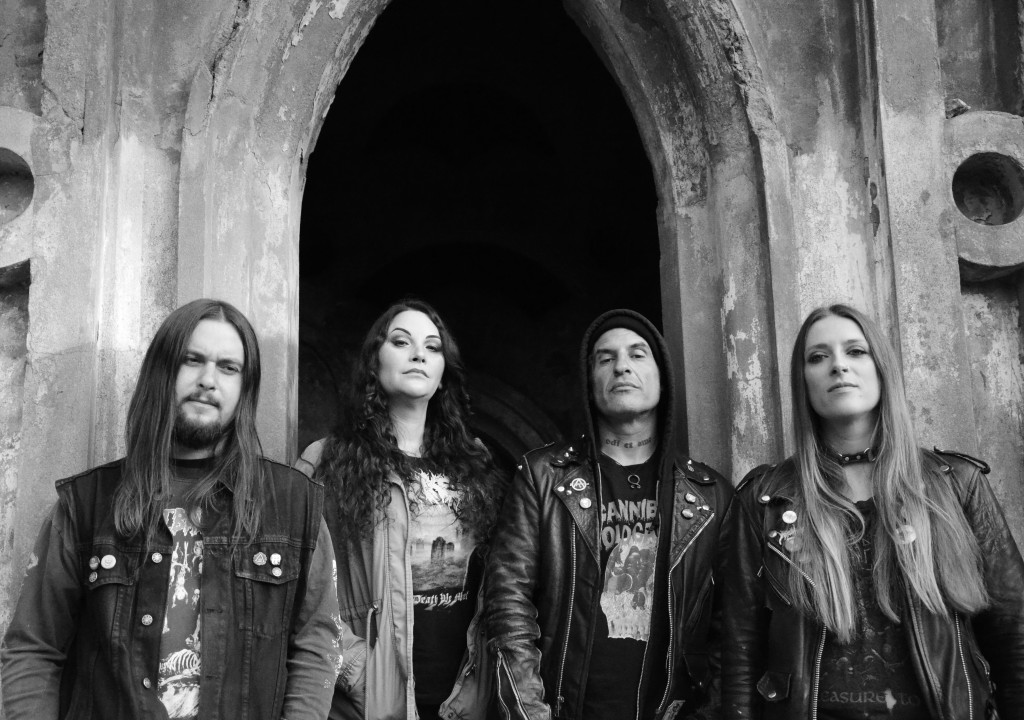 [photo by Jehnifer Mickalacki-Sublett]
Oakland-based cult, EXTREMITY, presents their disturbing debut album, Extremely Fucking Dead, now set for expulsion through the goremongers at 20 Buck Spin.
Gestating in the twisted bowels of the Bay Area for six years, only now, in 2017, has EXTREMITY dislodged itself from the musty climes of obscurity to contaminate the American metal cesspool. Like a jaundiced plume drifting up from a fetid swamp, on Extremely Fucking Dead the four-piece infect death metal with odiously oozing intentions. From the grisly gore metal of "Crepuscular Crescendo" to the Bolt Thrower-ravaged plunder permeating "Bestial Destiny," EXTREMITY presents a simultaneously studied and loosely devastating specter of death metal cited from the genre's many epicenters in America, Scandinavia, the UK and beyond.
EXTREMITY's veteran lineup of Shelby Lermo (Vastum), Aesop Dekker (Worm Ouroboros, Ludicra, Agalloch), Marissa Martinez-Hoadley (Cretin, Repulsion), and Erika Osterhout (Necrosic, Scolex, Trepanation) stirs the salaciously sanguine death and grind sewage on Extremely Fucking Dead to a crepitating clamor of cacophonous cruelty. A must-hear for legions devout to the grisly works of Carcass, Death, Exhumed, Repulsion, Autopsy, Bolt Thrower, Impaled, Vastum, and Entombed.
20 Buck Spin will offer Extremely Fucking Dead for worldwide repugnance and revulsion on April 7th, with digital, CD, and LP formats confirmed, including a gold vinyl variant limited to 150 copies and a multi-color variant limited only to 20 Buck Spin mailorder. The weeks ahead will see the dispatch of preorders and audio samples from the album.
Extremely Fucking Dead Track Listing:
1. Intro (Mortuus Est Valde)
2. Crepuscular Crescendo
3. Bestial Destiny
4. Chalice Of Pus
5. Fatal Immortality
6. Extremely Fucking Dead
Directly following the release of their gore-strewn platter, EXTREMITY will ravage the West Coast in the flesh, with a late April run supporting death metal legends Asphyx. The tour runs from April 25th through 30th, with shows in San Diego, Los Angeles, Oakland, Portland, Seattle, and Vancouver. Additional live actions are to be expected throughout the year.
EXTREMITY w/ Asphyx:
4/25/2017 The Brick – San Diego, CA
4/26/2017 The Echo – Los Angeles, CA
4/27/2017 The Metro – Oakland, CA
4/28/2017 The Raven – Portland, OR
4/29/2017 The Highline – Seattle, WA
4/30/2017 The Rickshaw Theatre – Vancouver, BC
https://www.facebook.com/extremedeath
http://www.20buckspin.com
http://www.facebook.com/20buckspin
http://twitter.com/20buckspinlabel
http://listen.20buckspin.com