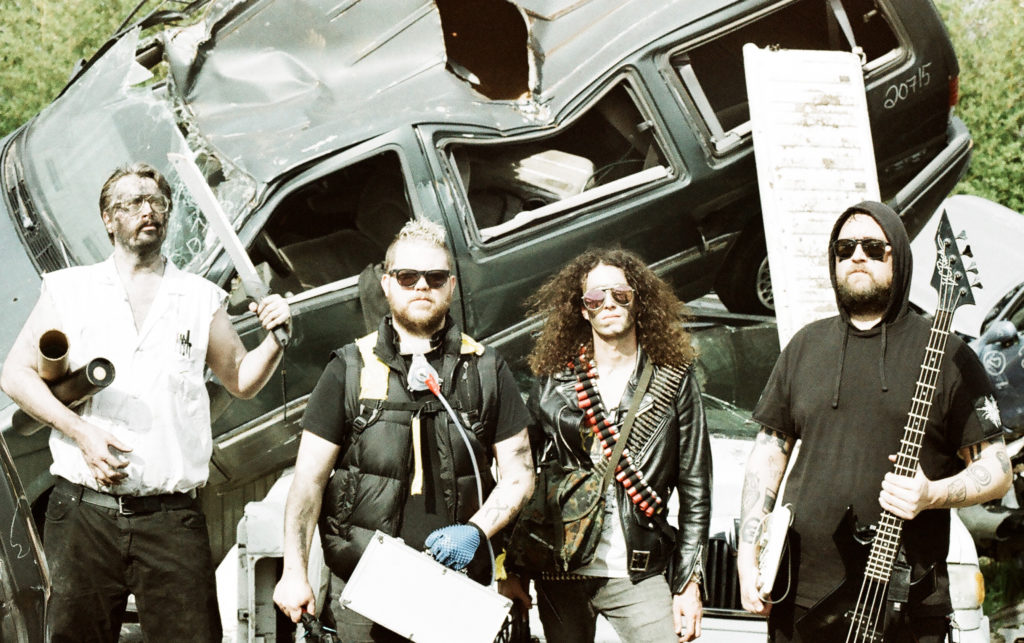 Profound Lore Records this week unloads the blistering salvo of Neuropunk Boostergang, the second album by Austin, Texas-based wasteland thrashers, EXPANDER.
EXPANDER has subverted traditional band trajectories to receive global recognition of their unique brand of futuristic metalpunk since forming in 2014. With their second full-length, Neuropunk Boostergang, the group aggressively channels the anxieties foisted on us from oppressive systems using every weapon at their disposal: pummeling rhythms, transcendent melodies, and wild vocal deliveries that keep listeners on guard for whatever might come crawling from the wastes next.
The forty-three-minute whiplash attack EXPANDER provides on Neuropunk Boostergang erupts with mangling riffage, crushing percussion, and scathing vocals preaching of dystopian themes. Neuropunk Boostergang was recorded at GodCity by Kurt Ballou (Converge, Old Man Gloom, Full Of Hell), mastered by Joel Grind (Toxic Holocaust), and completed with cover art by Luca Carey.
EXPANDER's entire Neuropunk Boostergang is now streaming at THIS LOCATION.
Profound Lore will dispatch Neuropunk Boostergang on CD, LP, and digital formats this Friday, August 21st via the North American label webshop HERE, the Euro webshop HERE, and Bandcamp HERE.
Neuropunk Boostergang marks EXPANDER's return to GodCity Studio again utilizing the state-of-the-art studio to capture every nuance of the raw energy contained within these potent audio capsules. The result is a glimpse into a barbarous future where traditional riffs get flipped on their head, anti-gravity rhythms pull you in different directions and supernatural voices jack-in to your skull to command attention.
http://expander.ai
https://expander.bandcamp.com
http://www.profoundlorerecords.com
http://www.facebook.com/profoundlorerecords
http://www.profoundlorerecords.bandcamp.com
https://www.instagram.com/profoundlorerecords