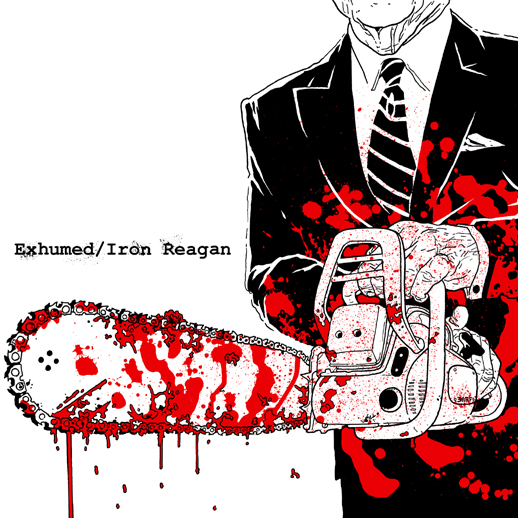 Today the musical miscreants at Tankcrimes are very pleased to announce the release of a split 12″ between California's favorite gore-sworn death metal deviants EXHUMED and Virginia hardcore thrashbangers, IRON REAGAN, who feature within their crossover ranks Tony Foresta (Municipal Waste), LandPhil Hall (Municipal Waste/Cannabis Corpse), Ryan Parrish (ex- Darkest Hour), Mark Bronzino (Mammoth Grinder/ANS) and Rob Skotis (Hellbear).
The split will offer up a total of eight battering tracks of highspeed fuckcrush, two of which find EXHUMED delivering soul-smearing covers of Minor Threat's "Seeing Red" and Negative Approach's "Ready To Fight." Check out the complete track listing below.
In related news, EXHUMED, who are currently leveling stages alongside Dying Fetus, and IRON REAGAN, who are obliterating hordes on tour with Gwar, will join forces for a short run of live assaults in December. See confirmed itineraries for both bands below.
The EXHUMED/IRON REAGAN split 12″will be unleashed via Tankcrimes on January 7, 2014. Further info, including preorders and track teasers, to be unveiled in the coming weeks.
EXHUMED/IRON REAGAN Split 12″ Track Listing:
Side A
1. Gravewalker (EXHUMED)
2. Dead to the World (EXHUMED)
3. Seeing Red (EXHUMED) – Minor Threat cover
4. Ready to Fight (EXHUMED) – Negative Approach cover
Side B
5. Life Beater (IRON REAGAN)
6. Gave Up on Giving a Fuck (IRON REAGAN)
7. Mini Lights (IRON REAGAN)
8. Holy Water Makes Me Wet (IRON REAGAN)
EXHUMED w/ Dying Fetus, Abiotic [remaining dates]:
10/23/2013 Pawn Shop – Edmonton, AB
10/24/2013 Riddell Centre – Regina, SK
10/25/2013 Park Theater – Winnipeg, MB
w/ Dying Fetus, Abiotic, Rivers Of Nihil:
10/26/2013 Skyway Theater – Minneapolis, MN
10/27/2013 Reggie's – Chicago, IL
10/28/2013 The High Noon Saloon – Madison, WI
10/29/2013 Peabodys – Cleveland, OH
10/30/2013 Chance Theater – Poughkeepsie, NY
10/31/2013 Palladium – Worcester, MA
11/01/2013 Gramercy Theater – New York, NY
11/02/2013 Empire – Springfield, VA
w/ IRON REAGAN:
12/08/2013 Cheyenne Saloon – Las Vegas, NV
12/09/2013 The Metro – Oakland, CA
12/10/2013 The Casbah – San Diego, CA
12/11/2013 Chain Reaction – Anaheim, CA
12/12/2013 Rocky Point – Tempe, AZ
12/14/2013 Gothic Theater – Denver, CO
IRON REAGAN w/Gwar [remaining dates]
10/24/2013 Warehouse Live – Houston, TX
10/26/2013 Emo's (Housecore Horror Film Fest) – Austin, TX
10/28/2013 Vinyl Music Hall – Pensacola, FL
10/29/2013 House of Blues – New Orleans, LA
10/30/2013 The Masquerade – Atlanta, GA
10/31/2013 Tremont Music Hall – Charlotte, NC
11/01/2013 The Orange Peel – Asheville, NC
11/02/2013 The NorVa – Norfolk, VA
11/04/2013 Revolution – Ft. Lauderdale, FL
11/05/2013 The Ritz Ybor – Ybor City, FL
11/07/2013 Bogart's – Cincinnati, OH
11/08/2013 Harpo's – Detroit, MI
11/09/2013 Mojoes – Joliet, IL
11/10/2013 The Intersection – Grand Rapids, MI
11/12/2013 Phoenix Concert Theatre – Toronto, ON
11/13/2013 House Of Blues – Cleveland, OH
11/14/2013 Upstate Concert Hall – Clifton Park, NY
11/15/2013 The Palladium – Worcester, MA
11/16/2013 Reverb Disc – Reading, PA
11/17/2013 9:30 Club – Washington, DC
w/ EXHUMED:
12/08/2013 Cheyenne Saloon – Las Vegas, NV
12/09/2013 The Metro – Oakland, CA
12/10/2013 The Casbah – San Diego, CA
12/11/2013 Chain Reaction – Anaheim, CA
12/12/2013 Rocky Point – Tempe, AZ
12/14/2013 Gothic Theater – Denver, CO
w/ Power Trip, Mammoth Grinder
12/15/2013 Conservatory – Oklahoma City, OK
12/16/2013 Club Dada – Dallas, TX
12/19/2013 Epic Problem – Tampa, FL
12/20/2013 The Talent Farm – Pembroke Pines, FL
12/21/2013 The Atlantic – Gainesville, FL
http://www.facebook.com/ExhumedOfficial
https://www.facebook.com/pages/IRON-REAGAN/235448059864772
http://www.tankcrimes.com