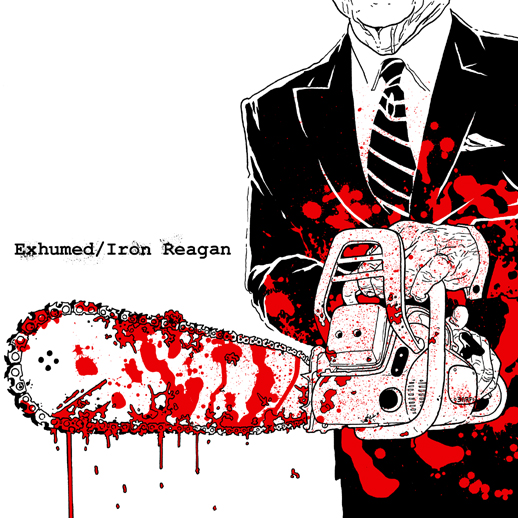 Just in time for your holiday rituals, Noisey hurls forth a delectable stream of the EXHUMED/IRON REAGAN split twelve-inch!
A profane union of repugnant spirits, the forthcoming vinyl-only offering features eight unrepentant tracks of high-paced riotous fury that'll blow the stockings right off your chimney, two of which find EXHUMED delivering ripping covers of Minor Threat's "Seeing Red" and Negative Approach's "Ready To Fight."
Set your Yule Log ablaze with EXHUMED and IRON REAGAN, courtesy of Noisey, at THIS LOCATION.
And as if that isn't enough to throw you into a Christmas stupor, today Decibel Magazine is hosting a brand spankin' new video from IRON REAGAN. Filmed by BUCKWOLF with live assaults shot in Houston, Texas, roll yer peepers on over HERE and check it out.
Following a short run of dueling live sets, both bands are currently sleighing stages separately to close out the year. A complete list of remaining offensives appear below.
EXHUMED [remaining dates]:
12/18/2013 The Hideaway – Johnson City, TN
12/19/2013 The Drunken Unicorn – Atlanta, GA
12/21/2013 The Brass Mug – Tampa, FL
12/22/2013 Culture Room – Ft. Lauderdale, FL
IRON REAGAN w/ Power Trip, Mammoth Grinder [remaining dates]:
12/18/2013 Siberia – New Orleans, LA
12/19/2013 Epic Problem – Tampa, FL
12/20/2013 The Talent Farm – Pembroke Pines, FL
12/21/2013 The Atlantic – Gainesville, FL
w/ Gwar, Battlecross
12/27/2013 Irving Plaza – New York, NY
12/28/2013 Toad's Place – New Haven, CT
12/29/2013 The National – Richmond, VA
The EXHUMED/IRON REAGAN split 12″ will be see release via the miscreants at Tankcrimes on January 7, 2014. Let there be peace on earth and pre-order your copy TODAY at THIS LOCATION.
http://www.facebook.com/ExhumedOfficial
https://www.facebook.com/pages/IRON-REAGAN/235448059864772
http://www.tankcrimes.com