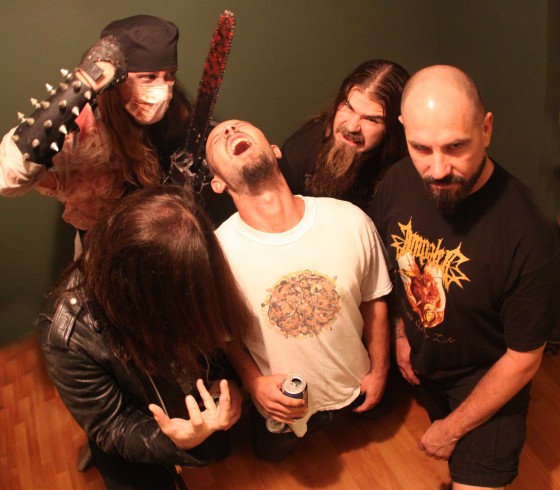 West Coast gore hounds, EXHUMED, will take to the streets this Fall on another rash of live incursions with extreme metal technicians Carcass and manic death thrashers Noisem. Slated to kick off on October 24 in San Diego, the Inked In Steel Tour 2014 will trample nearly two dozen cities with additional sonic devourment from death metal legends Obituary and Macabre on select dates. From there the band will march overseas for more onstage devastation with Aborted, Origin and Miasmal. See confirmed shows below.
Comments Matt Harvey, he of the decrepit death rattle and repugnant requiems: "We've been enjoying a rare few months of quiet in the EXHUMED camp, but we're finally emerging from the death metal equivalent of cryo-sleep to make some noise again. We're totally psyched to be back out amongst all you mutants and maniacs again for some beers, laughs and our usual brand of heavy metal mayhem. It'll be great to worm our way back into your little black hearts. We couldn't ask for a better tour package than with Carcass and Obituary, and our solo dates will allow us to unleash a full spectrum of stuff onstage – more songs, more production, more Marshall cabinets. It's gonna be a blast (beat). See you fuckers there! Bring beer!"
EXHUMED will be touring in support of their critically adored Necrocracy full-length. Released last Summer via Relapse Records, the record serves as the band's most musically adept, sonically punishing and conceptually provocative recording of their mammoth catalog of chaos. Outburn gave Necrocracy a 9/10 score, noting, "The album seethes with vitriol, visceral shredding and thunderous grooves and it yields not a dull moment across its 29 minutes," while Pitchfork gushed, "Matt Harvey and his merry maniacs know exactly what they're doing, and have spent 20-odd years perfecting their poisonous formula. The riffs still bludgeon, the snare still snaps, and the dual vocal assault still growls and yelps with the best of them. The wailing solos and brilliant flashes of melodic death metal perfection are a welcome addition, as is their maturing approach to songwriting." Added Metal Insider, "This is death metal the way it should be, but hardly is anymore: complex but still compact, well-played without being wanky, brutal without going to ridiculous extremes, and listenable, if not inviting, in spite of its inherent ghastliness. Necrocracy kills, plain and simple."
EXHUMED
9/23/2014 Aftershock – Merrian, KS
10/8/2014 Gas Money Bar And Grill – Dallas TX
w/ Carcass, Noisem
10/24/2014 Brick By Brick – San Diego, CA
10/28/2014 The Rock – Tucson, AZ *
10/29/2014 Tricky Falls – El Paso, TX *
10/30/2014 Club Dada – Dallas, TX (Exhumed only)
10/31/2014 Chameleon Room – Oklahoma City, OK *
11/01/2014 Granada – Lawrence, KS *
11/02/2014 Pops – Sauget, IL *
11/03/2014 V Club – Huntington, WV (Exhumed and Noisem only)
11/04/2014 Lincoln Theater – Raleigh, NC *
11/05/2014 The Broadberry – Richmond, VA *
11/06/2014 The Orange Peel – Asheville, NC *
11/07/2014 Exit/In – Nashville, TN *
11/08/2014 Diamond Pub & Billiards – Louisville, KY *
11/09/2014 The Madison Theater – Cincinnati, OH *
11/10/2014 The Crofoot – Pontiac, MI **
11/11/2014 Intersection – Grand Rapids, MI **
11/12/2014 The Majestic – Madison, WI **
11/13/2014 House Of Rock – Eau Claire, WI (Exhumed + Noisem only)
11/14/2014 Wooly'd – Des Moines, IA **
11/15/2014 Mojoes – Joliet, IL **
* w/ Obituary
** w/ Macabre
w/ Aborted, Origin, Miasmal
11/20/2014 Rockfabrik – Nürnberg, DE
11/21/2014 JC De Klinker – Aarschot, BE
11/22/2014 Gebäude 9 – Köln, DE
11/23/2014 Marx – Hamburg, DE
11/24/2014 Pumpehuset – Copenhagen, DK
11/25/2014 Pokalen – Oslo, NO
11/26/2014 Biljardkompaniet – Kristianstad, SE
11/27/2014 Konfus – Esbjerg, Dk
11/28/2014 Hellraiser – Leipzig, BE
11/29/2014 Lido – Berlin, DE
11/30/2014 Fabryka Club – Kracow, PL
12/01/2014 Alibi – Wroclaw, PL
12/02/2014 Nova Chmelnice Prague, CZ
12/03/2014 Randal Club – Bratislava, SK
12/04/2014 Viper Room – Vienna, AT
12/05/2014 Feierwerk – Munich, DE
12/06/2014 Traffic Club – Rome, IT
12/07/2014 Le Korigan – Luynes, FR
12/08/2014 Razzmatazz 3 – Barcelona, ES
12/09/2014 Caracol – Madrid, ES
12/10/2014 Metronum – Toulouse, FR
12/11/2014 Ubu – Rennes, FR
12/12/2014 Divan Du Monde – Paris, FR
12/13/2014 Eindhoven Metal Meeting – Eindhoven, NL
12/14/2014 Underworld – London, UK
12/15/2014 Grillen – Colmar, FR
12/16/2014 Steinbruch Theater – Darmstadt, DE
12/17/2014 Jubez – Karlsruhe, DE
12/18/2014 Rock It – Aalen, DE
12/19/2014 Heavy Xmas – Zürich, CH
12/20/2014 Turock – Essen, DE
To order your copy of Necrocracy, point your browser to THIS LOCATION. The record is also available via iTunes HERE. And if you missed it, peep the visuals for "Coins Upon The Eyes" HERE.
http://www.gorefuckingmetal.blogspot.com
http://www.facebook.com/ExhumedOfficial
http://www.myspace.com/exhumed
http://www.relapse.com