Gore metal maniacs EXHUMED will kick off their US headlining tour this week. Set to begin November 15th and run through December 8, the trek follows the band's recent performance at Ozzfest Meets Knotfest. Support will be provided by Arkaik. See confirmed dates below.
EXHUMED will be touring in support of latest full-length, Death Revenge. The band's sixth full-length sees them tread into ambitious new territory with their first concept album: a musical melodrama in thirteen parts based on shocking true events. Death Revenge takes place in the late 1820s in Edinburgh, Scotland and tells the macabre tale of a series of brutal murders where the victims' cadavers were sold to anatomists, amid a grisly underground trade of grave-robbery. Recorded with producer Jarrett Pritchard (Goatwhore, Eternal, Gruesome), Death Revenge takes the band's signature gore-drenched, death metal mayhem to theatrical and ghastly new depths.
Death Revenge is out now on CD, LP, deluxe LP with cassette, and digital formats via Relapse Records. Physical packages and digital orders are available via Relapse.com HERE and Bandcamp HERE where the record can be streamed in full.
Watch EXHUMED's previously released videos for "Night Work"and "Lifeless" below.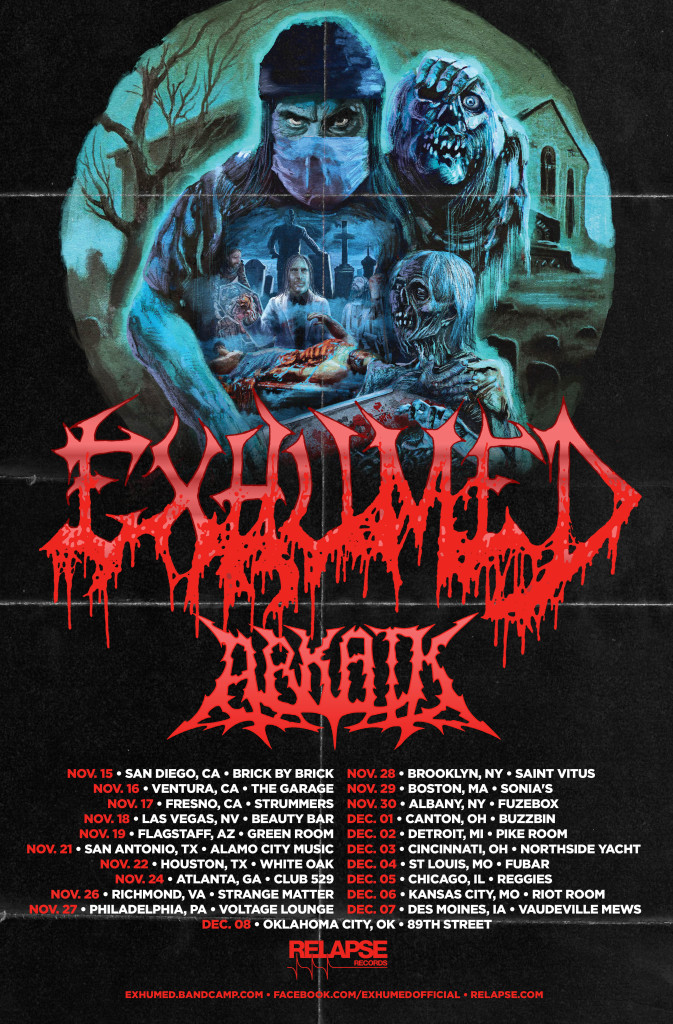 EXHUMED w/ Arkaik:
11/15/2017 Brick By Brick – San Diego, CA
11/16/2017 The Garage – Ventura, CA
11/18/2017 Beauty Bar Las Vegas, NV
11/19/2017 Green Room – Flagstaff, AZ
11/21/2017 Alamo City Music – San Antonio, TX
11/22/2017 White Oak – Houston, TX
11/24/2017 Club 529 – Atlanta, GA
11/25/2017 Hideaway – Johnson City, TN
11/26/2017 Strange Matter – Richmond, VA
11/27/2017 Voltage Lounge – Philadelphia, PA
11/28/2017 Saint Vitus – Brooklyn, NY
11/29/2017 Sonia's – Boston, MA
11/30/2017 Fuzebox – Albany, NY
12/01/2017 Buzzbin – Canton, OH
12/02/2017 Pike Room – Detroit, MI
12/03/2017 Northside Yacht – Cincinnati, OH
12/04/2017 Fubar – St. Louis, MO
12/05/2017 Reggies – Chicago, IL
12/06/2017 Riot Room – Kansas City, MO
12/07/2017 Vaudeville Mews -Des Moines, IA
12/08/2017 89th Street – Oklahoma City, OK
"…artfully conceived, lurid fun…" — Pitchfork
"…a fun, worthwhile listen, especially with Halloween just around the corner. I'm especially impressed with the historical inspiration, which gives it some more weight than the usual slasher fest." – Metal Injection
"…a magnum opus that sees a much more ambitious EXHUMED." – Paste Magazine
"…serious killer classic headbanging shit…" – Team Rock
"The album is filled with blood-curdling growls and powerful drumming, which is to be expected from Matt Harvey and company, but it still feels fresh and compelling. And while EXHUMED have always had a theatrical aspect to them, Death Revenge has brought out a more pensive side of the band. It was an ambitious undertaking and it paid off, proving just how much psychotic creativity they still have to offer. – Exclaim!
"…an absolute blast of a record. Six studio albums into their career, and EXHUMED continue to show their commitment and talent for creating fun and pulse racing death metal. With an intriguing concept and incredibly fast and technical instrumentation that creates emotion, EXHUMED present a terrific work that will get folks moshing through graveyards and partying with the dead." – New Noise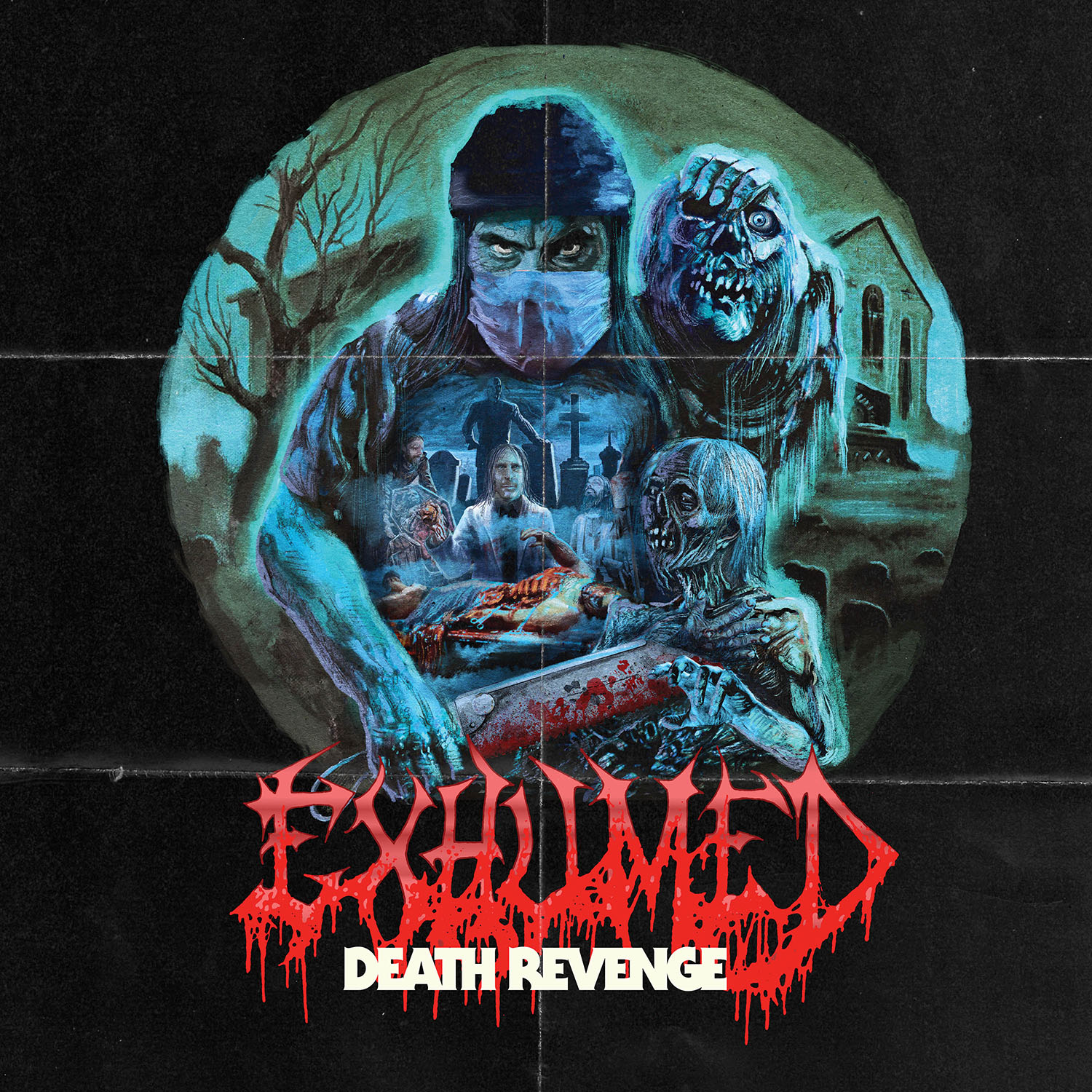 http://www.facebook.com/ExhumedOfficial
http://www.relapse.com
http://www.relapserecords.bandcamp.com
http://www.facebook.com/RelapseRecords
http://www.twitter.com/RelapseRecords