"…meaningful, catchy, and fucking deadly." – Decibel
Twenty-one years since their murderous debut, EXHUMED continues their onslaught of gore-obsessed death metal on their new album, Horror, out now on Relapse Records!
Aptly titled, Horror is an exploration of all things macabre, as the undisputed pioneers of neck-breaking riffs plow through fifteen of the band's most intense tracks to date. Nightmares meet shred, as the speed-inducing track "Ravenous Cadavers" highlight EXHUMED's penchant for blazing, face melting guitar work, while "Naked, Screaming And Covered In Blood" and "Playing With Fear" elevate EXHUMED to levels of grind unheard of since Gore Metal.
Stream Horror in its crushing entirety at THIS LOCATION.
In celebration of Horror's release, the band has unleashed a video for "Utter Mutilation Of Your Corpse," viewable below alongside previously-released NSFW (nudity, blood) video for "Naked, Screaming, And Covered In Blood."
Horror was recorded at EXHUMED's home-built studio Darker Corners (a first in the band's career), produced by the band and Alejandro Corredor (Brujeria, Nausea), and mixed and mastered by Joel Grind (Toxic Holocaust). The record will be unleashed on October 4th on CD, LP, deluxe LP, and digital formats. Physical packages are available for preorder via Relapse.com HERE. Digital downloads/streaming services are available HERE.
EXHUMED will take on a co-headlining tour this Fall with labelmates Gatecreeper with support from Necrot and Judiciary. The trek, which begins on Halloween in Austin, Texas and runs through December 4th in Las Vegas, Nevada, includes additional headlining shows prior to and following the tour with Necrot and Deathgrave on select dates. See all confirmed dates below.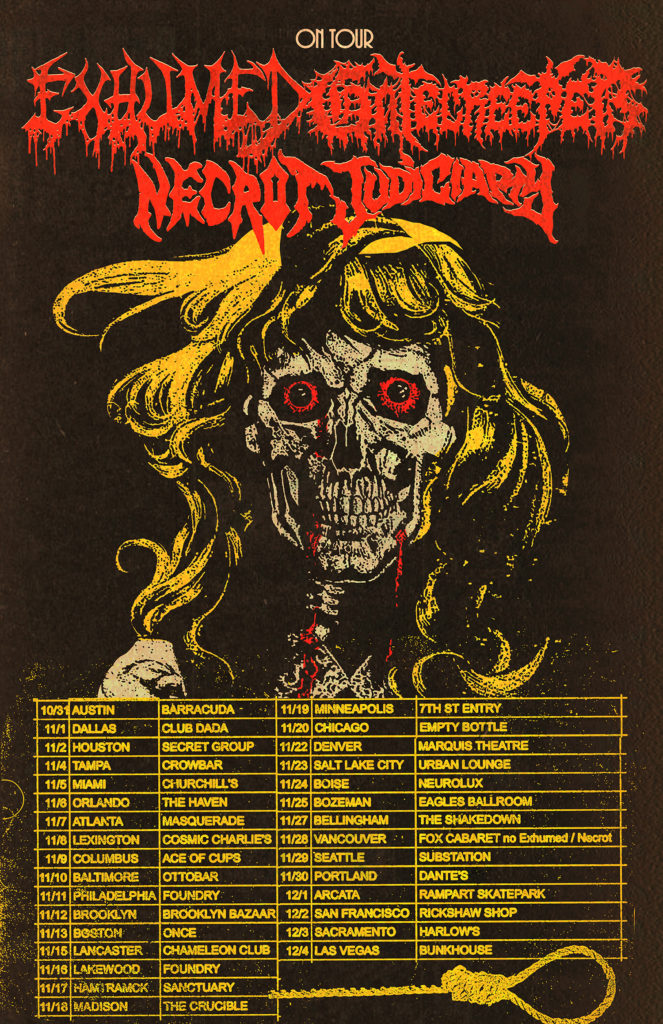 EXHUMED w/ Necrot:
10/27/2019 Hi-Hat – Los Angeles, CA
10/30/2019 Neon Rose – El Paso, TX
w/ Gatecreeper, Necrot, Judiciary:
10/31/2019 Barracuda – Austin, TX
11/01/2019 Club Dada – Dallas, TX
11/02/2019 The Secret Group – Houston, TX
11/04/2019 Crowbar – Tampa, FL
11/05/2019 Chuchill's – Miami, FL
11/06/2019 The Haven Lounge – Winter Park, FL
11/07/2019 The Masquerade – Hell Stage – Atlanta, GA
11/08/2019 Cosmic Charlie's – Lexington, KY
11/09/2019 Ace Of Cups – Columbus, OH
11/10/2019 Ottobar – Baltimore, MD
11/11/2019 The Foundry @ The Fillmore – Philadelphia, PA
11/12/2019 Brooklyn Bazaar – Brooklyn, NY
11/13/2019 ONCE Ballroom – Somerville, MA
11/14/2019 Space Ballroom – Hamden, CT * EXHUMED + Necrot only
11/15/2019 Chameleon Club – Lancaster, PA
11/16/2019 Foundry – Lakewood, OH
11/17/2019 Sanctuary – Hamtramck, MI
11/18/2019 The Crucible – Madison, WI
11/19/2019 7th St. Entry – Minneapolis, MN
11/20/2019 Empty Bottle – Chicago, IL
11/22/2019 Marquis Theatre – Denver, CO
11/23/2019 Urban Lounge – Salt Lake City, UT
11/24/2019 Neurolux – Boise, ID
11/25/2019 The Eagles Ballroom – Bozeman, MT
11/27/2019 The Shakedown – Bellingham, WA
11/29/2019 Substation – Seattle, WA
11/30/2019 Dante's – Portland, OR
12/01/2019 Rampart Skatepark – Arcata, CA
12/02/2019 Rickshaw Shop – San Francisco, CA
12/03/2019 Harlow's – Sacramento, CA
12/04/2019 Bunkhouse Saloon – Las Vegas, NV
w/ Necrot, Deathgrave:
12/05/2019 Club Red – Mesa, AZ
12/06/2019 Brick by Brick – San Diego, CA
12/07/2019 Observatory – Santa Ana, CA
12/08/2019 Strummer's – Fresno, CA
"The clarity is mesmerizing – the drum tone alone should serve as a paradigm for sound engineers of any genre. Likewise, every riff is as legible and as textured as a braille manifesto, no mean feat given that EXHUMED have beefed up their horsepower of their Terrorize, Carcass and Exodus programming into glorious overdrive. Each passage lunges forward as escape velocity, almost as of wishing to overtake itself while always remaining meaningful, catchy. and fucking deadly." – Decibel
"EXHUMED have never lost their knack for a razor-sharp hook and there are plenty of those here, but it's the sheer gleeful intensity of the whole thing that will keep you coming back for more. These old masters know exactly what they're doing, and what they're doing is ripping faces off in the name of all that's hideous and wrong. Bravo." – Blabbermouth
"Horror easily makes for some of the best fun to be had in death metal this year… [EXHUMED] want to send chills down your spine with thrilling instrumentation, creepy vocals, and gruesome lyrics. With Horror, EXHUMED have crafted an incredible love letter to the horror genre." — Consequence Of Sound
"Always good for some campy gore-thrashing grind, EXHUMED are delivering it straight up on Horror. 'Naked, Screaming And Covered In Blood' is perfect for natural crowd participation and it's snaking thrash attack is just as much tongue-in-cheek as it is chainsaw-to-throat." – Loudwire, 2019's Best Metal Songs…So Far
"…tight and vibrant, with a no bullshit energy that speaks volumes to the band's pedigree as one of extreme metal's most reliable voices." — Outburn
"Decay is in the air, the days are getting morbid, and it's again time to wash yourself in the guts of other victims, at least while it's seasonally appropriate to do so. In that case, EXHUMED's Horror is arriving at the right time, when you might walk away feeling a little less depraved having enjoyed this filth so thoroughly. Actually, EXHUMED's music is truly for any season; it just feels nastier and more sinister doing so when we're celebrating violence of all kinds again." – Meat Mead Metal
"Given the old school aesthetic of the cover art and utterly blazing tempos, Horror does right in its ability to have a retro vibe without going back in time. Modern production vibes give the thrashy riffs plenty of bite while the band channels the vigor of a much more youthful act. One thing is clearly certain – these tracks are going to make for some frenetic live appearances. Horror isn't a step back for EXHUMED, but one that sees them trying to wholeheartedly smash through the nearest wall with brutality." — Dead Rhetoric
"Horror is all octane, all the time. " — Alternative Control
http://www.facebook.com/ExhumedOfficial
http://www.instagram.com/exhumed_official/
http://twitter.com/exhumedofficial
http://exhumed.bandcamp.com/
http://www.relapse.com
http://www.relapserecords.bandcamp.com
http://www.facebook.com/RelapseRecords
http://www.twitter.com/RelapseRecords