Stream / Share EVOKEN's "Valorous Consternation" https://youtu.be/uIQpAeqDrIY
Hypnagogia is the impending new full-length from iconic death/funeral doom unit EVOKEN. Recorded, mixed, and mastered at Sound Spa Studios in New Jersey by Steven DeAcutis, the crushing offering marks the band's first new output in six long years and comes swathed in the artwork of Adam Burke (Artificial Brain, Mos Generator, Hooded Menace).
In advance of its release, the band has unveiled the devastating sounds of "Valorous Consternation" for public feasting. Offers drummer/lyricist Vince Verkay of the track, "'Valorous Consternation' is the first and only song off the new album played live. The song actually went through a few changes before given the stamp of approval. Originally, it ended with more of an uptempo. As usual, after playing through the song a few times, we felt it was missing something. We wanted something that expressed real anger and power. I think we have accomplished that. We played four festivals this past Winter, so we included 'Valorous Consternation' in the set. The feedback from the audience was really encouraging. The title came from [vocalist/guitarist] John [Paradiso], which is rare, but I think he picked a great title to describe the overall atmosphere of the song."
Stream EVOKEN's "Valorous Consternation" below:
Hypnagogia will see release on November 9th on CD, 2xLP, and digital formats via Profound Lore Records. For preorders, go to THIS LOCATION.
Known as one of the founding fathers of the American death/funeral doom metal scene, New Jersey's EVOKEN have been a long-standing pillar over the band's twenty-five-year pillage. The followup to their landmark Atra Mors full-length, Hypnagogia is a towering monolith that develops and redefines the band's sound that will only strengthen their position within the death/doom metal hierarchy where EVOKEN have always reigned.
Pushing both their penchant for grandiose melodicism and their trademark aura of pulverizing, unparalleled heaviness even more, it is the base of this repercussion that makes Hypnagogia one of the most intense, compelling, and soul crushing EVOKEN listening experiences yet; one of euphoria, desperation, and hopelessness.
Hypnagogia also sees EVOKEN delve into their first concept album. Relays Verkay of the themes and lyrics surrounding the record, "Hypnagogia is based around World War I and its physiological impact on those who fought. It's used metaphorically about events that impacted me the past three years, which I will keep to myself. But the story behind this World War I theme is based on a soldier who was so bitter about being lied to and is losing his life. He's wounded in battle and decides to write a journal of his final hours, describing what he sees and what he feels as his life is slipping away. Feeling cheated, he makes a pact with a sadistic god that he can leave a part of his soul, which contains all of his suffering, within this journal. To feel some sort of vengeance, anyone who reads this journal releases that part of his soul and it attaches itself to the reader like a host. Each emotion being experienced as if they too where there. As the reader descends into a deep despair, they cannot handle this suffering, deciding to take their own life. Once gone, that part of their soul, containing all the misery is taken by the writer's misery-laden soul and attaches itself to this journal again, increasing its powerful grip onto the next reader and each time its read with its power increasing."
EVOKEN on Hypnagogia:
John Paradiso – vocals/guitar
Chris Molinari – guitar
Dave Wagner – bass
Don Zaros – keyboards
Vince Verkay – drums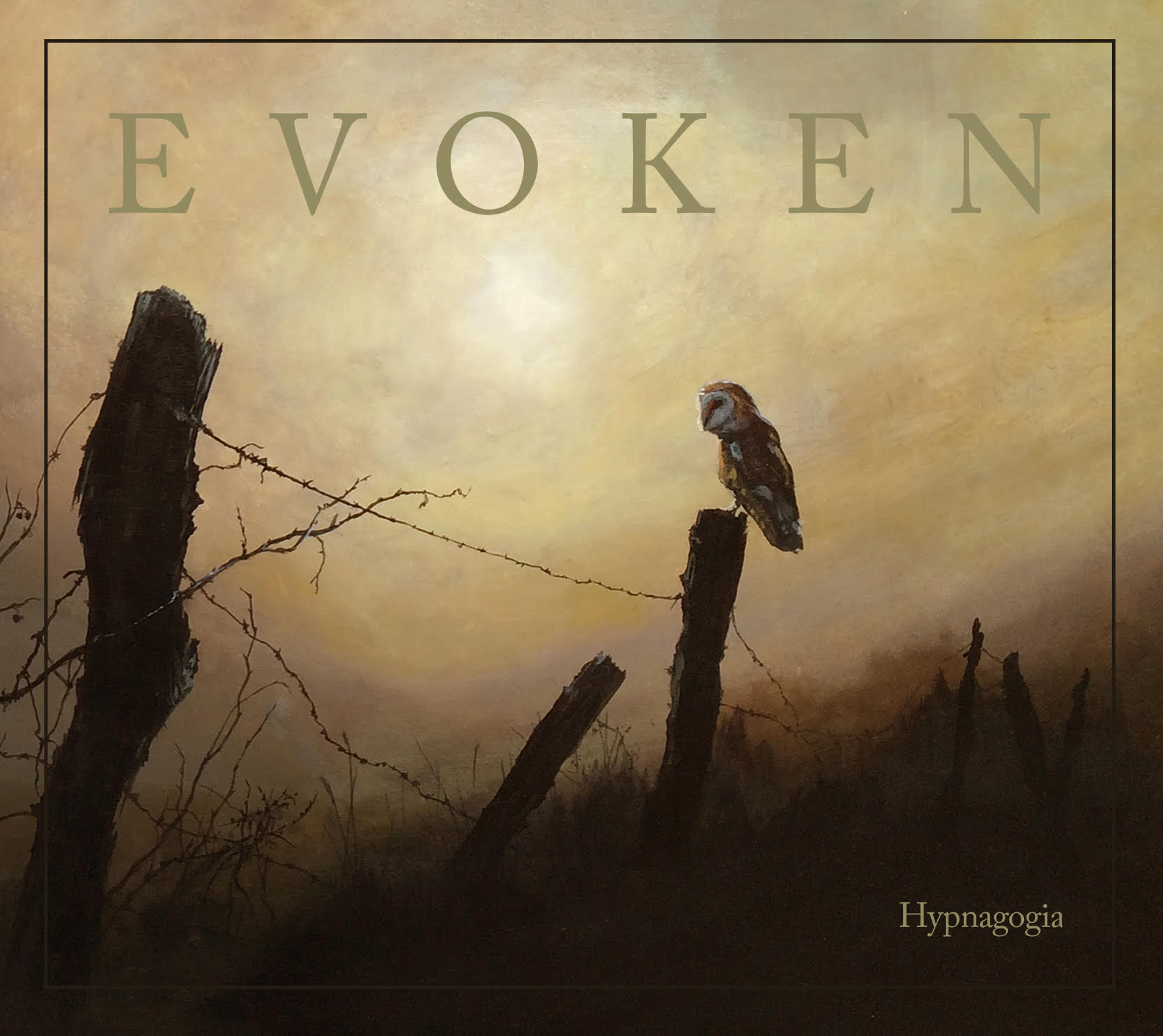 https://www.facebook.com/evokenhell
http://www.profoundlorerecords.com
http://www.facebook.com/profoundlorerecords
http://www.profoundlorerecords.bandcamp.com
https://www.instagram.com/profoundlorerecords