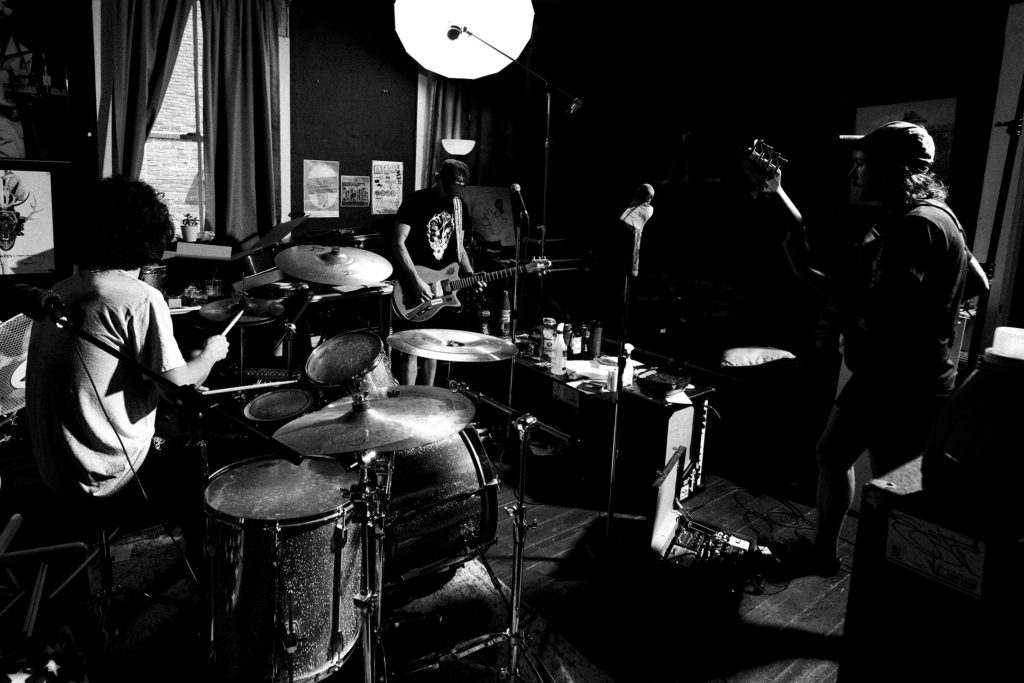 photos by Andy Knolle
New Noise is streaming "My Roommate Got Psy-Op'd," the latest file to be declassified from Cincinnati, Ohio-based mathcore/blackened grunge outfit EUNOIA, impending the release of their Psyop Of The Year through Nefarious Industries next week.
EUNOIA's Psyop Of The Year unloads eight scathing attacks in under thirty-two minutes, the album recorded by Nick Layman at Russian Recording in Bloomington, Indiana, and mixed and mastered by Colin Marston at the Thousand Caves in Queens, New York.
With the new single, EUNOIA reports, "Longevity yields dividends. It pays to hang in there and be a team player. Keep your head down, hit the grindstone for a few years, work the ladder, and watch the money stack up! Your time is a valuable asset."
Get EUNOIA's latest debrief, "My Roommate Got Psy-Op'd," via New Noise Magazine at THIS LOCATION. 
Psyop Of The Year will see release Friday, April 1st on CD and digital via Nefarious Industries; find preorders at the label armory where "Mozambique Drill" is playing HERE. A limited cassette is also available through Tomb Tree Tapes HERE.
-REPORT ON EUNOIA-
The psychological operation EUNOIA commenced in 2018 in Cincinnati, Ohio. Personnel on this assignment were: Logan Nichols (formerly of [redacted]); Bryce Aasen; and Ian MacAdam (formerly of [redacted]).
Through their four years of activity EUNOIA successfully infiltrated lower class communities in efforts to indoctrinate the youth, suppress free thought, and relay tactics of control onto their "peers." In 2018 and 2019 respectively, EUNOIA distributed the EPs Pronoid and You're Not Paranoid Enough widely to underground sects in the Midwest and Northeast United States regions.
In 2021 EUNOIA produced Psyop Of The Year with tactical support from Nefarious Industries and was decommissioned some months later resulting in the reallocation of operatives Nichols and Aasen to operation Tina Fey.
-END OF REPORT-
http://psyopoftheyear.com
https://eunoia513.bandcamp.com
https://www.facebook.com/eunoia.513
https://www.instagram.com/eunoia.lawn.and.garden
https://nefariousindustries.com
https://nefariousindustries.bandcamp.com
https://facebook.com/nefariousIndustries
https://instagram.com/nefarious_industries
https://twitter.com/nefariousInd