[photo by Tim Semega]
Following the late May release of their debut LP, The Emptiness Of…, through Closed Casket Activities, Pittsburgh-based ETERNAL SLEEP will take part in one of the year's most damaging live excursions, joining Full Of Hell, and God's Hate, supporting Nails on their mid-Northeast North American tour run in June.
ETERNAL SLEEP's The Emptiness Of… delivers ten songs spanning a wide array of metallic hardcore and grungy metal, concentrated into a bruising, groove-fueled attack, recorded at Bricktop Studio with Andy Nelson (Harm's Way, Weekend Nachos, Dead In The Dirt) and mastered by Brad Boatright at Audiosiege (Nails, Obituary, Integrity). The Emptiness Of… sees the band fittingly joining Xibalba, Disgrace, Twitching Tongues, Incendiary, God's Hate, Harm's Way, and many others on the trusted Closed Casket Activities roster.
The newly announced tour including ETERNAL SLEEP, Nails, Full Of Hell, and God's Hate will begin on June 17th in Chicago, with shows in Detroit, Toronto, Montreal, Boston, New York, Philadelphia, and Baltimore before closing down June 25th in Richmond. Later in the Summer, ETERNAL SLEEP will play This Is Hardcore in Philadelphia, confirmed to share the stage with Integrity, Ringworm, Nails, Full Of Hell, and more on Friday, August 5th.
Hear ETERNAL SLEEP's new single from The Emptiness Of… with "Red Herring" at Lambgoat RIGHT HERE.
Closed Casket Activities will release The Emptiness Of… on all digital platforms and on 12″ color vinyl May 20th; preorders have been posted at THIS LOCATION.
ETERNAL SLEEP Tour Dates:
6/17/2016 The Empty Bottle – Chicago, IL w/ Nails, Full Of Hell, God's Hate
6/18/2016 The Loving Touch – Detroit, MI w/ Nails, Full Of Hell, God's Hate
6/19/2016 Hard Luck – Toronto, ON w/ Nails, Full Of Hell, God's Hate
6/20/2016 Les Foufounes Electriques – Montreal, QC w/ Nails, Full Of Hell, God's Hate
6/21/2016 Middle East – Boston, MA w/ Nails, Full Of Hell, God's Hate
6/22/2016 Marlin Room at Webster Hall – New York, NY w/ Nails, Full Of Hell, God's Hate
6/23/2016 Underground Arts – Philadelphia, PA w/ Nails, Full Of Hell, God's Hate
6/24/2016 Ottobar – Baltimore, MD w/ Nails, Full Of Hell, God's Hate
6/25/2016 Strange Matter – Richmond, VA w/ Nails, Full Of Hell, God's Hate
8/05/2016 Electric Factory – Philadelphia, PA @ This Is Hardcore w/ Integrity, Ringworm, Nails [info]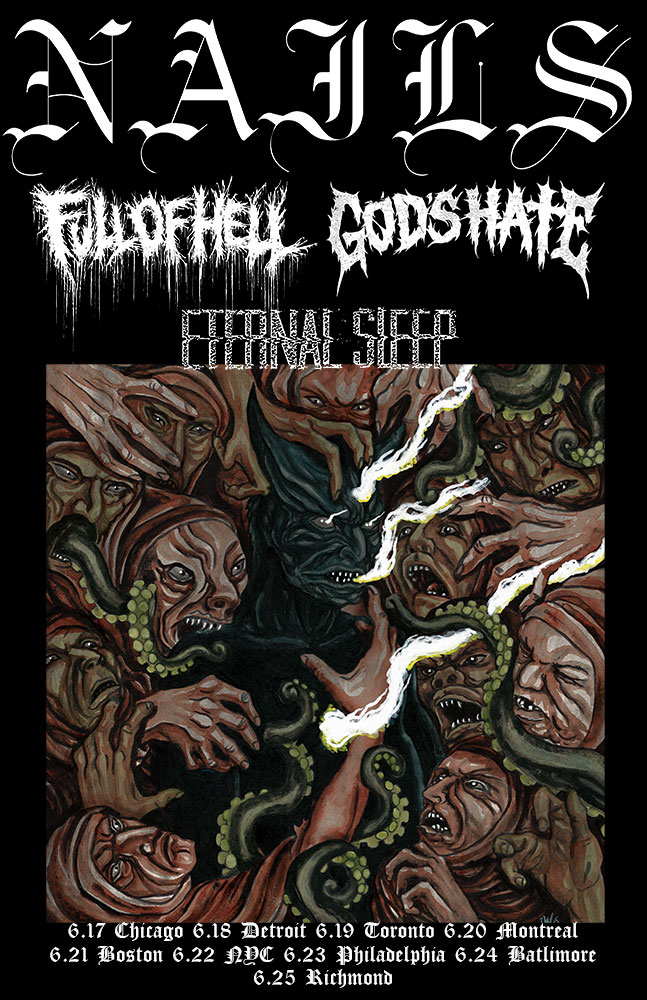 http://www.facebook.com/eternalsleephc
http://www.eternalsleephc.bandcamp.com
http://www.closedcasketactivities.com
http://www.closedcasketactivities.bandcamp.com
http://www.facebook.com/closedcasketactivities
http://www.twitter.com/closedcasketact