Swedish death metal overlords, ENTRAILS, will unleash the putrid fruits of their newest studio offering this May via Metal Blade Records. Fittingly dubbed Obliteration, the follow-up to 2013's Raging Death full-length was tracked by guitarist Jimmy Lundqvist at his own Bloodshed Studios and mixed and mastered by legendary musician/soundsmith Dan Swanö (Edge Of Sanity, Bloodbath, Aeon, Hail Of Bullets etc.) at Unisound. Featuring nine mangled tracks of sonic malevolence, Obliteration carries on the torch of true, oldschool Swedish brutality.
Comments Lundqvist: "Finally, we can unleash this beast named Obliteration to the fans out there, this time with a more driven and raw style that shall taste good to everyone's ears if you're into the older simplified death metal that we prefer to play. Recorded in our own Bloodshed Studios and mixed by the mighty Dan Swanö nothing else but slabby, Swedeath can be served."
Obliteration Track Listing:
1. No Cross Left Unturned
2. Epitome Of Death
3. Beyond The Flesh
4. The Grotesque
5. Obliterate
6. Skulls
7. Midnight Coffin
8. Bonestorm
9. Abyss Of Corpses
Boasting members of Birdflesh and General Surgery, ENTRAILS celebrates the teachings of Dismember, Grave, Entombed and Tomas Skogsberg's Sunlight Studio alumni with a mutinous air raid of buzzsaw riffs, bestial vocal tirades, earth-rumbling rhythms and repugnant tales of suffering, doom and the undead with the expert brutality of their forefathers. The band was initially forged in 1990 by Lundqvist but disbanded prematurely due to his dissatisfaction with their initial demo recordings. Half the lineup went their separate ways while Lundqvist continued to write music until 1998, when ENTRAILS officially went dormant. It would be a full decade before the band would ascend from the grave when Lundqvist found the band's early recordings in an old tape collection and decided they deserved to be released as they should have been originally. With modern recording technology, the first two ENTRAILS demos — Reborn and Human Decay — finally took shape.
The band unleashed their menacing Tales From The Morgue debut in June of 2010. The album featured songs from both newly recorded demos and was mixed and mastered by Dan Swanö. 2011's delightfully repugnant The Tomb Awaits full-length would follow. The record reaped critical adoration from metallers and media outlets both stateside and abroad with No Clean Singing noting, "although massive distortion is (of corpse) the name of this game, Lundqvist enhances the morbid fascination of the music with near-clean, Dismember-ish, reverberating guitar solos that alternately slither, writhe, and moan seductively. Indeed, all of the multi-faceted guitar tones and riffing techniques on this album, and the way in which they're balanced in the mix with the gut-punching bass and the drum-kit attack, are near-textbook representations of how this genre of music should sound."
ENTRAILS joined the Metal Blade Records roster in March of 2012, leveling the stages of numerous festivals throughout Europe (Party.San, Summer Breeze etc.) that Summer before composing 2013's ravenous Raging Death full-length. It was then that Lundqvist moved his studio into the woodshed where it all began in the '90s. The new/old surrounding inspired Lundqvist to write material like never before. Released later that year, The New Noise crowned the record, "an absolutely perfect slab of catchy, violent Swedish death metal," while Stereogum commended it for being, "perfect for blasting, banging, and bashing." Added All Music, "What comes through right away is the guitar tone, with its perfect blend of thickness and crunch feeling like a portal to the days when the fat distortion that was the backbone of Swedish death metal was (and perhaps still is) the heaviest thing to come out of an amp. Immediately afterwards you're hit by just how punishing the album is. These songs aren't here to dazzle you with their speed or virtuosity. Instead, they offer up the fat slabs of classic riffage that seek only to crush the listener under their immense weight, bringing a muscularity to the table that's hard to fake."
Dubbed "one of the more vital and warranted demo collections to be made available" by Metal Injection in an 8/10 review, ENTRAILS dropped the Resurrected From The Grave – Demo Collection last Summer. The mammoth eighteen-track offering delivers the band's Reborn and Human Decay recordings – the now infamous demos that started it all — in one venomous helping. And now comes the time for a new chapter in extremity with the audio disease of Obliteration.
Obliteration will see release via Metal Blade Record on May 19th, 2015. For preorder bundles, visit metalblade.com/entrails.
ENTRAILS:
Jimmy Lundqvist – guitars
Joakim Svensson – vocals/bass
Pontus Samuelsson – guitars
Adde Mitroulis – drums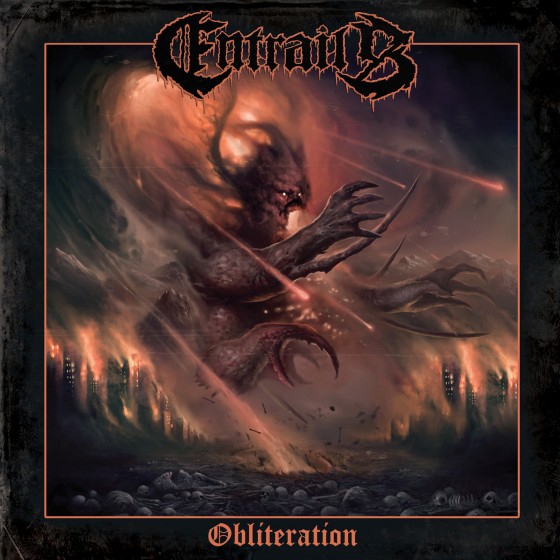 http://www.facebook.com/Entrails666
http://www.metalblade.com/entrails