ENTERPRISE EARTH today unleashes their fiery new video for latest single "Reanimate // Disintegrate." Now playing at Metal Injection, the track comes by way of the band's The Chosen full-length, set for release January 14th, 2022 via MNRK Heavy.
With "Reaimate // Disintegrate," ENTERPRISE EARTH dives further into previously uncharted territory, their sprawling, forward-thinking approach to deathcore continuing to progress in new directions. Their signature groove is smoother than ever, accompanied by BTBAM-inspired riffing and atmospheric undertones carried throughout.
Writes Metal Injection, "ENTERPRISE EARTH is here to pound you into dust for the next six minutes, thanks to their new single 'Reanimate // Disintegrate.' Despite kicking off the song plenty heavy, ENTERPRISE EARTH manages to only get more crushing as the track goes on."
Comments guitarist Gabe Mangold, "We're very excited to unveil the second single and video 'Reanimate // Disintegrate.' This track features another sonic mood and feeling from the album that I think fans new and old will enjoy. The accompanying music video, done by King Wolf Creative, is also our favorite to date."
View "Reanimate // Disintegrate" at Metal Injection at THIS LOCATION.

A masterpiece of monstrous brutality and enveloping ambiance, The Chosen is ENTERPRISE EARTH's heaviest and most diverse effort yet, with shifting attitude, vibe, and desperate aggression stitched throughout its songs. Brooding, thick with atmosphere and groove-driven, old-school death metal with modern flourishes, the music of ENTERPRISE EARTH switches gears from earth-shattering breakdowns to sickeningly slow sludge to blast furnace pummeling with seemingly effortless ease. Composition after composition is ominous, ambitious, lurching, and inviting with vocalist Dan Watson on a "me against the world" mission taking on personal struggle, isolation, self-doubt, and alienation like a man possessed, determined to persevere at all costs.
The Chosen was engineered, produced, mixed, and mastered by the band's Gabe Mangold (now the group's sole guitarist) save for the drums. Drummer Brandon Zackey tracked his relentlessly jaw-dropping and diverse drum performance with producer Jason Suecof (August Burns Red, Demon Hunter, Death Angel). Bassist Rob Saireh rounds out the ENTERPRISE EARTH lineup, bringing equally formidable power, dexterity, and groove.
The Chosen will be released on CD, LP, cassette, and digitally. Find preordering options at THIS LOCATION.
View the band's previously released video for "Where Dreams Are Broken" HERE. 
Coinciding with the release of The Chosen, ENTERPRISE EARTH will kick off 2022 supporting Fit For An Autopsy on their US headlining tour from January 5th through February 12th. Additional support will be provided by Ingested, Signs Of The Swarm, and labelmates, Great American Ghost. See all confirmed dates below.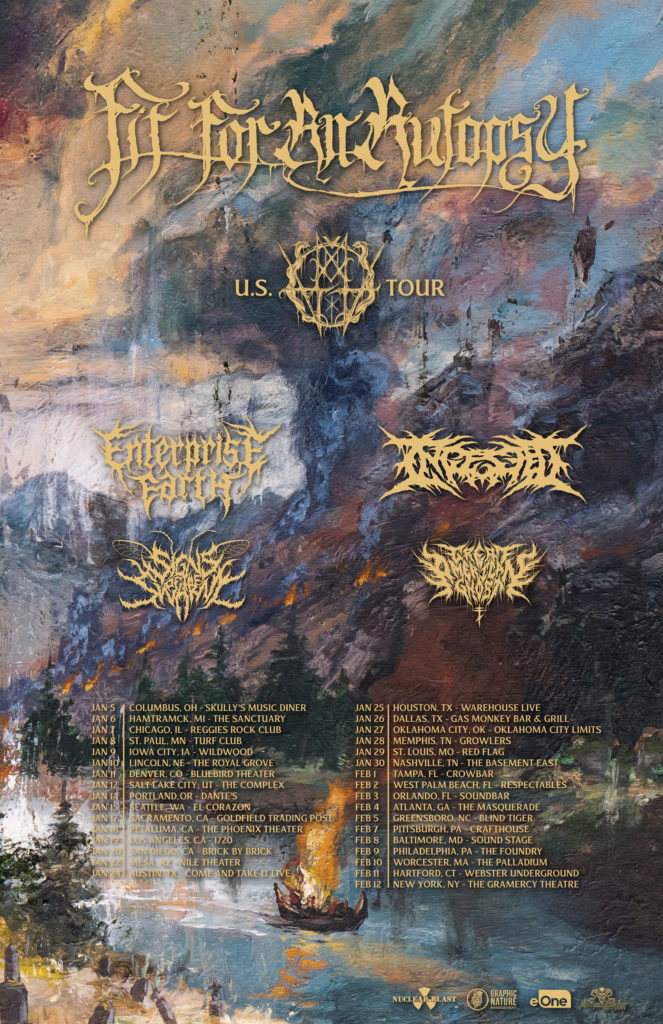 ENTERPRISE EARTH w/ Fit For An Autopsy, Ingested, Signs Of The Swarm, Great American Ghost:
1/05/2022 Skully's Music Diner – Columbus, OH
1/06/2022 The Sanctuary- Hamtramck, MI
1/07/2022 Reggies Rock Club – Chicago, IL
1/08/2022 Turf Club- St. Paul, MN
1/09/2022 Wildwood- Iowa City, IA
1/10/2022 The Royal Grove – Lincoln, NC
1/11/2022 Bluebird Theater – Denver, CO
1/12/2022 The Complex- Salt Lake City, UT
1/14/2022 Dante's – Portland, OR
1/15/2022 El Corazon – Seattle, WA
1/17/2022 Goldfield Trading Post – Sacramento, CA
1/18/2022 The Phoenix Theater – Petaluma, CA
1/19/2022 1720 – Los Angeles, CA
1/20/2022 Brick By Brick – San Diego, CA
1/22/2022 Nile Theater – Mesa, AZ
1/24/2022 Come And Take It Live – Austin, TX
1/25/2022 Warehouse Live – Houston, TX
1/26/2022 Gas Monkey Bar & Grill – Dallas, TX
1/27/2022 Oklahoma City Limits – Oklahoma City, OK
1/28/2022 Growlers – Memphis, TN
1/29/2022 Red Flag – St. Louis, MO
1/30/2022 The Basement East – Nashville, TN
2/01/2022 Crowbar – Tampa, FL
2/02/2022 Respectables – West Palm Beach, FL
2/03/2022 Soundbar – Orlando, FL
2/04/2022 The Masquerade – Atlanta, GA
2/05/2022 Blind Tiger – Greensboro, NC
2/07/2022 Crafthouse – Pittsburgh, PA
2/08/2022 Sound Stage – Baltimore, MD
2/09/2022 The Foundry – Philadelphia, PA
2/10/2022 The Palladium – Worcester, MA
2/11/2022 Webster Underground – Hartford, CT
2/12/2022 The Gramercy Theatre – New York, NY
ENTERPRISE EARTH:
Dan Watson – vocals
Gabe Mangold – guitar
Rob Saireh – bass
Brandon Zackey – drums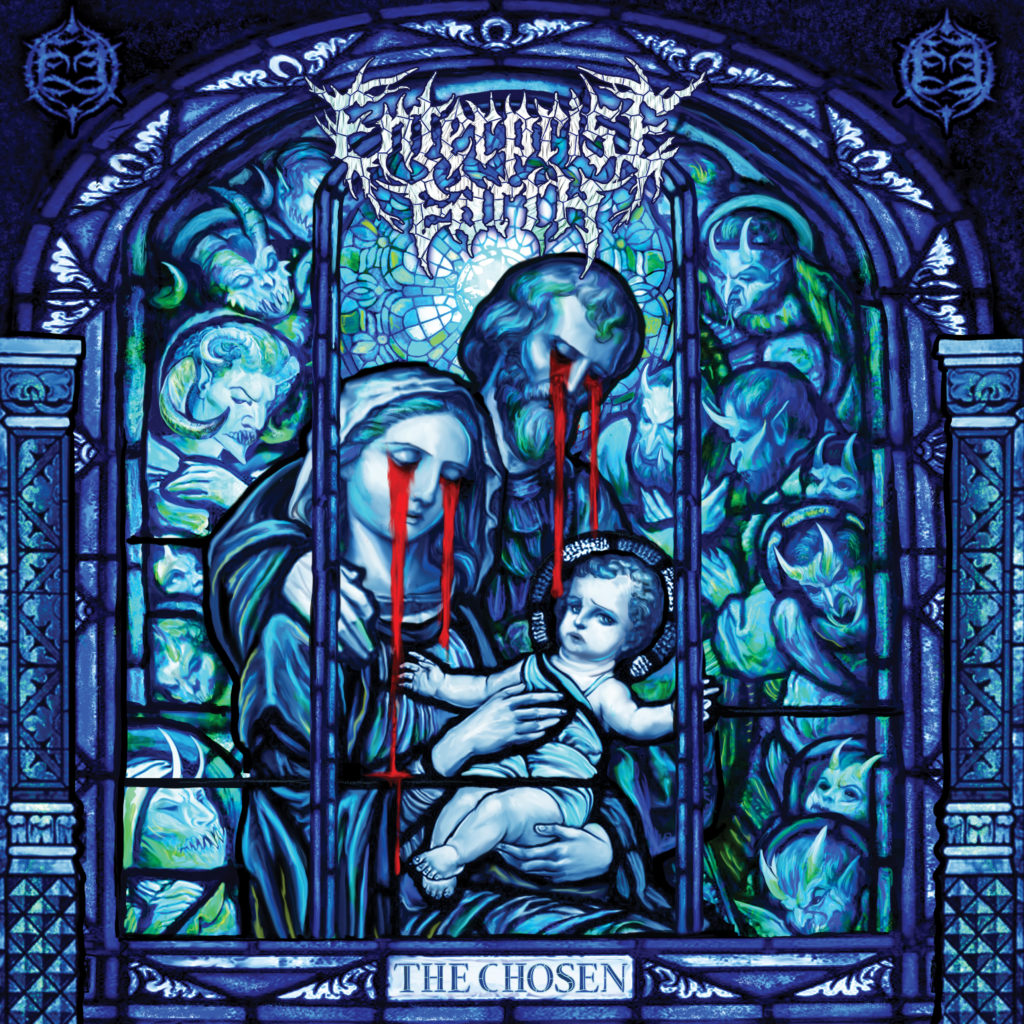 http://enterpriseearthband.com
http://www.facebook.com/enterpriseearthband
http://twitter.com/EEarthBand
http://www.instagram.com/enterpriseearth/?hl=en
http://www.mnrkheavy.com
http://www.facebook.com/MNRKHeavy
http://www.twitter.com/MNRKHeavy
http://www.instagram.com/MNARK_heavy