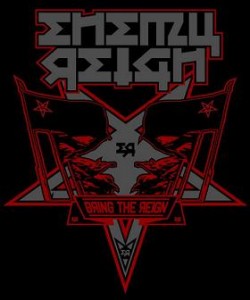 Denver death metallers ENEMY REIGN are pleased to welcome newest member Phil Turner, of Colorado metal outfit Drive-In Massacre. Turner takes the place of former bassist Cassie Begay, who recently left the band for personal reasons. Commented drummer Andon Guenther: "Cassie simply needed to get her personal issues in order and hasn't the time to fully dedicate to the band. We're all totally behind her decision and think it's the best thing for Cassie and ENEMY REIGN alike. We will be putting Phil Turner through the paces and have him show-ready by the time we leave for Europe. Phil will also be finishing the writing process of our upcoming full-length with us in the coming months."
ENEMY REIGN will release their critically-acclaimed Means To A Dead End EP in Europe through Neurotic Records on April 5th. The EP was recorded by Dave Otero at Flatline Audio (Cephalic Carnage, Martriden, Cobalt et al) in 2008 and, until now, self-distributed through the ENEMY REIGN online webstore. The European version will contain one newly recorded exclusive bonus track entitled "If The Truth Hurts…Suffer," as well as exclusive art work and other bonus materials.
In addition, the band is gearing up for their appearance on the 2010 edition of the Neurotic Deathfest featuring Bolt Thrower, Carcass, Pestilence, Dying Fetus and Napalm Death (among many others), followed by a string of club shows throughout Europe.
ENEMY REIGN Does Europe:
4/30/2010 Neurotic Deathfest – Tilburg (NL)
5/03/2010 The Perfect 5th – Taunton (UK)
5/04/2010 The Exeter Cavern Club – Exeter (UK)
5/07/2010 Sas, Delemont – (CH)
5/08/2010 Emmen Metal Festival – Emmen (NL)
5/12/2010 Abaton – Prague (CZ)
5/13/2010 AJZ Bahndamm – Wermelskirchen (DE)
Additional dates TBA.
http://www.enemyreign.com
http://www.neurotic-records.com
http://www.neuroticdeathfest.com