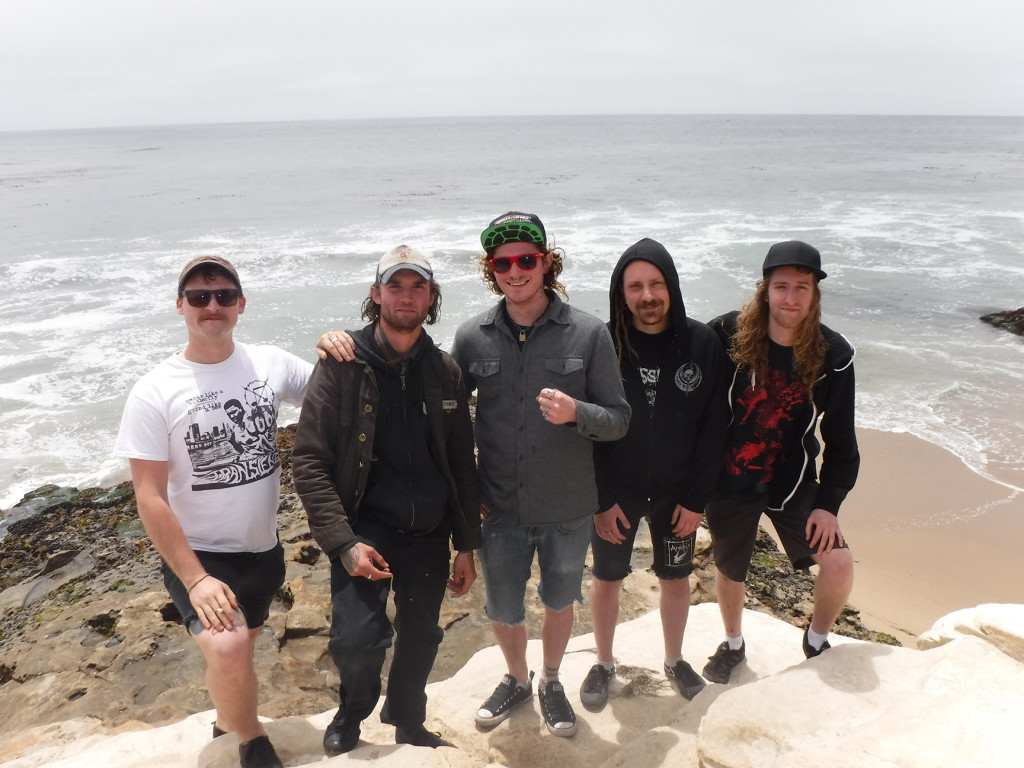 Seattle-based ENDORPHINS LOST announces an impending split 7″ with OSK set for release in February, which will be supported by a Western US tour in March.
ENDORPHINS LOST released their debut LP, Choose Your Way, through Six Weeks Records in November 2016, unabashedly introducing the masses to their blistering style of metallic, grinding, crust/powerviolence. The band will now stomp a fresh dose of salt into the wounds inflicted by their debut with four scathing new tracks, sharing a slab of 7″ vinyl with their allies in Canadian grind/hardcore outfit OSK who add three tracks to the flipside. The ENDORPHINS LOST tracks were recorded in March 2017 by Mike at Soundhouse Studios in Seattle, Washington, with additional vocals recorded by Dylan Ludwig at Raven Sound Studio in Prescott, Arizona, and mixed and mastered by Greg Wilkinson at Earhammer Studio in Oakland, California. The OSK tracks were recorded, mixed, and mastered by Jesse Gander at Hive Studios in Vancouver, British Columbia in the spring of 2013.
Stream the ENDORPHINS LOST track "Mercy For One" RIGHT HERE.
The ENDORPHINS LOST/OSK split will see release on February 1st through a coalition of underground labels, Rotten To The Core Records, Delusions Of Terror Records, Agromosh Records, You All Die Records, and New Age Pyrate Punks Records. Watch for additional audio samples, preorder links, and more info to be issued in the coming days.
Side ENDORPHINS LOST Track Listing:
1. White Crosses
2. Mercy For One
3. Master's Hair Trigger
4. The Prisoner's Dilemma
Side OSK Track Listing:
1. Burrow
2. Let's Play A House Show
3. Directionless
ENDORPHINS LOST will support the new release with regional performances as well as a Western US tour. Running from March 7th through March 24th, the tour routing currently includes eighteen cities, beginning in the band's hometown then crushing a counter-clockwise path around the western half of the country, and includes a show with Ghoul and Brainoil in Oakland, and a set at LA Speedfest in Los Angeles. The tour poster art was drawn by Michelle Hughes.
ENDORPHINS LOST Tour Dates:
1/18/2018 Victory Lounge – Seattle, WA w/ Escuela, Spacebag
3/07/2018 The Kracken Bar – Seattle, WA
3/08/2018 Tonic Lounge – Portland, OR
3/09/2018 Oakland Metro Opera House – Oakland, CA w/ Ghoul, Brainoil
3/10/2018 LA Speedfest – Los Angeles, CA
3/11/2018 The Garth – Las Vegas, NV
3/12/2018 Hotel Monte Vista – Flagstaff, AZ
3/13/2018 The Lunchbox – Phoenix, AZ
3/14/2018 The Dungeon – Tucson, AZ
3/15/2018 Apartment 512 Boutique – El Paso, TX
3/16/2018 The Moonlight Lounge – Albuquerque, NM w/ Laughing Dog
3/17/2018 The Triple Nickel Tavern – Colorado Springs, CO w/ Laughing Dog, 908
3/18/2018 The 7th Circle Music Collective – Denver, CO w/ Laughing Dog, 908
3/19/2018 8 Bytes Game Café – Laramie, WY
3/20/2018 Dixieland – Salt Lake City, UT
3/21/2018 The Shredder – Boise, ID
3/22/2018 Di Pizza – Bend, OR
3/23/2018 2nd Cycle – Tacoma, WA
3/24/2018 Cherry Bomb – Port Angeles, WA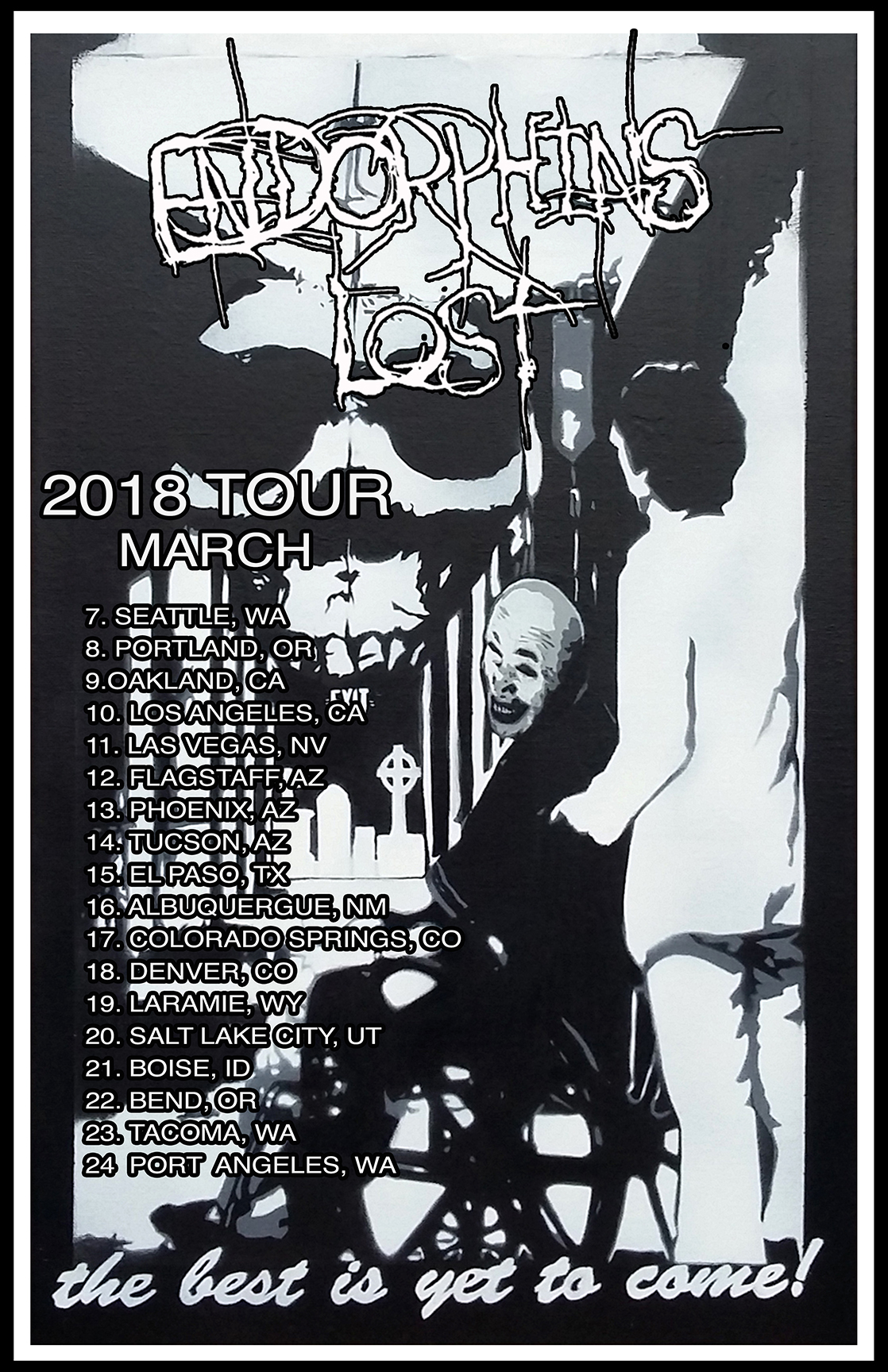 https://endorphinviolence.bandcamp.com
https://www.facebook.com/EndorphinsLost