Pacific Northwest-based ENDORPHINS LOST has just issued their ravenous new Choose Your Way LP through Six Weeks Records, the entire album now available for streaming.
Unloading fourteen tracks in twenty-eight minutes, Choose Your Way showcases the new ENDORPHINS LOST lineup delivering a combination of primal powerviolence and metallic hardcore/crust punk, bridging the style forged by the likes of Infest, Spazz, Crossed Out, and Capitalist Casualties while bringing the metallic ferocity of Pacific Northwest acts like Earth Control, The Drip, and Brainscraper. Recorded by Greg Wilkinson at Earhammer Studios (Iron Lung, Vastum, Necrot) and mastered by Ryan Butler at Arcane Digital Recording (Lago, Godhunter, Unruh), this incendiary contribution is the sign of things to come, with new music and tours in the works, there seems to be no stopping the inevitable. As the seven plagues are a sign of the apocalypse, ENDORPHINS LOST is the sound of end times.
Choose Your Way is streaming in its entirety RIGHT HERE.
Choose Your Way is out now through Six Weeks Records on LP and digital; merch and music orders can be placed HERE.
ENDORPHINS LOST will tour on Choose Your Way in 2017, including a two-week Fall trek with Canadian powerviolence titans OSK. The band has confirmed a show on March 30th with DS-13 with other early 2017 tour dates and updates to be expected in the coming weeks.
ENDORPHINS LOST Live:
3/30/2017 Highline Bar – Seattle, WA w/ DS-13, Toecutter, more TBA
"A trial of our strength, a testament to our anger." This is the epitome of ENDORPHINS LOST, a fierce and manic powerviolence outfit based out of the Pacific Northwest. The band has constantly evolved since its conception in 2009, increasing in speed and intensity while amplifying its rudimentary overtone of misanthropy and the inherent dysfunction of mankind.
The debut ENDORPHINS LOST release Blood Pact (2013, What's Left/Bad People/Nuclear Ass Records) was a steamroller of crusty grindcore mixed with pummeling d-beat. The album was immediately followed by a split seven-inch with Indonesia's Tersanjung 13 (2013, self-released) which was supported by a lengthy tour of Southeast Asia in 2013-2014. The band then released a split 7″ with grind violence maniacs in South Bend, Indiana's Flvx Capacitor (2014, Rotten To The Core Records) and toured the West Coast US and Mexico in 2015. Having drafted new personnel, the current iteration of ENDORPHINS LOST shows the band in top form, having released their most relentless material to date on a split 7″ with San Jose riff merchants Deathgrave (2016, Rotten To The Core Records), which was followed by an extensive US tour, and the recording of their proper debut album, Choose Your Way.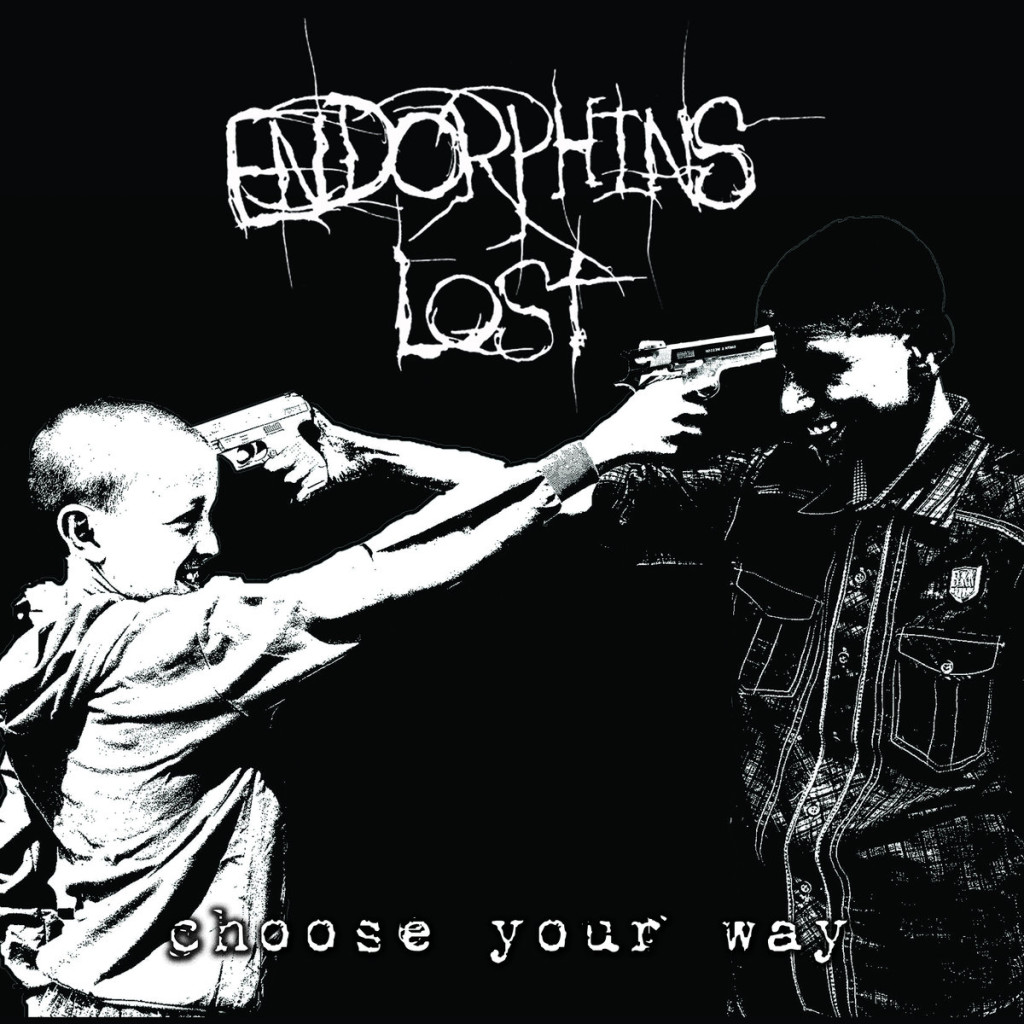 Choose Your Way Track Listing:
1. Learn To Forget
2. Shut In
3. Zipper Gang
4. Warm Body Targets
5. God, Family, Football
6. Choose Your Way
7. Lash Of Time
8. Nothing
9. Your Disease
10. Rambo Syndrome
11. Lesson Learned
12. Once In The Bloodstream
13. Facing The Knife
14. Torture Report
ENDORPHINS LOST:
Justin – drums
Brandon – bass/vocals
Chris – guitar
Kerry – vocals
Sam – guitar
https://endorphinviolence.bandcamp.com
https://www.facebook.com/EndorphinsLost
http://www.sixweeksrecords.com
https://www.facebook.com/Six-Weeks-Records-331142556494