Swedish symphonic dark metal powerhouse ELEINE definitely has the world at their feet: Not only have they just been confirmed as support for industrial metal icons Pain's upcoming European tour, the group have also finally unleashed their long-awaited new opus We Shall Remain today via Atomic Fire Records. In celebration of the release, the band has unveiled another music video — this time for the album's title track.
Founding members Madeleine Liljestam (vocals) and Rikard Ekberg (guitars, vocals) comment, "This song combines all important elements that ELEINE are known for: Chuggy riffs, groovy rhythms as well as a smashing chorus while its empowering lyrics breathe the spirit our legions keep following us for."
Watch ELEINE's "We Shall Remain" video at THIS LOCATION.
Watch ELEINE's previously released video for "War Das Alles," "Never Forget," "We Are Legion," and "Stand By The Flame" at THIS LOCATION.  
We Shall Remain was written and produced by guitar player/vocalist Rikard Ekberg and lead vocalist Madeleine Liljestam while Thomas "Plec" Johansson took care of co-recording, mixing, and mastering at The Panic Room Studio in Skövde, Sweden. Its fiery artwork was designed by Nestor Avalos (nestoravalosofficial.com) and Madeleine Liljestam.
We Shall Remain is available in the following formats: digibook CD, digibook CD + signed photo card (limited edition; EMP & Sound Pollution excl.), jewel case CD, LP (Orange/White), and digitally.
Order/stream the album now at: https://eleine.afr.link/weshallremainPR.
Subscribe to Atomic Fire Records on HERE. Listen to "We Shall Remain" as well as other new tracks in the AFR New Releases playlist on Spotify HERE.
ELEINE Live:
8/02/2023 MetalDays – Velenje, SL
8/11/2023 Alcatraz Metal Festival – Kortrijk, BE
8/12/2023 Malmö Festivalen Malmö, SE
w/ Pain, Ensiferum, Ryujin:
10/05/2023 Essigfabrik – Cologne, DE
10/06/2023 Iduna – Drachten, NL
10/07/2023 Metropool – Hengelo, NL
10/08/2023 Kavka Zappa – Antwerp, BE
10/10/2023 Ivory Blacks – Glasgow, UK
10/11/2023 Rebellion – Manchester, UK
10/12/2023 The Asylum – Birmingham, UK
10/13/2023 O2 Academy Islington – London, UK
10/14/2023 P60 – Amstelveen, NL
10/15/2023 Le Machine du Moulin Rouge – Paris, FT
10/16/2023 Le Ferrailleur – Nantes, FR *Sold Out*
10/18/2023 Hard Club – Porto, PT
10/19/2023 RCA Club – Lisbon, PT
10/20/2023 Changó Club – Madrid, ES
10/21/2023 Sala Totem Aretoa – Pamplona, ES
10/22/2023 La Rayonne – Lyon, FR
10/24/2023 Cvetličarna – Ljubljana, SI
10/25/2023 Live Music Club – Trezzo sull'Adda (MI), IT
10/26/2023 Klub Močvara – Zagreb, HR
10/27/2023 Quantic – Bucharest, RO
10/28/2023 FORM Space – Cluj-Napoca, RO
10/31/2023 Club Mixtape 5 -Sofia, BG
11/01/2023 Dürer Kert – Budapest, HU
11/02/2023 Kamienna 12 – Kraków, PL
11/03/2023 Szene – Vienna, AT
11/04/2023 Backstage (Halle) – Munich, DE
11/05/2023 Masters of Rock Café – Zlín, CZ
11/07/2023 Hirsch – Nuremberg, DE
11/08/2023 Batschkapp – Frankfurt, DE
11/09/2023 Hellraiser – Leipzig, DE
11/10/2023 Gruenspan – Hamburg, DE
11/11/2023 Columbia Theater – Berlin, DE
11/12/2023 Im Wizemann (Club)n – Stuttgart, DE
"…an explosive, balls-out assault that, courtesy of frontwoman Madeleine Liljestam, just happens to be as brutal as any melo-death record, and as dark as midnight on a moonless night… A veritable post-millennial Beauty And The Beast for the crestfallen damned… Excellent work!" – Blabbermouth
"Everything just simply works flawlessly with ELEINE's approach on We Shall Remain." – Dead Rhetoric
"…an experience worth hearing…" – Metal.DE
"Rough, wild and vehement like Swedish nature but also brave, uplifting and full of light: This album is perfect!" — Twilight-Magazin
"…a good, old-fashioned heavy metal album, with killer tunes and a heart of molten metal. I mean, what's not to like?" – Wonderbox Metal
"…a natural progression from their previous work, further establishing their unique sound." – Female Fronted Power
"…a majestic record!" — Metalhead.IT
ELEINE:
Madeleine Liljestam – vocals
Rikard Ekberg – guitar, vocals
Filip Stålberg – bass
Jesper Sunnhagen – drums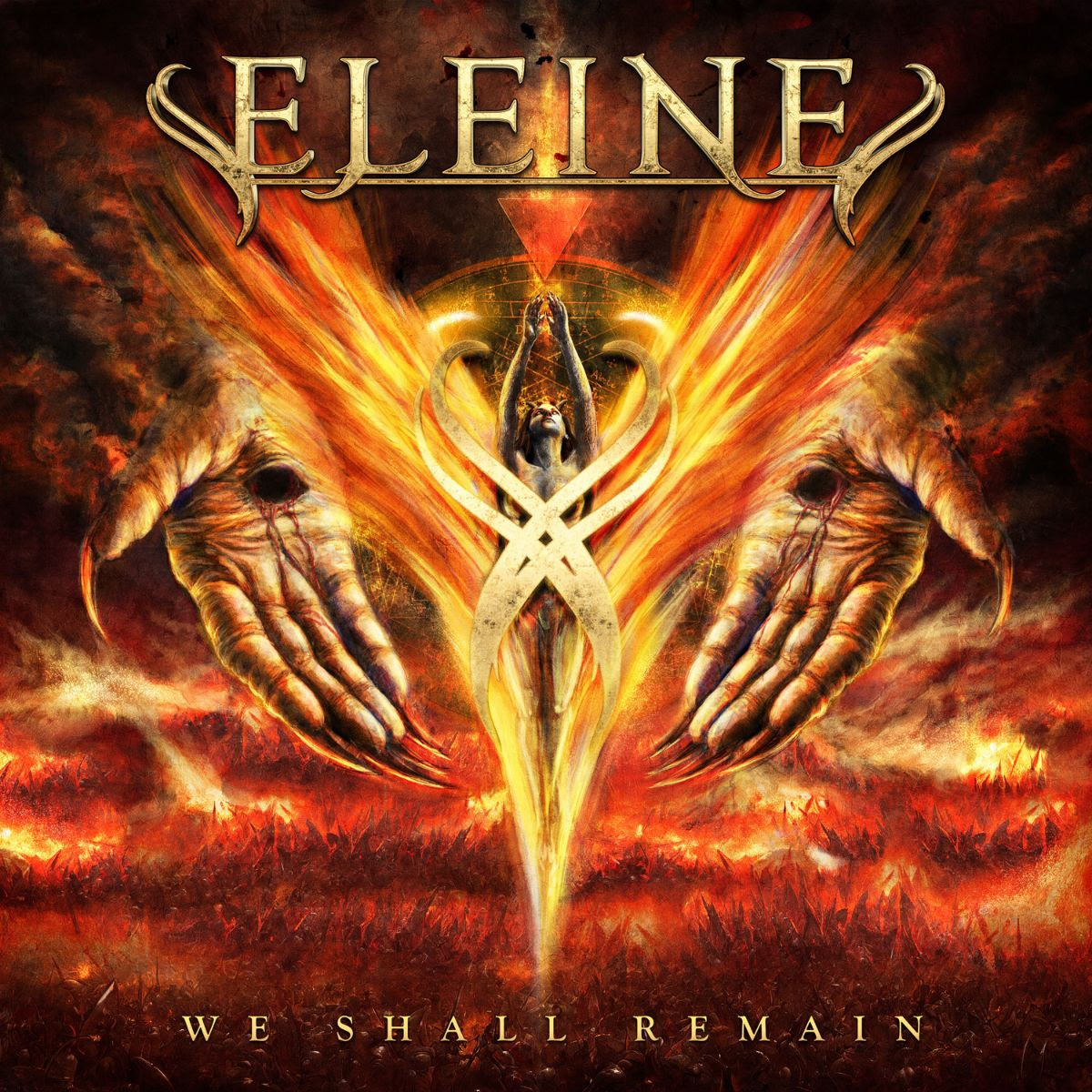 http://www.eleine.com
http://www.facebook.com/eleineofficial
http://www.instagram.com/eleineofficial
http://twitter.com/eleineofficial
http://www.youtube.com/c/eleineofficial
http://www.atomicfire-records.com
http://www.facebook.com/atomicfirerecords
http://www.instagram.com/atomicfirerecords
http://www.twitter.com/atomicfirerec