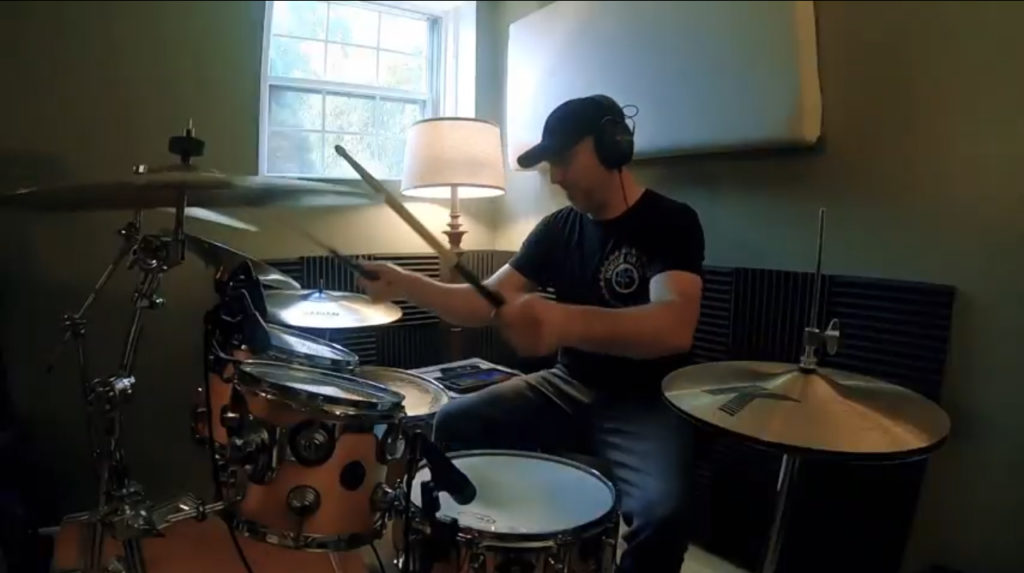 New Jersey's technical/instrumental metal trio EL DRUGSTORE, formed by current and former members of East Of The Wall and more, released their first new album in six years with The Golden Age Of Bad Ideas through Nefarious Industries earlier this month.
EL DRUGSTORE's The Golden Age Of Bad Ideas was recorded by Kevin Antreassian at Backroom Studios (The Dillinger Escape Plan) and Chris Alfano at Volume Fact (East Of The Wall), mastered by Brad Boatright at Audiosiege (Toxic Holocaust, Torche, Eye Of Nix), and completed with art and layout by Bryan Elkins.
With the new "Moral Curve" playthorugh video, drummer Seth Rheam offers, "'Moral Curve,' regarding drums, is more composed in comparison to others on the album. However, after playing, filming, recording and editing solo-I used that opportunity to add a little 'hot sauce' to my parts. A little trial and error to be honest. More videos to come!"
"…the guy's been impressing our pants off for the better part of a decade with East Of The Wall, and we can think of no musician more worthwhile of your attention, writes MetalSucks with its premiere. "Like East Of The Wall, EL DRUGSTORE's music is complex, skronky, proggy, and somehow still pleasing on the ears, but unlike the former it's a touch more outwardly aggressive and noisy, and it's entirely instrumental."
See EL DRUGSTORE's "Moral Curve" drum playthorugh at MetalSucks RIGHT HERE.
The Golden Age Of Bad Ideas is available on CD and digital formats via Nefarious Industries at the label webshop HERE and Bandcamp HERE.
Following a recent release show for the album, EL DRUGSTORE will announce additional sporadic live performances in the weeks ahead.
EL DRUGSTORE has been making an unnecessary amount of noise since 2008. The trio is devised by the corrupted intellect of guitarist Kevin Conway (ex-East Of The Wall), drummer Seth Rheam (East Of The Wall), and bassist Rolando Alvarado (Vandelles). The band's debut recording Dope Soaked And Wow // Silver Medals For Everyone, a split full-length with cohorts A Fucking Elephant, was released in July 2011 and marked the inauguration of their conjoined independent label, Nefarious Industries. Plague Ship, the band's first full-length effort, set sail on the very last day of 2013.
EL DRUGSTORE now bridges the six-year wait since their Plague Ship full-length debut with The Golden Age Of Bad Ideas. The trio douses the listener with thirty-six dense minutes of explosive, organic new material.
[photo by Alex Jackson]
https://www.facebook.com/eldrugstore
https://eldrugstore.bandcamp.com
http://nefariousindustries.com
http://www.facebook.com/NefariousIndustries
http://www.twitter.com/NefariousInd
https://www.instagram.com/nefarious_industries